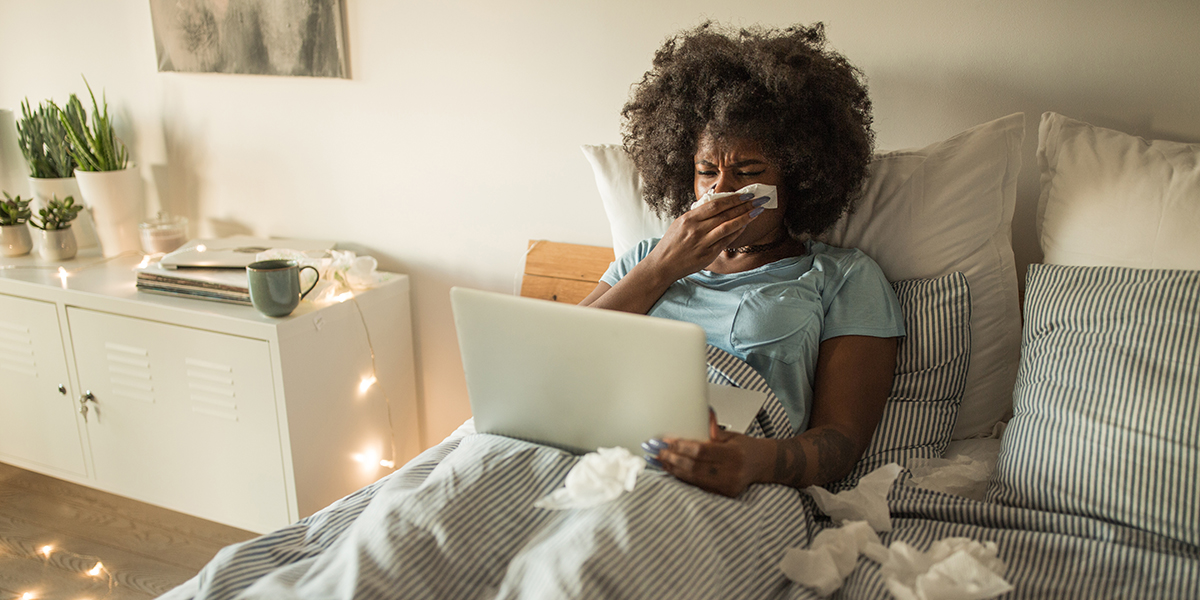 Technology keeps patients engaged in their health during COVID-19
More people are staying home during the COVID-19 pandemic. That's a good thing – mostly.
Your health is essential, and the pandemic should never prevent you from getting the medical care you need.
Spartanburg Regional Healthcare System is doing its part, through online technologies and advanced ultraviolet light cleaning techniques designed to keep patients both safe and engaged.
Level up your medical care with online check-ins, video visits and E-visits. Our nurses are dedicated to taking your calls anytime, day or night.
eCheck-in
Patients have gotten used to using MyChart to access their test results and records, schedule appointments, request prescription refills and more. MyChart now makes it possible for patients to check in at a doctor's office before the appointment begins, all from the comfort of their home or vehicle.
"We want people to feel comfortable with their doctor's office visit, and that includes minimizing the time they spend in the waiting room," Sharon Jackson, director of Spartanburg Regional's Patient Engagement Center, said.
Patients can complete forms, sign documents, and verify medications prior to their doctor's visit. They can also add insurance information and much more.
A patient will check in automatically when they walk into a practice if their smartphone's location services function is turned on. That way, they can avoid visiting the front desk.
If eCheck-in steps are not completed from home prior to their visit, patients will complete the information onsite before their visit.
"eCheck-in helps protect their privacy and gives them more control over their care," Jackson said.
Online Check-In at ICCs
eCheck-ins are valuable before scheduled doctor appointments. But what if you have an urgent need and want to visit an Immediate Care Center?
Spartanburg Regional's five immediate care centers serve a large walk-in clientele. Thanks to an online check-in process, patients minimize the time they wait in a public area.
"We equate it to call-ahead seating at restaurants," Amanda McSherry, digital marketing manager, said.
On Spartanburg Regional's website, patients can see wait times for the immediate care centers and schedule a reservation.
"You can do your waiting at home, in the car or at work if you're working right now," McSherry said. "You can schedule your reservation around what you're doing."
Text message reminders alert patients to their spot in line. When it's time, patients simply walk in and visit the front desk to complete the process.
Check in at an immediate care center location near you.
E-visits
Don't feel well, but not sure you need a trip to the doctor? Try an E-visit, designed for patients with non-urgent medical conditions, such as back pains, coughs, sore throats and colds. E-visits are available through the MyChart portal to current Medical Group of the Carolinas patients.
Patients log into MyChart, select the "E-visit" tab at the right side of the screen, accept the terms and conditions and submit payment information.
Then, patients are directed to answer a series of questions. Once they submit, providers will respond within 24 hours.
Patients concerned they might have COVID-19 can use an E-visit to determine if they need further testing.
E-visits aren't for urgent care, and people experiencing medical emergencies should call 9-1-1 immediately. But an E-visit could help patients feel better without leaving the comfort of their homes.
Visit MyChart today to start your E-visit.
Video Visits
Telehealth – the technology that connects doctors and patients through interactive video – has been a saving grace during these difficult times, according to Susie Woodward, director of telehealth services.
For the past several years, Spartanburg Regional has rolled out a variety of telehealth services. Employees could receive urgent care. Emergency rooms offered telepsychiatry and telestroke services. Several schools are home to Spartanburg Regional school-based telehealth services.
Then came the pandemic.
"We had to implement a way for patients to continue receiving care from their providers without leaving their homes," Woodward said.
Now, many Spartanburg Regional patients can call their doctor's office and set up a virtual appointment. A special icon on individual provider pages tells patients if it is possible to set up a video visit.  
Does your doctor offer video visits? Find out.
Steriliz UV Light
It sounds like science fiction, but ultraviolet lights have a powerful, sterilizing effect on germs. Since 2015, Spartanburg Regional has used the Steriliz UV Light system to clean patient rooms at several facilities, including Spartanburg Medical Center.
These machines have taken on a new importance now, according to Ginger Hucks, director of hospitality services for Spartanburg and Union medical centers.
"UV light reaches the far corners, the cracks and the crevices that you can't get to otherwise," Hucks said.
The Steriliz device has a setting that kills germs up to and including C. difficile. It also kills COVID-19, Hucks said.
Every room, regardless of patient diagnosis is thoroughly disinfected. Then, the Steriliz UV Light is brought in.
"The UV cleaning takes about 20 minutes once they get into the room," Hucks said.
Regional Nurse on Call
If you feel sick but aren't sure where to go, Spartanburg Regional offers a telephone triage service known as Regional Nurse on Call.
Patients call in to Spartanburg Regional's Patient Engagement Center, where a skilled nurse asks about symptoms and more.
"This service is available 24 hours a day, 7 days a week," Melanie Thomas, nurse manager for the Patient Engagement Center, said.
Patients may be given home care instructions on how to manage their symptoms and when to notify their physicians. The Regional Nurse on Call may instruct the patient to go to an immediate care center or visit the emergency department.
Using the service doesn't replace a trip to the doctor, but it can prevent unnecessary trips to the emergency room, Thomas said.
To use the service, call 864-591-7999.