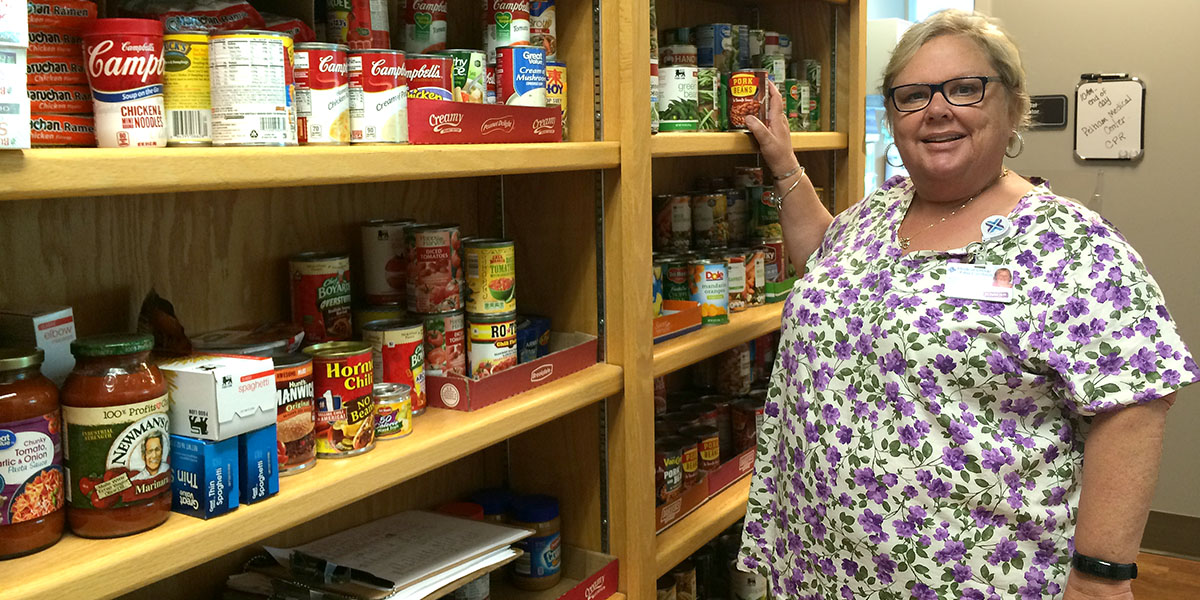 Leslie Sellers in the Medical Group of the Carolinas — Infectious Disease — Spartanburg food bank
Food helps patients focus on health
When you're hungry and worrying where your next meal will come from, you aren't thinking about your upcoming doctor's appointment. Or that you need to take your medication.
In 2006, that's what the staff of Medical Group of the Carolinas — Infectious Disease — Spartanburg realized as they cared for their patients.
In response, they created a food bank of nonperishable items for patients in need of food.
"It really hit home when we realized staff members were giving away their lunches to their patients," said Leslie Sellers-Anderson, practice manager of Medical Group of the Carolinas — Infectious Disease — Spartanburg.
Seeing a need
The infectious disease practice provides many types of services — from administering vaccines in their Heathy Travelers clinic to diagnosing and caring for patients with infectious diseases like Lyme disease and the bone infection osteomyelitis. And a large part of their team treats people with HIV and hepatitis A, B and C.
"If you're thinking of how you will feed your children or where you are going to sleep tonight, your main focus isn't your health," Anderson said.
Many patients need food, emergency assistance or have unstable housing situations. One patient visited the office for an appointment and had lost 15 pounds since her last visit.
"Her physician asked her if she had been trying to lose weight," Anderson said. "The woman said her food stamps hadn't come in yet and she needed to feed her kids."
Overcoming barriers
Transportation, unemployment and a lack of food are all barriers to receiving health care. The associates in the infectious disease practice wanted to overcome at least one barrier so patients could receive the care they need.
"If you aren't eating, you aren't going to remember you have an appointment or that you need to take medication," Anderson said. "Knowing that you can receive food with each visit has helped patients keep their appointments."
Staff from around Spartanburg Regional Healthcare System donate nonperishable food to the infectious disease office in the outpatient center. The staff in the infectious disease office are also challenged to bring one nonperishable good per week.
Food is provided to infectious disease patients upon request, and the practice distributes bags of food two or three times each day. In each bag, the staff works to include protein, vegetables, grains and fruit.
"We try to make the food as filling as possible, including healthy choices," Anderson said.
The infectious disease staff knows not everyone is comfortable receiving help. The staff asks the patients if they have access to food and then offers the donation.
"We are always conscious of the patient's feelings and are as incognito as we need to be. Sometimes we take items to their car, and we have been known to deliver food to their homes," she said.
How to give
Twice a year — at Christmas and in June — Spartanburg Regional associates are encouraged to donate food.
But there are a few things to keep in mind.
"Pop-top cans are always welcome; several of our patients are unstably housed and they may not have a can opener," Anderson said. "We also try to try to select foods that don't have to be heated to be eaten."
All donated food must be nonperishable and unexpired. The most desirable items are canned fruit, canned vegetables, canned meats, peanut butter, beans, spaghetti or other small meals that don't need to be refrigerated. The practice also accepts can openers and toiletries.
Share your ideas with the Medical Group of the Carolinas — Infectious Disease — Spartanburg by e-mailing [email protected] All donations go to current patients of the practice.