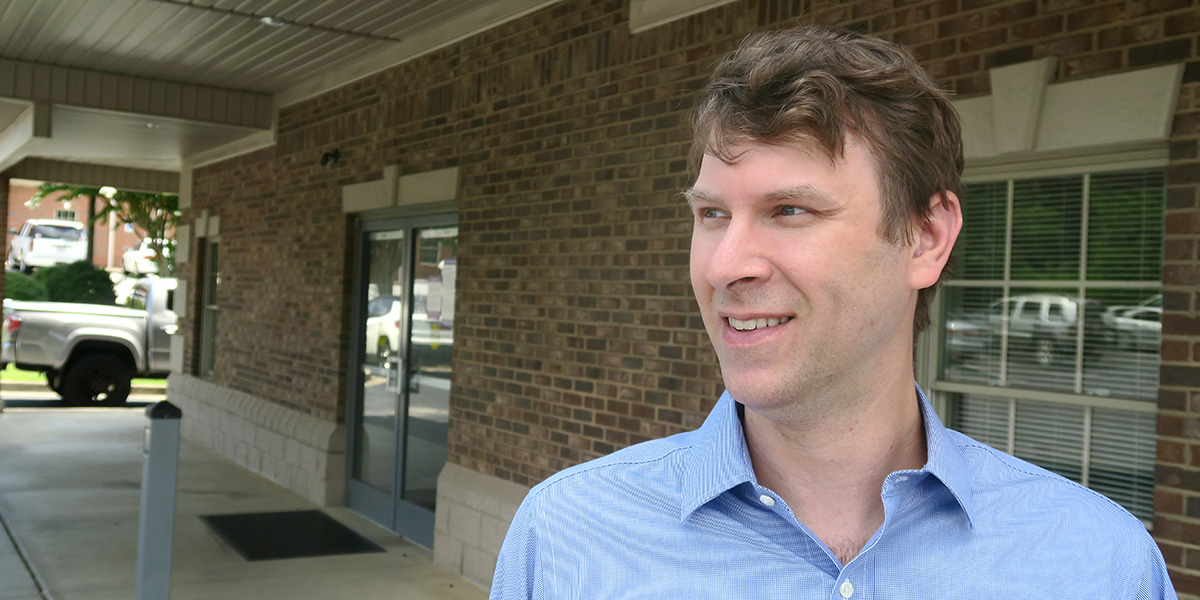 "I'm the fix-it guy," orthopaedic trauma surgeon says
James Black, MD, loves a good puzzle. And that's what the orthopaedic surgeon gets every time he examines a patient.
"Broken bones, pelvic fractures, each one is unique," Dr. Black said. "I get to do an engineering puzzle every time I do a case."
Dr. Black joined the staff at Medical Group of the Carolinas – Orthopaedic Trauma Services in June.
Family tradition
Dr. Black comes from a line of problem solvers. The Atlanta native's father is a mechanical engineer and entrepreneur; his mother, a Ph.D.-level chemist who started her own business.
Medicine was not in Dr. Black's original plan – he earned his Bachelor of Arts degree in economics.
"I did not go into college thinking I would be a doctor," he said.
While in college, he worked jobs where he helped others – first with a rescue squad, then as an outdoor emergency care instructor with National Ski Patrol, and then as a volunteer firefighter.
He began studying to become a doctor in 2005, when he returned to Atlanta to study at Emory University School of Medicine. After completing medical school and his orthopaedic surgery residency at Emory University, he completed a fellowship in orthopaedic trauma at Washington University/Barnes-Jewish Hospital in St. Louis, Missouri.
Dr. Black recently served as chief of orthopaedic trauma service at Mercy Hospital in Springfield, Missouri.
His wife, Catherine Bass, is daughter to a retired Spartanburg urologist, so the couple brought their two young children to Upstate S.C. to be closer to family.
Specialization
Becoming an orthopaedic trauma surgeon requires a high level of specialization.
"I'm the fix-it guy," Dr. Black said. "I love my job."
Orthopaedic trauma surgeons are called upon to help people with everything from single to complex fractures. Pelvic fractures after traumatic accidents like car crashes, for example, are particularly complicated and require a high degree of specialization.
"Think of it like a vase," Dr. Black said. "When you drop a vase on the ground, it breaks differently every time."
Dr. Black's expertise also includes treating patients who have suffered complications from a fracture, including infections and difficulties with bone healing.
"Bones don't always heal," Dr. Black said. "When you get a cut, it usually heals, but sometimes it doesn't. Bones are the same."
A team approach
While his patients require a high level of specialization, Dr. Black describes his work as multidisciplinary.
"Trauma is a team sport," Dr. Black said. "There are trauma surgeons, other specialist physicians, nurses, therapists and more."
Dr. Black applauded the team he joined at MGC – Orthopaedic Trauma Services, including his colleague, J. Scott Broderick, MD, and physician assistants Karcy Grove, PA, and Michelle Tidd, PA.
And while Dr. Black is proud to be one of Spartanburg Regional's trauma experts, he stresses that it's more important that people do all they can to avoid needing emergency trauma care.
"Wear a helmet. Wear a seat belt," Dr. Black said. "Don't drink and drive."
Spartanburg Regional Healthcare System offers a variety of trauma services, including a Level I Trauma Center at Spartanburg Medical Center. Learn more.