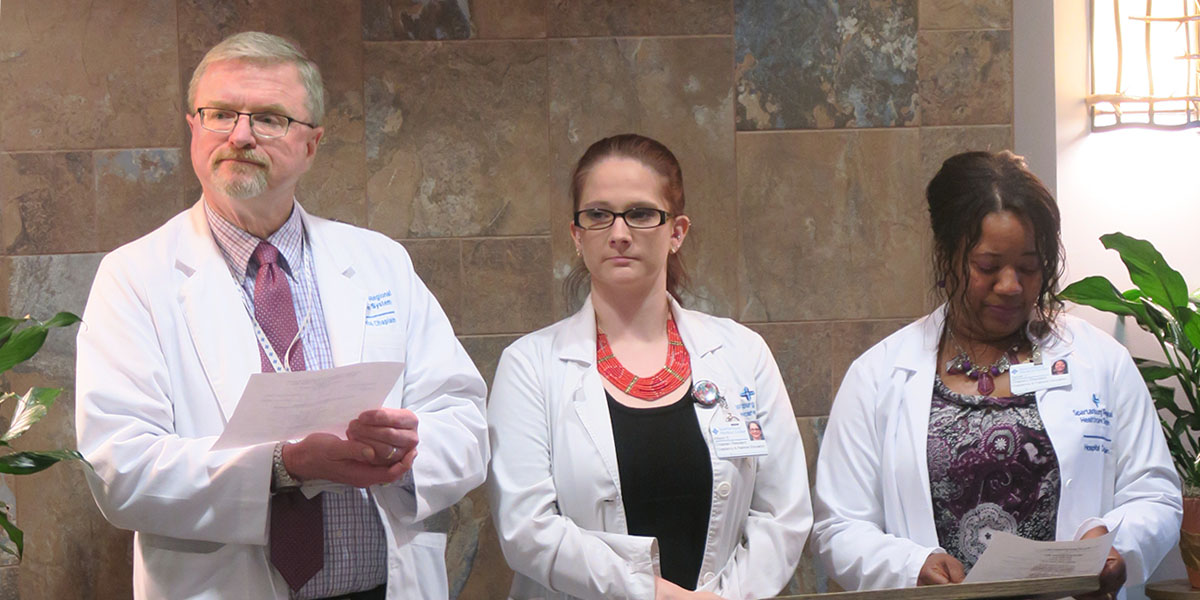 Honoring past employees, volunteers and board members
A group gathered in Spartanburg Medical Center chapel. Heads bowed in prayer as friends and families remembered associates, volunteers and board members who passed away during the past year.
Spartanburg Regional Healthcare System (SRHS) has held the Family Memorial Tree Ceremony of Remembrance annually since its dedication in 2013. Names of those who pass away are added to the Family Memorial Tree, which is displayed in the main lobby of Spartanburg Medical Center. 
"This is the fifth year we have gathered as colleagues to celebrate and memorialize those Spartanburg Regional Associates who have significantly served the community through our healthcare system," said the Rev. Carson Rogerson III, SRHS Director of Chaplaincy and Pastoral Education. "As with each passing year, we approach the Memorial Tree with a sense of awe and deep appreciation."
During the celebration of life on Thursday, May 10, chaplain residents read the names of each person memorialized on the tree. As the name of each individual was announced, friends and family members received a white rose in memory of their loved one.
Those honored included physicians, volunteers, employees and board members, all of who worked a minimum of 10 years.
"This year, fourteen additional names have been engraved on the leaves that will be affixed to the Memorial Tree," Rogerson said. "Each leaf represents volumes of shared memories. Those include life-changing experiences of successes and struggles, joys and grief, difficult work and satisfying accomplishments."
Those remembered with the Family Memorial Tree this year include:
Nancy L. Barnwell
Gary F. Bohlen
Charles C. "Charlie" Boone
Cleatus Champion
Bradley Lee Daley Jr., MD
Alice Gregory
Deborah Haney
Linda Henderson
"Howard," pet therapy dog
Elwillie J. Linder
Gary Lawter
Thomas Wade Westmoreland, MD
Kathy H. Williams
Marion Young
The tree was dedicated in May 2013, and now lists 180 names. The memorial serves as a lasting tribute in grateful appreciation to those who dedicated their lives to serving others through health care. SRHS CEO Bruce Holstien initiated the Family Memorial Tree. The concept and inclusion criteria were then developed by Team Evolve, an SRHS employment engagement committee representing associates throughout the system. The result is a sprawling piece of art, full of branches, that represents and honors those who served SRHS.
This year's Family Memorial Tree commemoration ceremony was one of several National Hospital Week events at SRHS, held to celebrate the men and women who support the health of their communities through compassionate care, innovation and dedication.