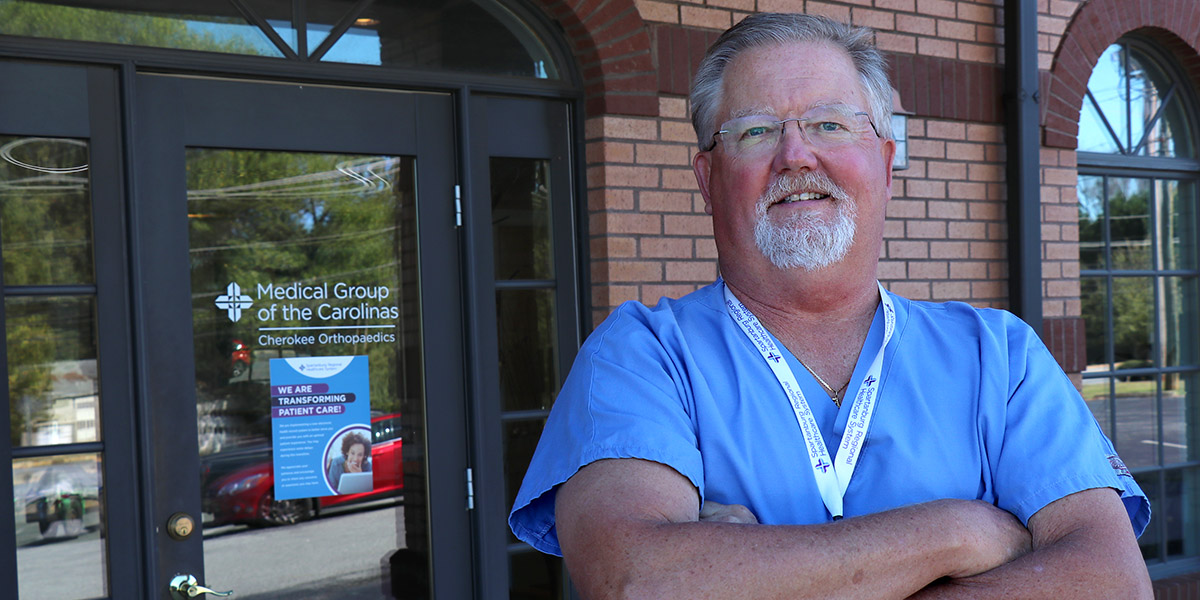 At home in the peach capital
How does a person overcome shyness? For Frank "Spike" Phillips, MD, it was a stint as a mascot for a minor league baseball team.
Dr. Phillips, a native of Memphis, Tenn., attended Southwestern at Memphis (now Rhodes College). His father was a professional photographer; his mother became a professional house flipper in the 1970s, long before renovation-themed shows became popular.
He always knew he wanted to be a doctor, but it took an epiphany for Dr. Phillips to know what college he was going to attend.
"My last year of high school, I was driving past the college and the light came on," Dr. Phillips said. "'I'm going to go there,' I thought.'"
The chance to be a mascot came a couple of years into his college career. He became Blooper, the mascot for the minor league Memphis Chicks.
"It was a lot of fun," Dr. Phillips said. "I kind of always considered myself as shy growing up. You can put on the suit and expand your personality."
No one who knows Dr. Phillips now would accuse him of shyness. The outgoing orthopaedic surgeon has been a part of Cherokee County's medical community since 1988. He sees patients as part of Medical Group of the Carolinas – Cherokee Orthopaedics.
With more than 30 years of experience in Gaffney, Dr. Phillips prides himself in having a caring relationship with his patients.
"Surgeons are often seen as cold," Dr. Phillips said. "But people forget we're doctors, too. I am committed to trying to improve their lives."
At home in the peach capital
After medical school in Memphis, Dr. Phillips completed residency in Orlando, Fla. He became friends with a fellow resident and they decided to go into practice together.
"We were looking for a small town, next to the interstate, close to a larger city, that needed two orthopaedic surgeons," Dr. Phillips said.
That's when they got the offer to come to Gaffney.
Once he chose to practice in the Peach Capital of South Carolina, Dr. Phillips knew he'd never leave.
"I'm old school," Dr. Phillips said. "I planned to be here for life."
He has never regretted the decision. "You don't find better people. Good, honest, hard-working people."
Dr. Phillips has five grown children and two grandchildren. He dedicated his personal time to being fully present in his kids' lives, rarely missing recitals or sporting events.
"I did not want to be an absentee dad," Dr. Phillips said.
After the last child left the house, Dr. Phillips turned his attention to another love – golf. "My handicap dropped considerably."
'We do well'
He also used his empty-nester status to spend extra time learning the ins and outs of electronic medical records, a hallmark of his transition to the Spartanburg Regional brand. The healthcare system acquired the hospital and several doctor offices in Cherokee County at the beginning of 2019.
The change has been huge for the community, Dr. Phillips said.
"(Spartanburg) Regional is absolutely committed to making this a place to take care of the patients of Cherokee County," Dr. Phillips said.
Dr. Phillips describes his practice's relationship with Cherokee Medical Center with pride.
"The things we do here, we do well," Dr. Phillips said. "The physicians we have here are as highly trained as anyone."
MGC – Cherokee Orthopaedics helps patients with general orthopaedic concerns, sports injuries and chronic knee pain.
"I love doing knee replacements," Dr. Phillips said. "It's extremely rewarding to see someone come in with a smile even a few weeks after their surgery, and their knee feels better than it has in years."
Think you may need orthopaedic care? Schedule an appointment with MGC – Cherokee Orthopaedics. Call 864-488-3336.