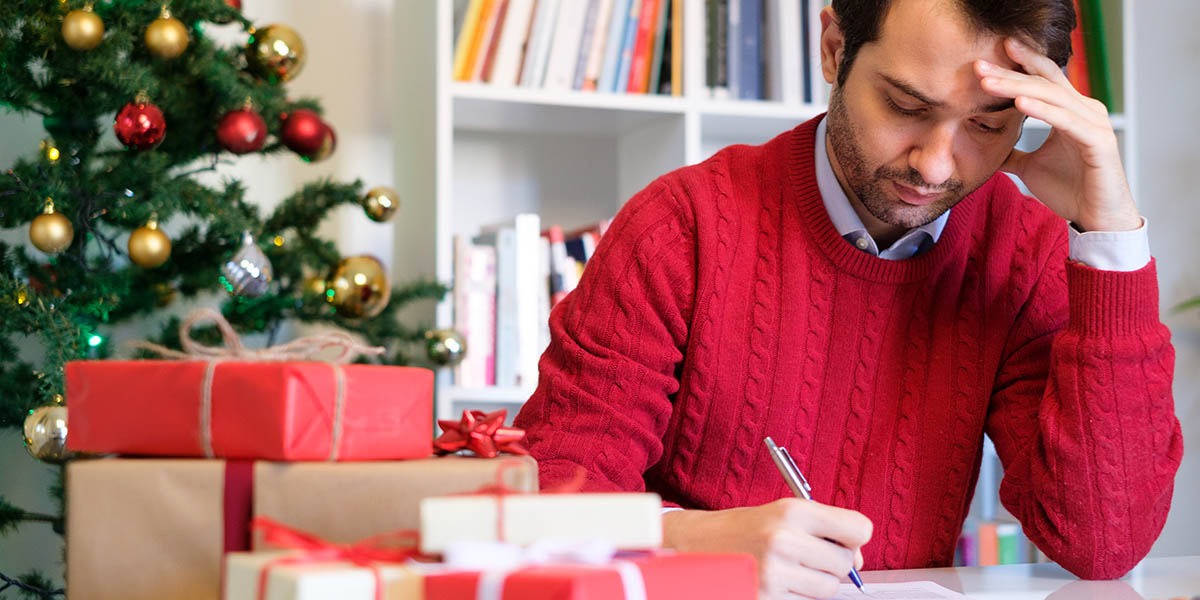 The holiday blues
Family gatherings, parties, gifts, great food and a few good movies are often what people look forward to during the holiday season.
But it's common to feel depressed and stressed during the days dubbed "the most wonderful time of year."
"Everyone is more or less susceptible to depression this time of year," said Nicole Pierce, LISW-CP, a clinical social worker with Medical Group of the Carolinas – Psychiatry.
Pierce said five of the most common contributors to depression during the holidays are:
Finances
Stress
Loneliness
Grief
Seasonal affective disorder (SAD)
A little planning and recognizing your needs can help during the season, Pierce said.
Finances
Many people feel sadness and guilt if they don't have enough money for gifts and holiday outings.
"It can be devastating when you can't afford to celebrate with everyone else," Pierce said.
Setting a budget and other advance planning can help reduce some financial stress, Pierce said. It's also important to set reasonable expectations on how much money you should spend.
"Place emphasis on making good memories and enjoying the moment versus spending money," said Craig Williams, PhD, a psychologist with Medical Group of the Carolinas – Psychiatry.
Stress
Many of those family and work gatherings often involve shopping for gifts and cooking, on top of other responsibilities.
"We're already overworked and tired and adding that extra stress can be overwhelming," Pierce said.
Shopping early and building in time to wrap and mail gifts can reduce the stress often associated with procrastination. Pierce reinforces the need to focus on making memories and setting reasonable expectations to keep desires and responsibilities manageable.
She also recommends making time to rest and rejuvenate.
"Even amid the hustle and bustle of the season, resting gives you more energy," Pierce said. "Studies have shown a link between sleep loss and depression, so making sure you get enough rest is important."
Dr. Williams suggests engaging in mindful activities such as taking a walk while paying attention to what each of your senses is telling you or sitting in the sunshine and being still for a while.
Staying warm during the cooler weather also helps.
"Research has also shown warmth improves mood," Pierce said. "That's why a hot beverage or a warm bath helps alleviate sadness."
Loneliness
Pierce said many Americans, including those age 65 and older, are single and live alone.
"When you are single or estranged from family and you see others with theirs, it can be very painful for those who are alone," she said.
Pierce said it's important not to isolate yourself when you're feeling lonely. She recommends planning time with others and possibly organizing opportunities for people in similar situations to come together. 
Grief
The holiday season is a common time to miss loved ones. Memories from past holidays can be nostalgic. Pierce said it's fine to think about those times and to accept that you're missing a loved one. 
"It's important to reflect on past memories and cry," she said. "If you bury your feelings, you can contribute to depression."
Spending time with others and volunteering can be a good way to stay active while making new memories. 
Seasonal Affective Disorder (SAD)
During the winter months, you may leave home to go to work when it's dark. Then, you leave work and it's dark again. Sometimes people, especially those who enjoy exercise outdoors, cut back on physical activity. Many people experience sadness during gloomy winter days because of the decrease in sunlight. 
Pierce suggests making time for brisk walks. Exercise doesn't only help burn calories consumed at holiday parties, but as little as 30 minutes of brisk walking five days a week can improve your mood. 
Know the signs of depression
Everyone can experience depression at times, Pierce said. However, women are often twice as likely as men to experience it. This can become even more of an issue if a woman is carrying more of the family's load during the holidays when it comes to shopping and planning.
The signs of depression include:
Feelings of sadness
Worthlessness
Guilt
Crying
Loss of interest in usual activities
Fatigue
Difficulty concentrating
Irritability
Social withdrawal
Changes in sleep, weight or appetite 
Pierce said people should seek help when those symptoms become severe and linger for more than a couple of weeks. They can share their concerns with their internist or family medicine physician to get a referral or call a therapist. 
It's OK to ask questions if you observe these symptoms in friends and family members. 
"Don't be afraid to ask if they're OK," Pierce said. "It actually alleviates the anxiety and stress of being stuck in their thoughts." 
If you feel you need help during the holiday season, speak with your primary care provider about a referral to a behavioral health specialist.