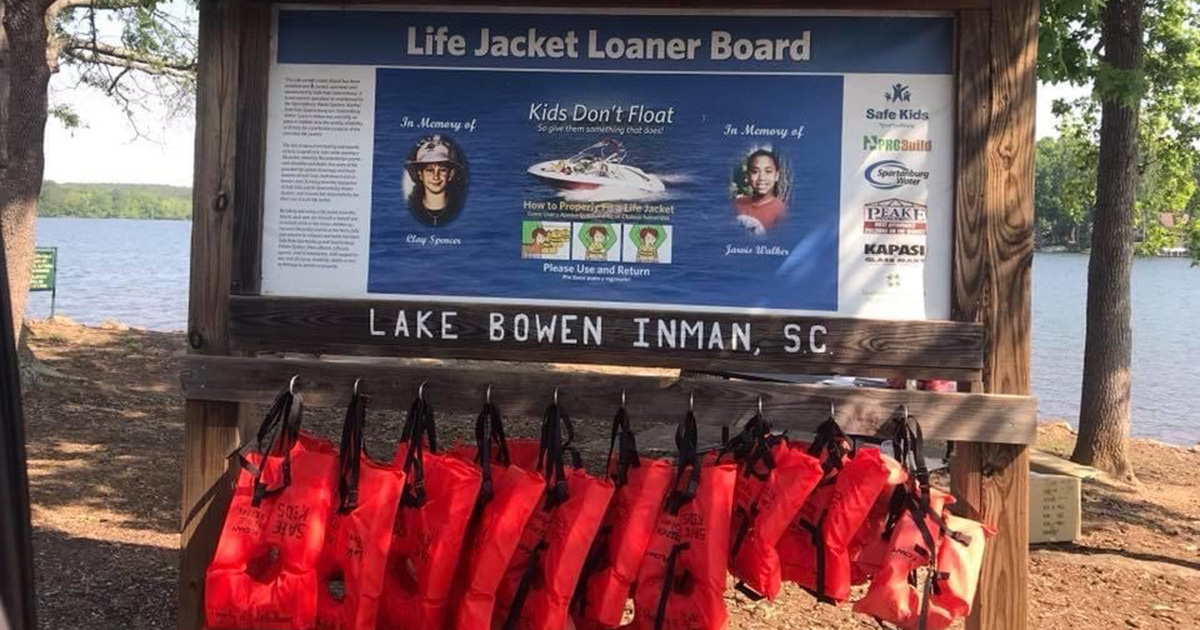 Hitting the lake? Borrow a life jacket for free!
Hotter days mean splashing on local lakes, with all the fun times to be had on the cool waters of Lake Bowen.  
When hitting the water, safety is crucial. To help, Safe Kids of the Piedmont provides life vests at Lake Bowen, free of charge. 
"We want every child to be protected when they're in and around water," said Penny Shaw, who leads the Safe Kids program as a recreational therapist with Spartanburg Regional Healthcare System. 
Since 2012, Shaw has worked with Spartanburg Water, which owns Lake Bowen, to maintain a life jacket loaner board at the lake's public park. Visitors may borrow the vests and return them when they wrap up their day at the lake.  
The life jacket loaner board at Lake Bowen includes the photographs and stories of two young people who died at the lake – Jarvis Walker and Clay Spencer. They are reminders of the importance of staying vigilant about water safety. Life jackets play an essential role.  
"You'll never know how many lives are saved by a life jacket," said Lake Bowen's warden Jon Morgan. "But you know when one is not." 
Morgan's staff maintains the life jackets, disinfecting and checking for damage each day.  
"Most visitors do bring a life vest," Morgan said. "But occasionally they'll invite an extra friend and don't have enough to go around. It's important for everyone to have one." 
Shaw makes sure there is a steady supply of new jackets to replace old or missing vests. Morgan said individuals from the community sometimes donate life jackets as well.  
Education and outreach 
The loaner board is in a visible location at Lake Bowen Park, where traffic is frequently heavy. As many as 800 cars pass through the park on summer weekends, Morgan said.   
Some visitors stay in the playground area, and others choose to fish along the shore. But many are there to boat or swim.   
Spartanburg Water System conducts educational outreach to encourage safety on lakes. This web page provides a checklist and other information on boating safety.  
Whether in a boat or in the water swimming, life jackets are essential, Shaw said.  
"We want every child to be protected. As we have said, 'Kids don't float, so give them something that does.'" 
Shaw said Safe Kids of the Piedmont and Spartanburg Water will partner this summer to manage a similar life jacket loaner station at Lake Blalock.  
Safe Kids and the Foundation 
Safe Kids of the Piedmont is involved in a wide range of efforts that promote the well-being of young people. Other focus areas include car seat usage, along with bicycle and pedestrian safety. 
Donors to Spartanburg Regional Foundation promote Safe Kids of the Piedmont through a dedicated fund that supports programs and activities. Safe Kids also received Foundation grants to support community outreach and Spartanburg Regional staff training on the proper installation of car seats for children with special health needs.  
Shaw is passionate about this work. 
"Losing one child is one too many, and we don't want any parent to have to endure the loss of a child," she said. 
To make a donation to the Spartanburg Regional Foundation's Safe Kids Fund, visit https://www.regionalfoundation.com/ways-give/community-health.