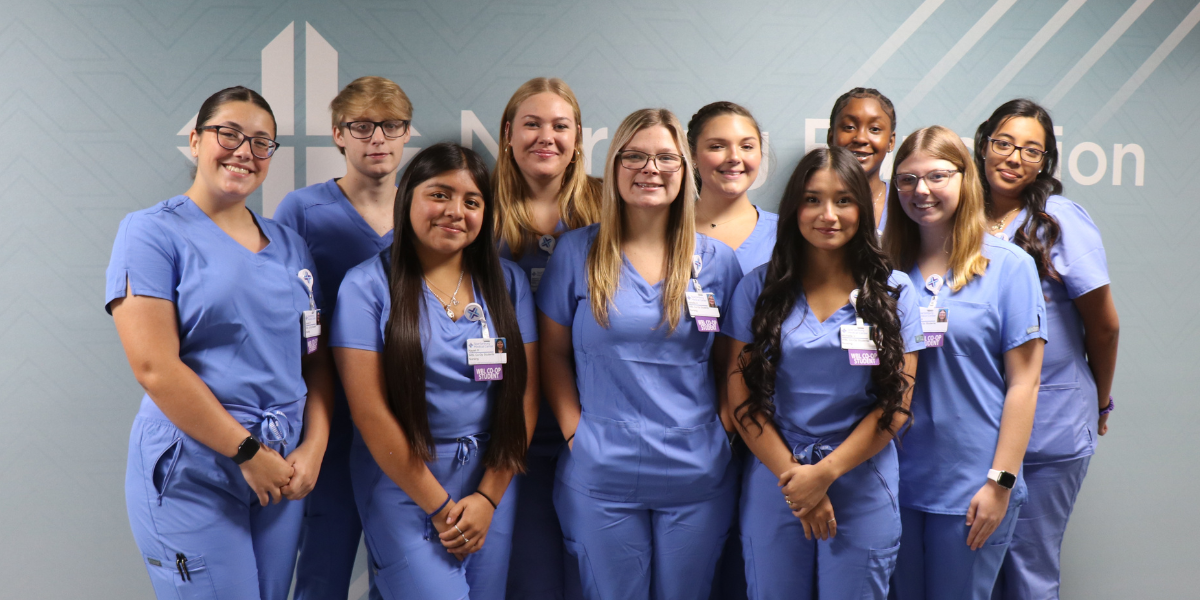 High school students gain nursing assistant skills through work-based learning program
Ten high school Certified Nursing Assistant (CNA) students from R.D. Anderson Career Center were all smiling inside Spartanburg Regional Healthcare System's Nursing Education hallway during an orientation event last month.  
For the next eight to 10 weeks, these students will receive on-site and hands-on work with skilled nurses and providers throughout the healthcare system.  
The partnership between Spartanburg Regional and Spartanburg County's high school career centers combines academic learning with clinical experience. The partnership has been one way to address a workforce development challenge, particularly with nursing careers.  
"The students are getting at least eight weeks of on-the-job training while still in high school," said Shelly McMillan, director of nursing operations. "When they graduate, our organization can immediately hire them, and the students will start as more prepared associates because of this incredible work-based learning opportunity." 
This inaugural group will learn about patient care and treatment under the direction of clinical associates and instructors, while gaining school credit hours for their CNA program. The goal is to have more than 20 students from different career centers go through the program next spring.  
Upon their graduation, these students will have gained valuable skills through the work-based CNA program, which will help them have an advantage and be qualified candidates for healthcare jobs. 
"This work-based learning opportunity is a pivotal piece to our innovation and recruitment strategy as we seek to hire for critical positions within our organization," McMillan said. "This program is exciting for both us and for the students. They have their first experience in the healthcare profession, where they can apply their classroom learning to relevant, actual practice and gain valuable experience for their futures." 
McMillan said the work-based learning program is essentially an eight to 10-week interview process for students to build their resumes and set themselves apart from other candidates looking to enter the healthcare field.  
After attending a class on caring for patients and effective communication led by nursing educator Ysabel Reid, the 10 students posed for a group picture outside the nursing education classroom.  
"I've always wanted to go into the healthcare field, and I really like helping people, so this is the one thing I can do to really connect with patients and help them get better," senior Ashton Hill said.  
Jatoria Hargrove, another R.D. Anderson student, said she is looking forward to the program giving her the hands-on learning that she is seeking to solidify her desire to work in nursing.  
"I think I want to go into the nursing field, so this is a push in that direction, and it's helping me see that I really do want to do this," she said.