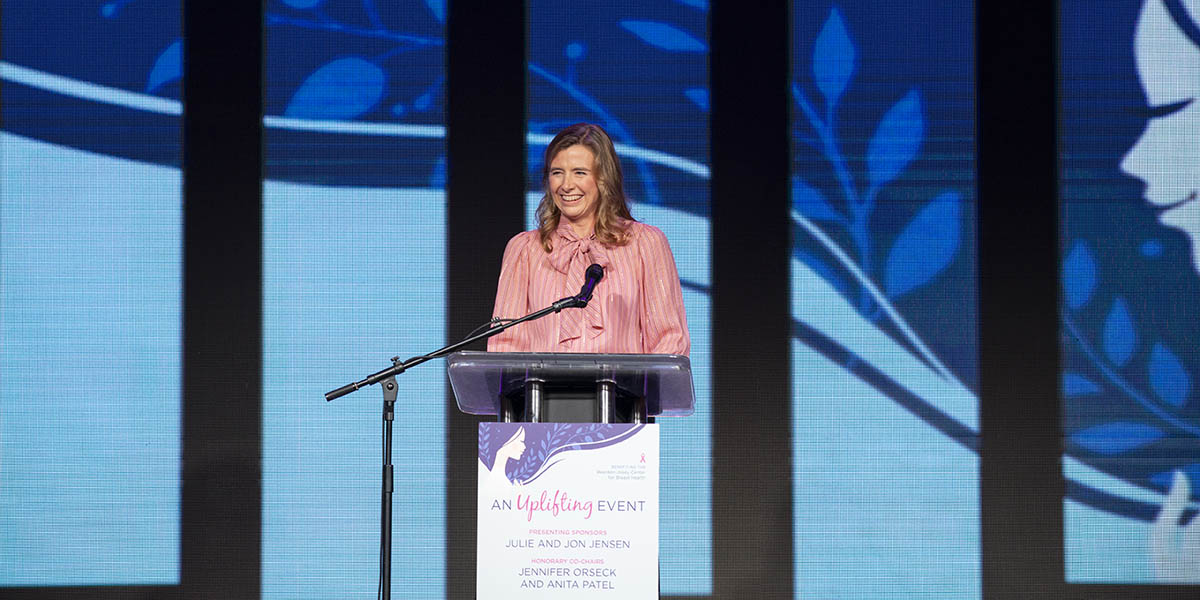 Helping women throughout the community
A crowd of 600 community members came together in late October for a common purpose: to support the fight against breast cancer.
It was Spartanburg Regional Foundation's annual Uplifting Event, and through ticket sales, sponsorships and other donations, the luncheon netted nearly $120,000 to benefit the Bearden-Josey Center for Breast Health. These funds support programs such as free mammography screenings for uninsured women and mobile mammography services.
Attendees heard stories of hope and inspiration as well as perspectives on advancements in treatment and prevention. Kim Toler, MD, recounted the experience of being diagnosed with breast cancer and shared her thoughts on survivorship. Steve Corso, MD, discussed the ongoing development of cutting-edge breast cancer treatments offered at Gibbs Cancer Center & Research Institute. 
A video presentation showcased the power of philanthropy in advancing such programs as cold cap therapy and mobile mammography.
Cold cap therapy, available at Gibbs Cancer Center, helps to limit hair loss for patients undergoing chemotherapy, and donations to the Foundation support financial assistance to help qualifying patients afford the treatment. Meanwhile, donors to the Foundation funded the addition of a second mobile mammography unit to enable the Bearden-Josey Center for Breast Health to reach more women in remote and underserved communities.
Honorary co-chairs for the 2019 Uplifting Event were Jennifer Orseck and Anita Patel. Both are breast cancer survivors who are passionate about sharing their stories and providing encouragement to women in need.
Dania Beck, director of philanthropy for the Foundation, thanked the many partners who came together to make the luncheon a success.
"An Uplifting Event is such a team effort," Beck said. "Our volunteers, guest speakers, and co-chairs put a great deal of time and energy into making it a success. And, of course, we are grateful for the generosity of our sponsors, table hosts, and other donors. All of these contributions enable us to provide substantial support for the Bearden-Josey Center for Breast Health and for women throughout our community."
To make a donation to support the fight against cancer, visit https://www.regionalfoundation.com/ways-give/cancer.