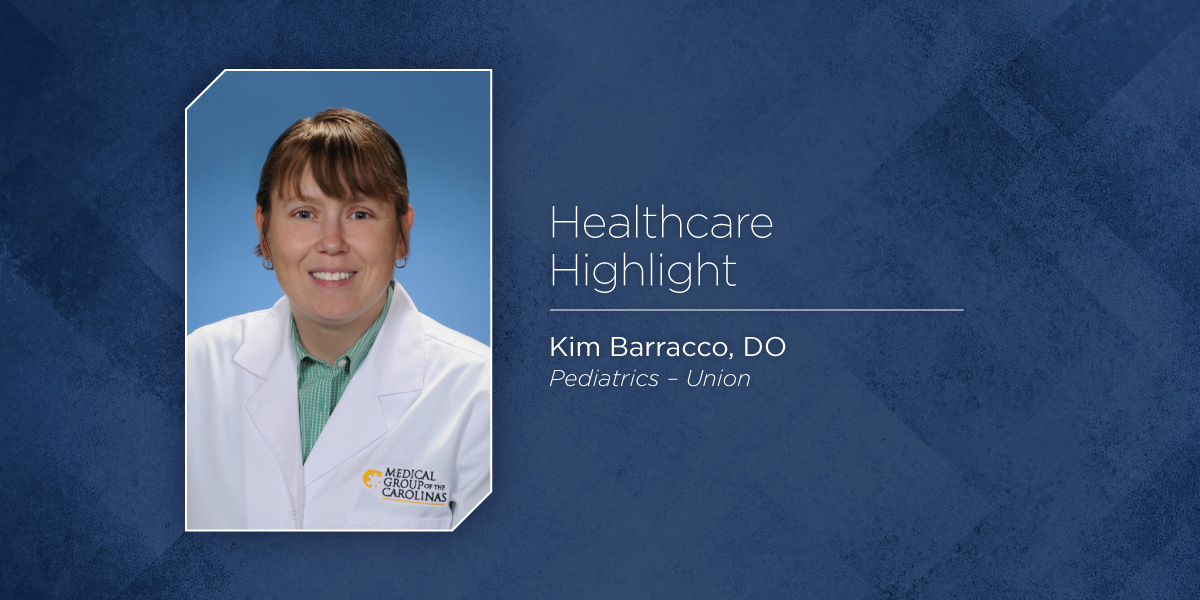 Helping children get healthy, stay healthy
Fearless children inspired Kim Barracco, DO, to become a pediatrician.
"When I was a teenager, my sister was diagnosed with a bone disease," Dr. Barracco said. "This required a long stay in the hospital. When I would go visit with her, I watched the other children, and was surprised to see how happy they were no matter how sick they might be. When they got to go home, there was such joy. I decided then I wanted to be a part of helping children get healthy and stay healthy."
Fast forward several years and Dr. Barracco is now part of that healing process as she joins Medical Group of the Carolinas – Pediatrics – Union, located at 407 West South Street, Union, SC 29379. With 10 years of pediatric experience, Dr. Barracco believes in treating each individual patient, not simply the disease or symptom.
"That patient may need more care than just a prescription can provide," she said. "I make sure I look at all aspects of their health, so that I can give the best care possible."
Dr. Barracco received her Doctor of Osteopathic Medicine degree from the West Virginia School of Osteopathic Medicine in West Virginia. She completed her residency at Charleston Area Medical Center in West Virginia and is board certified in pediatrics. She is also a member of the American Academy of Pediatrics. Outside of the office, Dr. Barracco enjoys exercising, reading, traveling and photography. Medical Group of the Carolinas – Pediatrics – Union cares for infants, children and teens. The goal is to help children reach their full potential by addressing their medical needs, as well as growth and developmental issues.
"Children need an advocate at times on many aspects of their health," Dr. Barracco said. "I am there to help them get what they need to grow into productive healthy adults."
Medical Group of the Carolinas is a large multi-specialty physician group serving the Upstate. The doctors with Medical Group of the Carolinas are dedicated to meeting your healthcare needs from wellness and prevention, to the diagnosis and treatment of illness. Medical Group of the Carolinas – Pediatrics – Union is open on Monday through Friday from 8 a.m. to 5 p.m. To make an appointment, please call 864-429-8846.