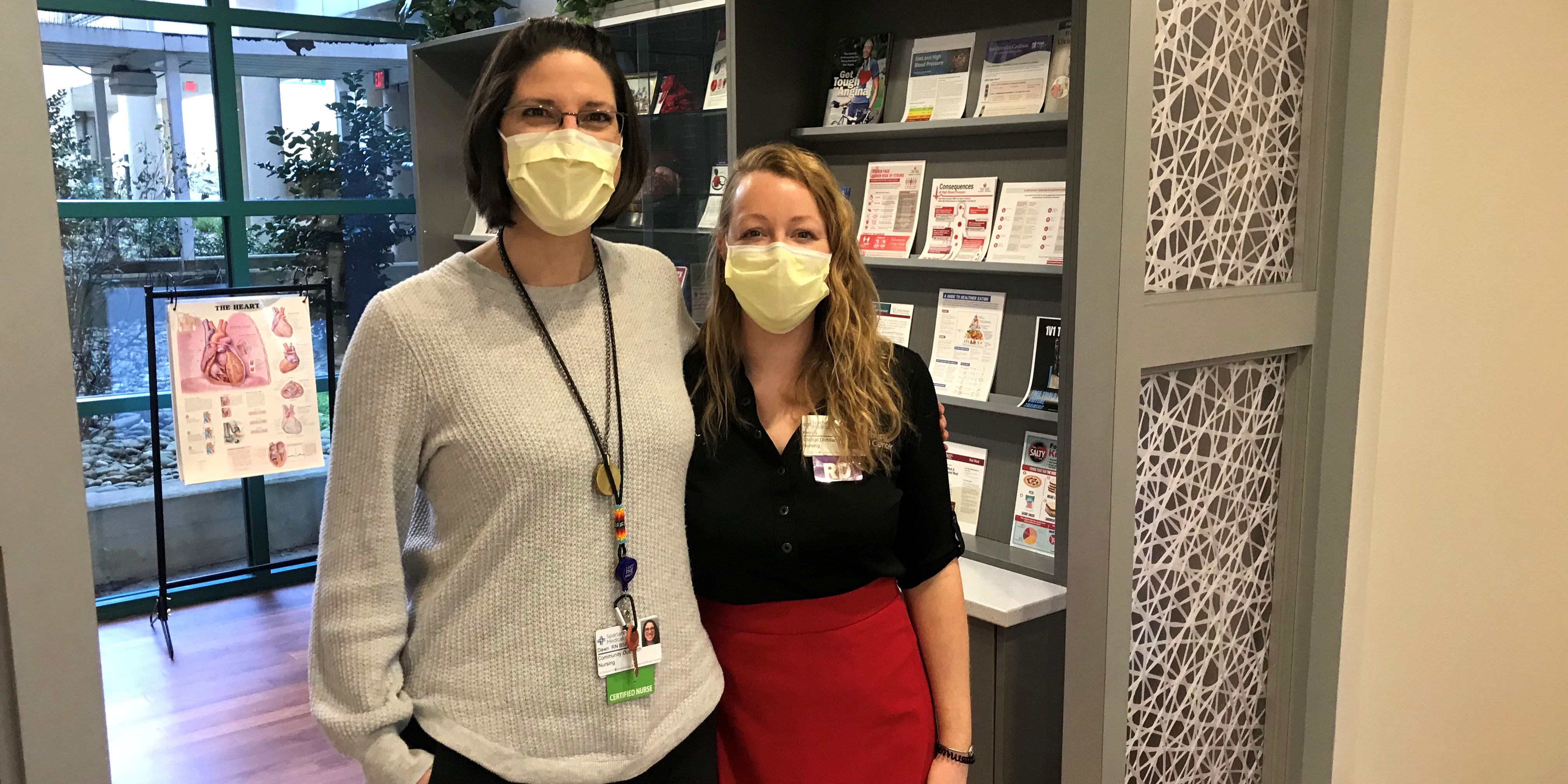 Heart Month spotlight:  The Joe R. Utley Heart Resource Center
From a heart attack to open heart surgery, having a health crisis can be scary and isolating. 
While the COVID-19 pandemic continues to limit opportunities for in-person events, the Spartanburg Regional Heart Resource Center is looking for new ways to connect with patients.  
Heart Resource Center coordinator Kerri Stewart and patient educator Dawn Maddux are visiting cardiac patients in the hospital all month and giving them red scarves – handmade by the "Witty Knitters" volunteer group. 
The scarves are a gesture of encouragement and an opportunity for Stewart and Maddux to talk to patients about Cardiac Connection, a new program by the Heart Resource Center.  
Slated to start in March, Cardiac Connection will be a support community for people of all ages who have experienced a heart attack, stroke, heart surgery or other cardiac event or who are at risk for heart disease. 
"When you go through a health event, it can feel very isolating," Maddux said. "By creating a community of people who share similar experiences, it can help with the mental and emotional toll because patients don't feel alone. It can also provide support for those going through lifestyle changes needed for better health." 
Resources for heart health  
February is American Heart Month, and the team at the Joe R. Utley Heart Resource Center is working on a variety of projects to provide community education and promote cardiovascular wellness.  
"Heart health is, of course, essential throughout the year — but American Heart Month is a great time to focus on how we can be mindful of ways to promote cardiac health, from nutrition to exercise to medical screenings," said Heart Resource Center coordinator Kerri Stewart. "We are thrilled to be part of efforts that can improve the well-being of heart patients and other community members." 
Located on the first floor of the Spartanburg Regional Heart Center, the Heart Resource Center provides educational materials for patients, family members, and care providers.  
Since opening more than 10 years ago, the Heart Resource Center team has given presentations and supported health screenings at churches, schools, community centers, and health fairs.  
Cooking for health 
A longtime focus has been to promote healthy eating – a key, of course, for good heart health. Stewart is a dietician who was on the Heart Resource Center staff before being named coordinator in 2021. She has led cooking demonstrations and tours of grocery stores that help consumers assess healthy – and affordable – food choices.  
During the pandemic, Stewart and Maddux have focused on long-range strategies to work with health system and community partners to promote nutrition and healthy lifestyles. They have conducted virtual classes from the teaching kitchen at the Gibbs Cancer Center & Research Institute at Pelham – with more planned for the months ahead.  
And they recently were accepted into the international Teaching Kitchen Collaborative, which bills itself as "a network of thought-leading organizations using teaching kitchen facilities as catalysts of enhanced personal and public health across medical, community, school, and corporate settings." 
It puts Spartanburg Regional in good company. Members of the collaborative include Emory and Stanford universities. Spartanburg Regional is the only representative from South Carolina.  
"Being part of the Teaching Kitchen Collaborative will give us access to a wealth of research and to cutting-edge ideas for promoting nutrition," said Stewart, who envisions the development of a "train the trainer" model to help clinicians integrate nutrition – and the preparation of healthy food – into the care they provide for patients.  
"We believe these initiatives hold real promise," Stewart said. "A holistic approach to encouraging healthy eating has the potential to make a tremendous difference for individual patients and for community health."  
To learn more about the Joe R. Utley Heart Resource Center, please visit https://www.spartanburgregional.com/services/heart/heart-resource-center.  
To donate to the Joe R. Utley Heart Resource Center Fund, please visit https://www.regionalfoundation.com/ways-give/heart-disease.