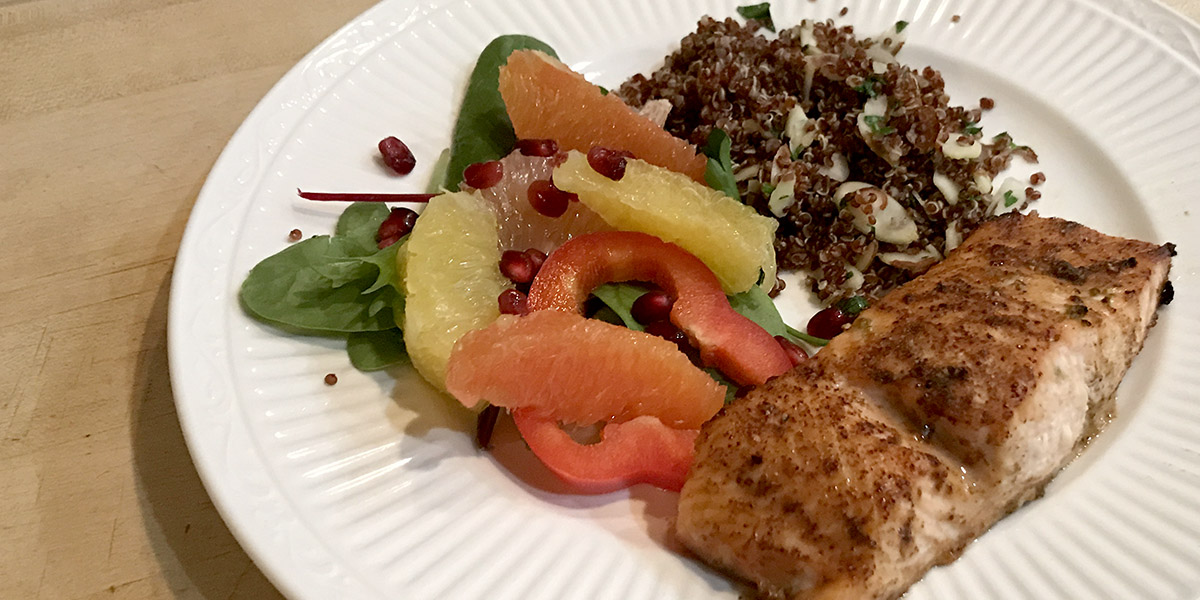 Heart healthy Valentine's Day
On Valentine's Day, we often want to pull out all the stops to cook a romantic meal. Why not keep your heart healthy in the process?
Laura Stille is a dietitian in the Spartanburg community, a member of the Spartanburg Regional Foundation Heart Division, and District 4 City Council member. And she has a passion for heart healthy meals. Laura shares a tasty — and heart healthy — Valentine's Day meal for your holiday. It's delicious and perfect for a romantic dinner for two or a celebratory family meal. Celebrate heart month with us!
The meal includes:
Roasted Chili-Lime Salmon
Red Quinoa and Almond Pilaf
Mixed Green Salad with Citrus Sections and Citrus Vinaigrette
Strawberries with Dark Chocolate
Roasted Chili-Lime Salmon
Ingredients
4 (6-ounce)
salmon fillets, skinned (1-inch thick)
1 lime (grated rind and juice)
1 orange/tangerine (grated rind, sections and juice)
2 tablespoons honey
1 tablespoon chili powder
1/4 teaspoon ground cumin
1/4 teaspoon ground coriander
1/4 teaspoon crushed red pepper (or more if you like heat)
Salt and pepper
Olive oil
Italian parsley
Preparation
Preheat oven to 425 F degrees 
Rinse salmon and pat dry. Cover a roasting pan with foil for easy clean-up. Drizzle pan with olive oil and place salmon fillets on pan. Lightly salt and pepper each fillet.
Using a hand-held microplane grater, grate the rind of the lime and orange evenly over the fillets. Be careful not to grate into the bitter white part.
Combine honey, 2 tablespoons lime juice, 1 tablespoon orange juice and spices in a bowl and stir well. Using a brush, spread some of the mixture on each fillet – just enough to run down sides. (May heat leftover sauce to serve with garnish of orange sections and parsley).
Bake at 425 F degrees for 12 minutes or until fish flakes easily with fork.
Red Quinoa and Almond Pilaf
Ingredients
1 tablespoon olive oil
1 tablespoon shallot, minced
1-1/2 cups chicken or vegetable broth (or water)
1 cup red quinoa
1/2 cup toasted unsalted almonds, slices or slivers
1/2 cup fresh parsley, chopped
Salt and pepper
Preparation
In medium saucepan, sauté shallots in olive oil over medium-high heat until soft, about 2 minutes. Season lightly with salt and pepper.
Add quinoa and cook 1 minute.
Add broth, bring to simmer and cover. Cook until water is absorbed, about 15-17 minutes.
Let stand 10 minutes, then fluff with fork. Stir in almonds and parsley.
Mixed Green Salad with Citrus Sections
Ingredients
Mixed greens / spinach / Italian parsley
Grapefruit, blood orange, navel orange sections
Pomegranate seeds
Red pepper rings
Toasted pecans 
Goat cheese, optional
Citrus Vinaigrette
Ingredients
1/3 cup vegetable oil
2 tablespoons orange juice
2 tablespoons red wine vinegar
2 tablespoons honey
1/4 teaspoon salt
6+ dashes hot sauce
Preparation
Combine honey and vinegar then other ingredients. Shake/stir vigorously.
Arrange greens, fruit, pepper and nuts on each plate and top with goat cheese sprinkles, if desired.
Add a splash or two of vinaigrette on each portion.
Strawberries with Dark Chocolate Morsels
Hull or cut off the top of the strawberry and place a dark chocolate baking morsel inside the hollow space.