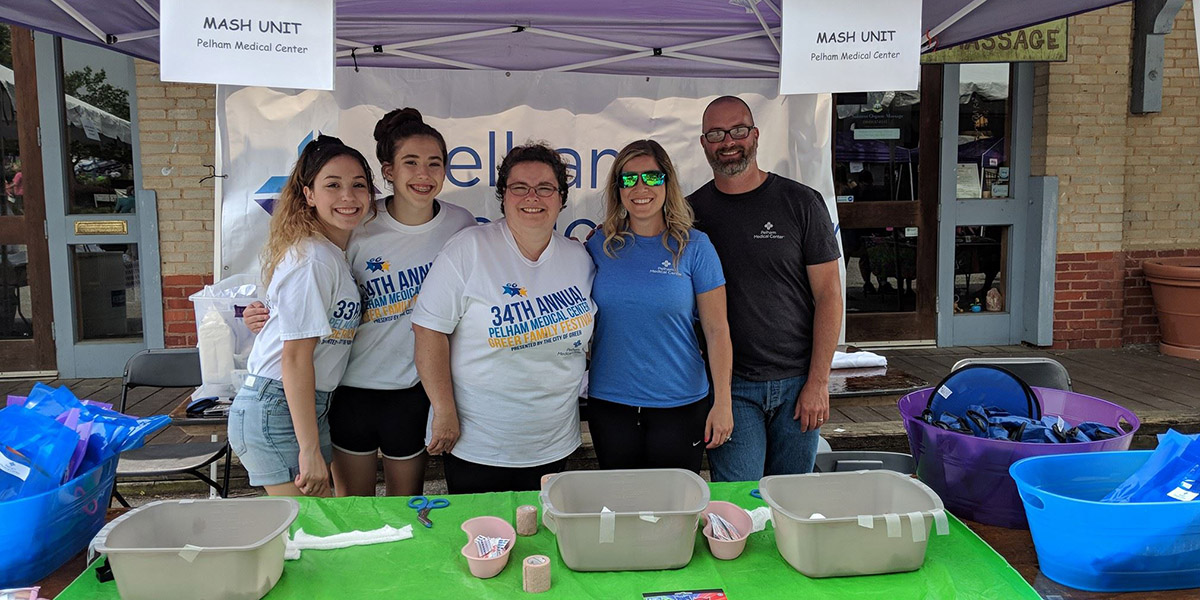 The heart of the festival
It has grown into one of the most anticipated festivals in the Upstate, and this year's 35th anniversary event promises to be the best.
The Pelham Medical Center Greer Family Fest spans two days and includes live music, a KidsZone, a Creation Station with a M*A*S*H tent, and more than 150 vendors.
At the heart of it all are Pelham Medical Center's education booths. Get free skin cancer and blood pressure screenings, meet an emergency doctor, try out a few physical fitness training activities and much more.
Here's the schedule of events for the PMC education booths.
FRIDAY, MAY 3: 6 p.m.-10 p.m.
Emergency Department: Games and Information 
"Ask an ER Doc" — Dr. Elizabeth Atkinson 6-8 p.m.
Meet the Staff: Immediate Care Center — Pelham with Dr. Wayne Davis, MGC — Family Medicine — Five Forks, Massage Therapy
Act FAST: Learn Signs and Symptoms of Stroke
Joe R. Utley Heart Resource Center Staff: Keep Your Heart Healthy
Ask our Chaplain about Advanced Directives
Respiratory Therapy: Smoking Cessation
Meet the Staff: Ambulatory Surgery Center at Pelham
SATURDAY, MAY 4: 9 a.m.-1 p.m.
Free Skin Cancer Screenings 10 a.m.-2 p.m.
Learn Hands-Only CPR 10 a.m.-1 p.m.
MGC Division of Surgery Pelham
Meet the Staff: Gibbs Cancer Center & Research Institute and Bearden-Josey Center for Breast Health — Mammography Help
"Ask a Stroke Doc" — Dr. John Pilch — MGC Neurology
Meet the Staff: MGC — Internal Medicine — Greer, MGC — Pelham Center for Women, MGC — Gastroenterology, MGC — Orthopedic Surgery — Pelham
Inpatient and Outpatient Rehabilitation Services: Physical Fitness Training Activities
Creation Station — "M*A*S*H" Tent 11 a.m.–3 p.m.
Ask our Chaplain about Advanced Directives
MGC — Diabetes and Endocrinology: Diabetes Risk Assessments, Portion Control and "Rethink your Drink"
Meet the Staff: Ambulatory Surgery Center at Pelham
SATURDAY, MAY 4: 1 p.m.-5 p.m.
"Ask a Pain Doc" — Dr. Husam Mourtada — PMC Spine and Pain Management 3-5 p.m.
Pelham Medical Center Imaging Services — Information, Games and Activities
Meet the Staff: Immediate Care Center — Pelham and Milestone Family Medicine
Learn About Organ Donation
Act FAST: Learn Signs and Symptoms of Stroke
Meet the Staff: Ambulatory Surgery Center at Pelham