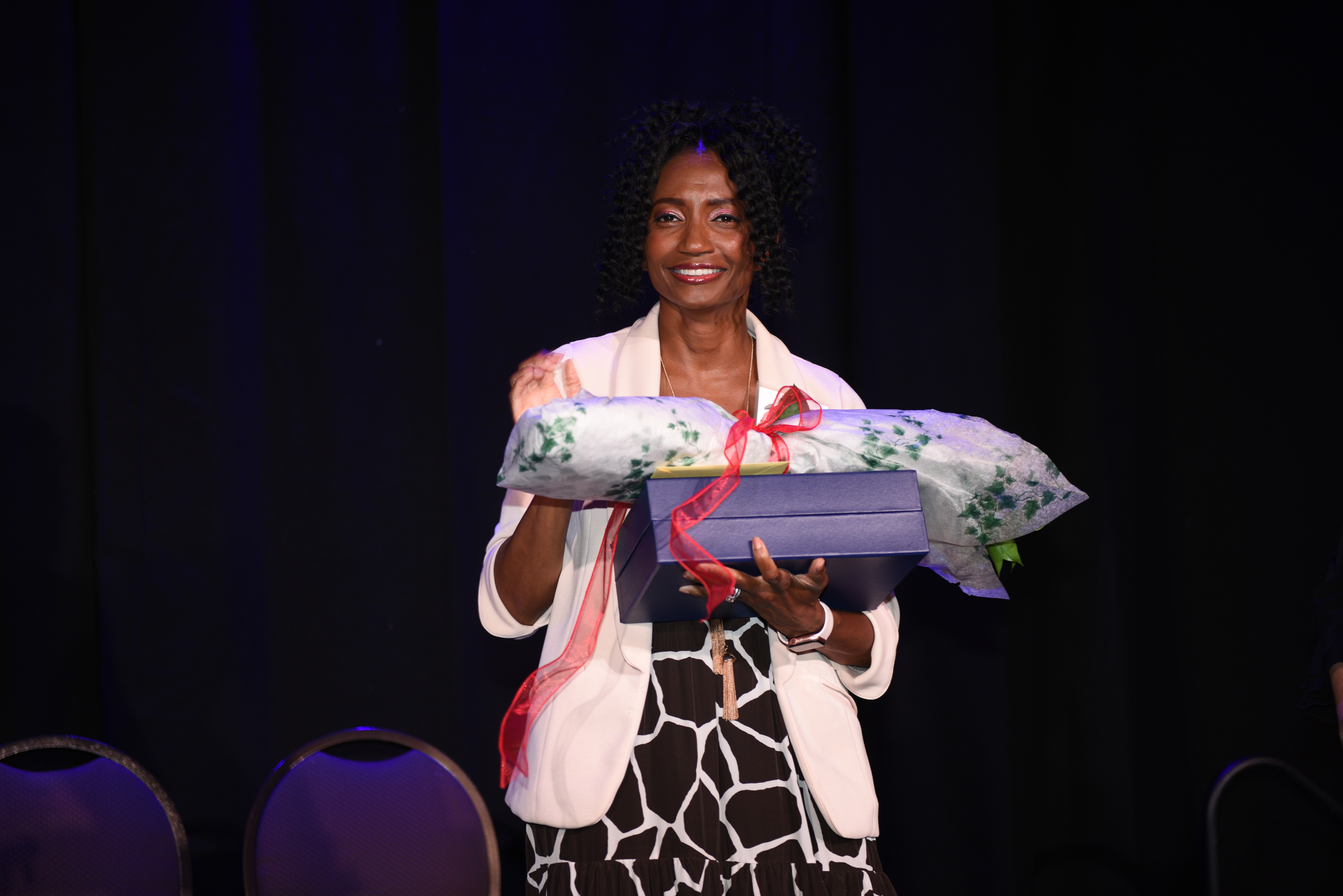 Jennifer Miller
Healthcare heroes and system leader celebrated
Healthcare heroes and system leader celebrated
With nearly 10,000 associates, Spartanburg Regional Healthcare System values all of those who are committed to advancing health together. Each associate across a full spectrum of services and specialties is a hero in their own way.
As part of Healthcare Appreciation Week, Spartanburg Regional held a dinner to recognize associates for their years of service and to highlight the Associate and Leader of the Year for 2022-2023.
Associate of the Year: Jennifer Miller
Jennifer Miller, a medical assistant with Medical Group of the Carolinas – Medical Affiliates – North Grove, was named Associate of the Year for her exceptional work ethic and commitment to excellence.
Her significant contributions have included training new associates, developing new training materials and streamlining the training process. Miller also spearheaded a new diabetic eye exam clinic to improve patient outcomes and contribute to the overall success of the medical practice.
Miller's collaboration skills are "second to none." She always goes above and beyond to support her colleagues, her nomination reads.
Those who nominated her stated: "This individual is a shining example of compassion and respect in the workplace, consistently demonstrating kindness and empathy toward colleagues and patients."
Commitment to patients and emotional intelligence are also among Miller's high attributes. Her natural ability to read people makes her an excellent communicator and highly effective team player.
She also takes significant time to educate patients on the importance of medication adherence, proper diet, exercise and tobacco cessation.
"Jennifer is an invaluable member of our team, and I believe she exemplifies the qualities necessary to receive this award," her nomination reads.
Miller has served the system faithfully for 24 years.
The associate division winners were:
Charlie Thompson – Environment Associate, ESNC-Environmental Services
Jennifer Miller – Medical Assistant, Medical Group of the Carolinas – Medical Affiliates – North Grove
Amanda Ashenfelter – Nursing Clinical Educator, Union Medical Center – Nursing Administration
Brad Holliday – Occupational Therapy Assistant, Rehabilitation Services – Occupational Therapy
Andi O'Dell – Nursing Clinical Educator, Pelham Medical Center – Corporate Education
Ashley Cox – Care Manager, Health Management Network
Leader of the Year: Phil Humphrey
Phil Humphrey, the system director of pharmacy services for Pharmacy Administration and Support, was named the 2022-2023 L­­eader of the Year for his success in navigating and overcoming numerous industry challenges.
Humphrey has served the system with passion and enthusiasm for the past 16 years.
Amid supply chain shortages, Humphrey led the pharmacy team to develop surveillance systems to assess medication utilization in real time and implement shortage mitigation strategies. He also spearheaded efforts to retain quality staff amid pharmacy technician shortages.
He helped make SRHS pharmacies an employer of choice through a partnership with the Specialty Pharmacy. The partnership offered free access to a pharmacy technician certification program and improved market equity of pay for pharmacy technicians.
Humphrey's motivational and persistent work ethic also led to a multi-million-dollar pharmacy renovation project at Spartanburg Medical Center – Church Street Campus. This project included expanding current pharmacy technology to better serve the organization's growing patient population.
Humphrey carries a full plate overseeing inpatient pharmacy services for the five acute care hospitals, outpatient pharmacy services including four retail pharmacies, one call center, specialty pharmacy services and two outpatient infusion centers.
And yet, Humphrey still manages to balance work and life. He is an avid cyclist, training for the upcoming Assault on Mount Mitchell. He cheers on his family as they pursue their own hobbies and sports, and is a constant presence in the community.
"Phil has impacted the community as much as he has impacted the healthcare system," system vice president David Church said during the Thursday evening celebration. "There is hardly an area within the strategic plan that Phil is not pushing our team to continue to address and improve. He constantly uses his favorite saying, we can 'Make it Happen.'"