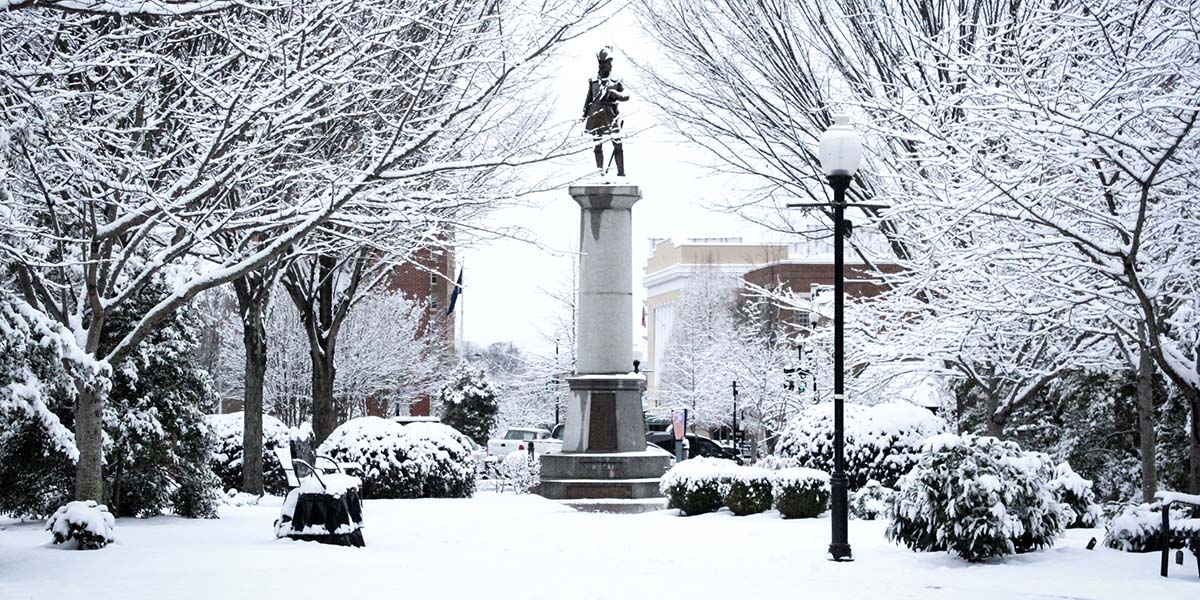 Snow blanketed Daniel Morgan Square in Spartanburg several years ago. Will a wintry mix again cover the Upstate? (GETTY IMAGES)
Have fun, stay safe: Are you ready for snow, ice?
Weather forecasters are saying there's a 100 percent chance of snow this weekend, which means that half of the region is rushing to the grocery store for bread and milk, while the other half is rolling their eyes and saying, "I'll believe it when I see it."
Whether snow or ice covers the roads, Spartanburg Regional and local emergency professionals encourage you to stay safe.
"If you don't have to leave your home, don't," said Josh Kingsmore, Spartanburg EMS training and quality coordinator. "If you have to be on the road, drive very slowly. The largest number of emergency calls we receive are for wrecks."
Danger still lurks, even if you've committed to staying off the roads. Falls on the ice can lead to severe injuries and time spent in Spartanburg Medical Center's Level I Trauma Center.
"If you don't have to go outside, avoid doing so," Kingsmore said. "Even getting your newspaper or shoveling your driveway should be avoided."
EMS professionals are preparing for wintry weather by making sure their trucks are equipped with snow chains, de-icing materials and blankets.
You can prepare, too – and there's a lot more you can do than clearing out the bread aisle at the grocery store.
Prepare your home and family for a storm
Check your heating system; have a professional service it if you have the chance (and at the beginning of the winter season every year). A professional will make sure that your heating system is clean and properly ventilated.

Pick up three days' worth of supplies, in case your power goes out. Stock food that does not require cooking or refrigeration and store water in clean containers.

Keep medications, ID cards and emergency numbers in one place.

Keep your phone fully charged.

Keep an up-to-date emergency kit, including:

battery-operated devices such as a flashlight, a National Oceanic and Atmospheric Administration Weather Radio, and lamps

extra batteries

First-Aid kit and extra medicine

baby items

cat litter or sand for icy walkways.

Carbon monoxide is odorless, colorless and deadly. Install a CO detector to prevent carbon monoxide emergencies, and check its batteries regularly. Keep grills, camp stoves, and generators out of the house, basement and garage. Operate generators at least 20 feet from the house. Leave your home immediately and call 911 if the carbon monoxide detector sounds.

Learn how to turn off the water line to your house, in case of a burst pipe.
Bundle up before going outside
Wear layers of light, warm clothing – coats, mittens, hats, scarves and waterproof boots.

Sprinkle cat litter or sand on icy patches.

If you're playing or walking in the winter wonderland, take a buddy, a phone and an emergency kit.
Know the signs of hypothermia
Cold emergencies can lead to frostbite and hypothermia. Our bodies are designed to regulate temperatures within a few degrees, but extreme cold can be dangerous and potentially deadly.
The symptoms of hypothermia are shivering, slurred speech, drowsiness and loss of coordination.
If you have an emergency, please call 911.
If you must drive, take it slow
Avoid traveling when the weather service has issued an advisory.

Make sure your car is winterized. Keep plenty of blankets, water and snacks in the vehicle in case of a breakdown.

Drive slowly and avoid excessive, abrupt steering maneuvers. Do this, and you will be less likely to lose control of your vehicle if you hit ice. Some hazards, like black ice, may be difficult to see, especially at night.

Follow at a safe distance. Slow down and leave plenty of room to stop.

Don't assume your vehicle can handle all conditions, even if it's four-wheel or front-wheel drive. Braking gently will help you avoid skidding. If you have anti-lock brakes (ABS), press the pedal down firmly and hold it. If you don't have antilock brakes, gently pump the pedal to avoid wheel lock-up.

Be aware of road conditions and be especially careful on bridges, overpasses and infrequently traveled roadways, which tend to freeze first. Even at temperatures above freezing, you might encounter ice in shady areas or on exposed roadways like bridges if the roads are still wet.