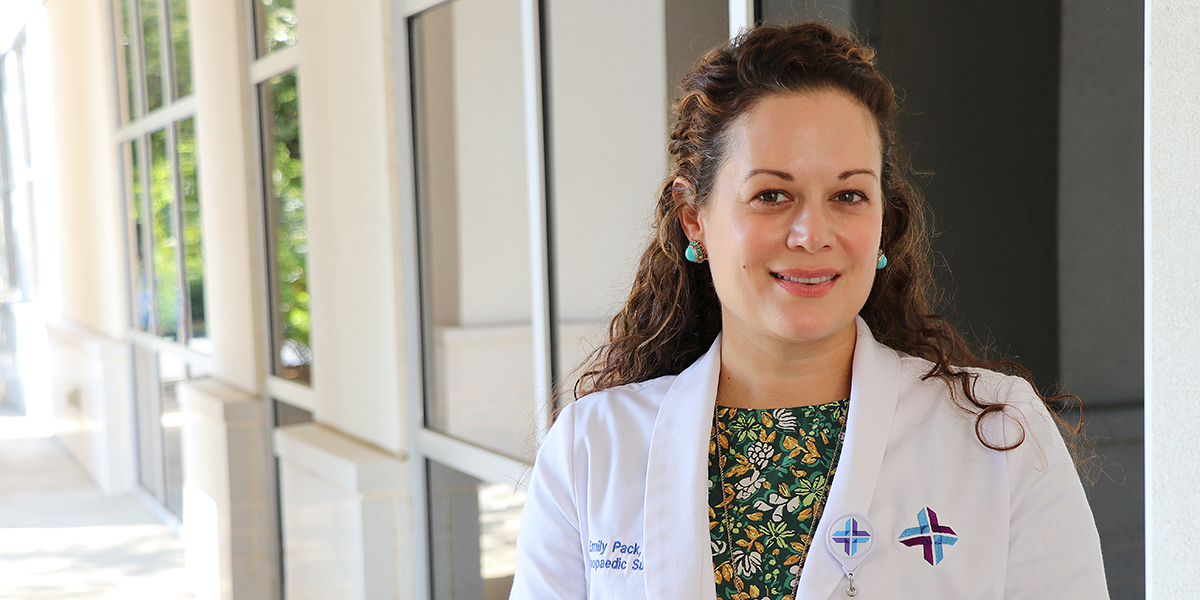 Hard work, passion for service leads nurse practitioner to orthopaedic career
Getting a college degree takes hard work and discipline. Emily Pack, MSN, NP, should know. She holds two bachelor's degrees and a master's in nursing.
And if that isn't impressive enough – she had three children by the time she earned her Bachelor of Science degree in nursing.
"When I started my prerequisites, I had a 1-year-old," Pack said. "When I finished nursing school, I had three children."
Two of them are twins, and while pregnant during her last biology class, Pack had to be put on bed rest. It didn't stop her.
"My mother had to wheel me in to take my final exam," Pack said.
Today, her twins are 7 and her oldest child is 8, and Emily Pack is a nurse practitioner at Medical Group of the Carolinas – Orthopaedics – Skylyn. She works closely with orthopaedic surgeon Gregory Colbath, MD, and Elizabeth Hargett, his longtime physician assistant.
A sense of awe
For as long as she remembers, Pack wanted to make the world a better place. She earned a bachelor's degree in religious studies (magna cum laude). She worked as director of development for a preservation trust in Charleston, S.C. She has served on numerous committees and boards for her church, school and community.
At the same time, she fostered a deep admiration for those who healed.
"When I looked at my friends in the medical field, I always felt a sense of awe," Pack said.
Once the family moved to Spartanburg, Pack went back to school to earn a second bachelor's degree – this time in nursing – and continued to earn her Master of Science in nursing.
Becoming a nurse practitioner allows Pack to join a group of people who, she said, "have the ability to affect change at a fundamental level."
Patients often see orthopaedics as a surgery-focused area of medicine. But as a nurse practitioner at an orthopaedic surgeon's office, "my role is to see people in a clinic and exhaust measures before we sit down and have a discussion about surgery," Pack said.
Focused on mobility
Improving and maintaining mobility is key for people of all ages.
"As I watched my parents age, I gained a new appreciation for maintaining mobility," she said.  
Her job is to get people back to their lives, whether that means walking a trail, working around the house or teeing up 18 holes on the golf course.
"When I hear things like, 'I don't play golf anymore,' or 'I can't chase my children or grandchildren anymore,' that's when we need next steps," Pack said. "We need a plan."
That plan focuses on the "whole patient," Pack said, and proceeds from a place of empathy. A strategy is developed that involves making realistic goals and helping a patient reset their thinking about the problem at hand.
It all starts with listening.
"Outcomes are better when the patient feels heard," Pack said. "I spend time with patients to make sure we're working together toward a goal."
Learn more about the work they do at MGC – Orthopaedics – Skylyn.