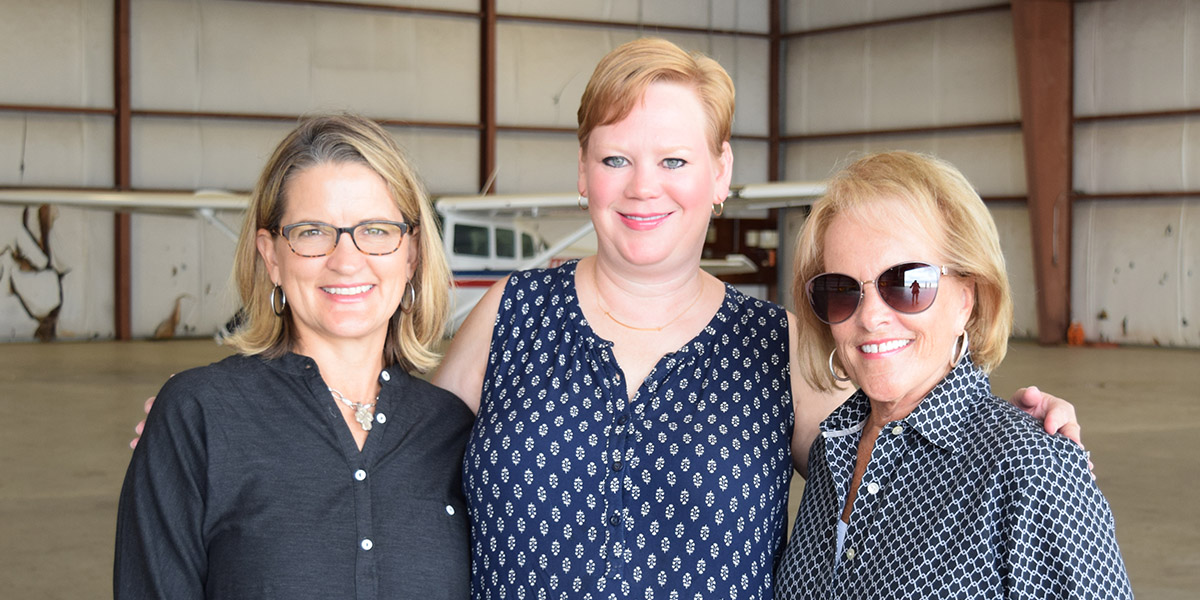 Hangar B volunteers make Spartanburg's biggest dance party possible
When it comes to putting on Spartanburg's most popular dance party, the saying "many hands make light work" certainly applies. And so it is that a robust team of volunteers pitches in to make Spartanburg Regional Foundation's Hangar B possible each September.
Held on September 27, Hangar B features live entertainment, a buffet, sponsor tents and an open bar, all in a unique setting – the Spartanburg Downtown Memorial Airport and one of its several airplane hangars. Proceeds benefit the Spartanburg Regional Heart Center.
Hangar B is quite a production:  A committee comprised of volunteers and Foundation staff members starts the planning process months in advance. They spend the better part of two days at the airport decorating, setting up chairs and tables, coordinating with event vendors, and preparing to the manage the coming-and-going of the 1,000-plus community members who attend each year. They come back the day after the event to help clean up and return the hangar to its proper condition for housing airplanes.
"I just love working with everyone to transform that hangar," said Kaye McIntyre, a Spartanburg realtor and longtime Hangar B volunteer.
On a recent morning, McIntyre joined Teresa Fowler, RN and Laura Stille, who are among more than 15 volunteer committee members, at the airport. They talked about how much they enjoy seeing the event come together – especially the transformation, as McIntyre put it, of the hangar into a concert-ready venue where the acclaimed band Party on the Moon will put on a high-energy show featuring Motown, classic rock favorites, and contemporary R&B.
"It's a lot of work," said Fowler. "We're out here early in the morning and work most of the day. But we make it fun."
"I love how the Foundation staff and committee members roll up our sleeves together to pull it off every year," said Stille. "Getting in the trenches like that with people helps you get to know and appreciate them even more."
And on the night of the event, "It is so fun to see people from all over town let their hair down a little and do some 'cardio' dancing," Stille said, tying in Hangar B's mission of promoting heart health. Fowler added that she's excited there will be several booths at Hangar B this year for attendees to learn about topics such as hands-only CPR and AED technology.
Fowler, Stille, and McIntyre are all members of Regional Foundation's Heart Division board. They each are passionate about contributing to the fight against cardiovascular disease, the nation's top killer.
McIntyre lost both of her parents to the disease. Fowler's father-in-law underwent coronary artery bypass surgery 16 years ago; more recently, her aunt had open heart surgery. Stille previously worked as a registered dietitian with the Joe R. Utley Heart Resource Center and is a longtime advocate for community health.
The Foundation's Heart Division raises money for a variety of funds that support cardiovascular health through technology upgrades, staff training, education and prevention efforts, assistance for patients in financial need, and more. Hangar B is the Heart Division's largest fundraising event. In 2017, based on ticket sales and the support of nearly 60 sponsors, the event netted more than $110,000.
The support of McIntyre, Fowler, Stille and other volunteers is crucial to the success of Hangar B, said event coordinator Hallie Jacobs. "Hangar B is really an all-hands-on-deck kind of event, and we couldn't pull it off without the efforts of all the volunteers who give their time and hard work. They bring a wealth of creativity, energy and dedication, and we are truly grateful for their contributions."
In addition to all their work on the days surrounding the event, Hangar B volunteers are also among its most enthusiastic cheerleaders. After saying her goodbyes to Fowler and Stille and leaving the airport earlier in September, McIntyre was on her way to hang up promotional posters at local businesses.
Her message to those who haven't purchased tickets yet: "Come on out and have fun – we hope to see you there!"
Tickets for the 2018 Hangar B are $60 and cover entertainment, food, alcoholic and non-alcoholic drinks, and a commemorative T-shirt. The price of a ticket goes up to $75 on September 24. Buy tickets at https://regionalfoundation.com/events/hangar-b/.