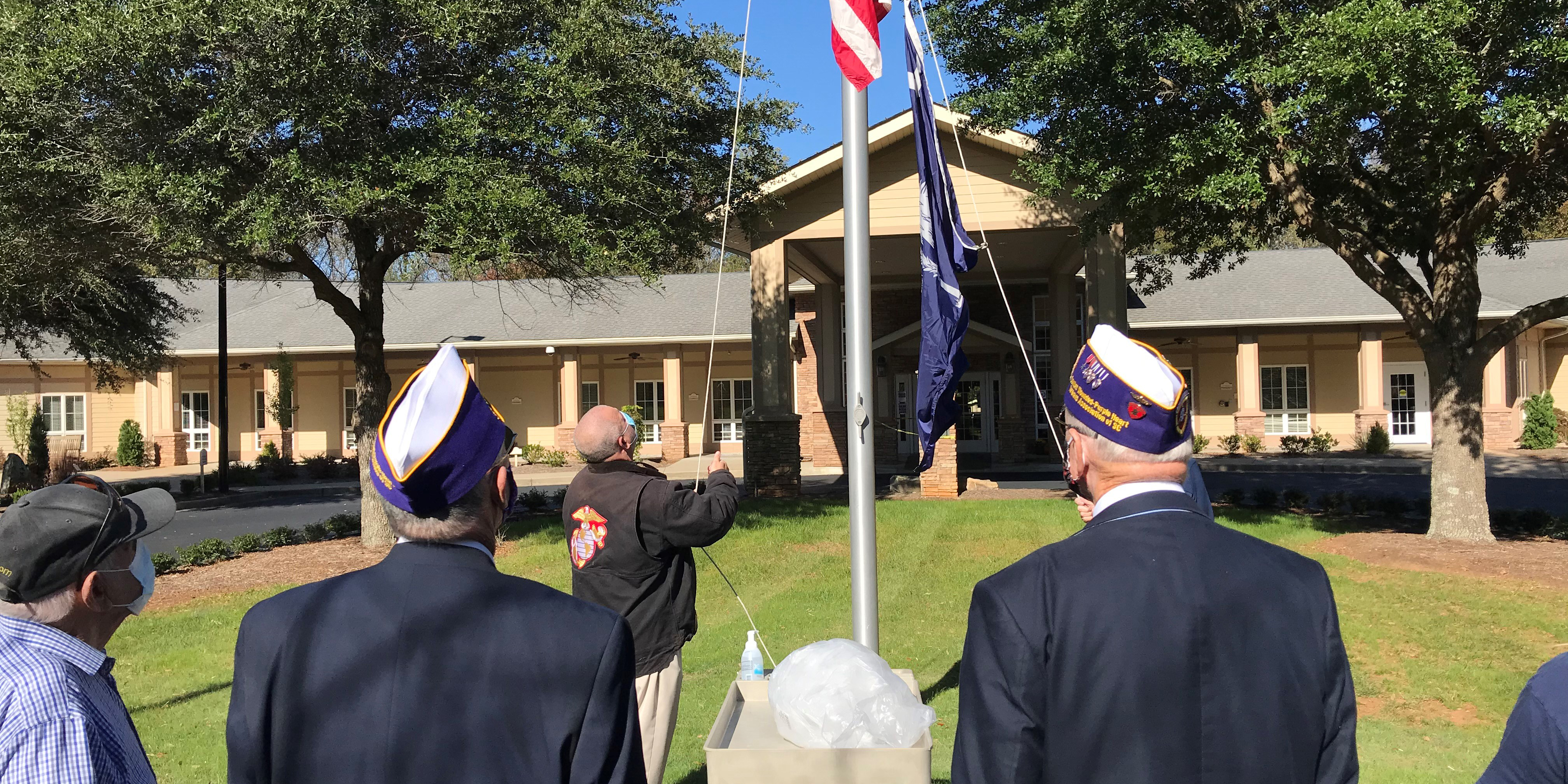 "Grateful for their service"
For military veterans, the American flag can stir a deep feeling of pride and honor. That's why Spartanburg Regional Hospice volunteer manager Kelly Hall looks forward to the presentation of flags every year to veterans receiving hospice care.
On Veterans Day, Hall brings together a group of veterans at the Spartanburg Regional Hospice Home to raise and salute flags.
"This is one of our favorite days of the year," Hall said. "We all just appreciate the opportunity to show veterans in hospice care that we are grateful for their service."
Hall enjoys seeing the passion veterans have for honoring others who have served.
"There's such a strong sense of camaraderie," she said. "Before the pandemic, there were also several veterans who volunteered to sit with patients in their homes or at Spartanburg Regional's Hospice Home."
One of those volunteers was Jim Williamson, who served in Vietnam and was honored with three Purple Hearts. He views supporting his fellow veterans as an important mission.
"Death is inevitable, and if I can ease it for one patient and provide comfort for one family, then I'm willing to do it," he said. "A wife of one patient told me, 'I'd never heard him talk about that.' Sometimes there's something they wouldn't tell a family member, but they would tell me."
Spartanburg Regional Hospice is part of the We Honor Veterans program, a collaboration of the National Hospice and Palliative Care Organization and the Department of Veterans Affairs. The initiative aims to help hospice organizations better understand and meet the unique needs of military veterans.
Donors to Spartanburg Regional Foundation's Hospice Special Needs Fund play a role in this effort by funding the flags and certificates presented on Veterans Day and supporting bereavement events that honor veterans and their families. 
"We're very grateful for the support of volunteers and donors," Hall said. "It is our duty and honor to serve those who have served us so heroically. It is a true privilege to be with these patients and families at their most vulnerable time."
Donate to Spartanburg Regional Foundation's Hospice Special Needs Fund at https://www.regionalfoundation.com/ways-give/hospice.