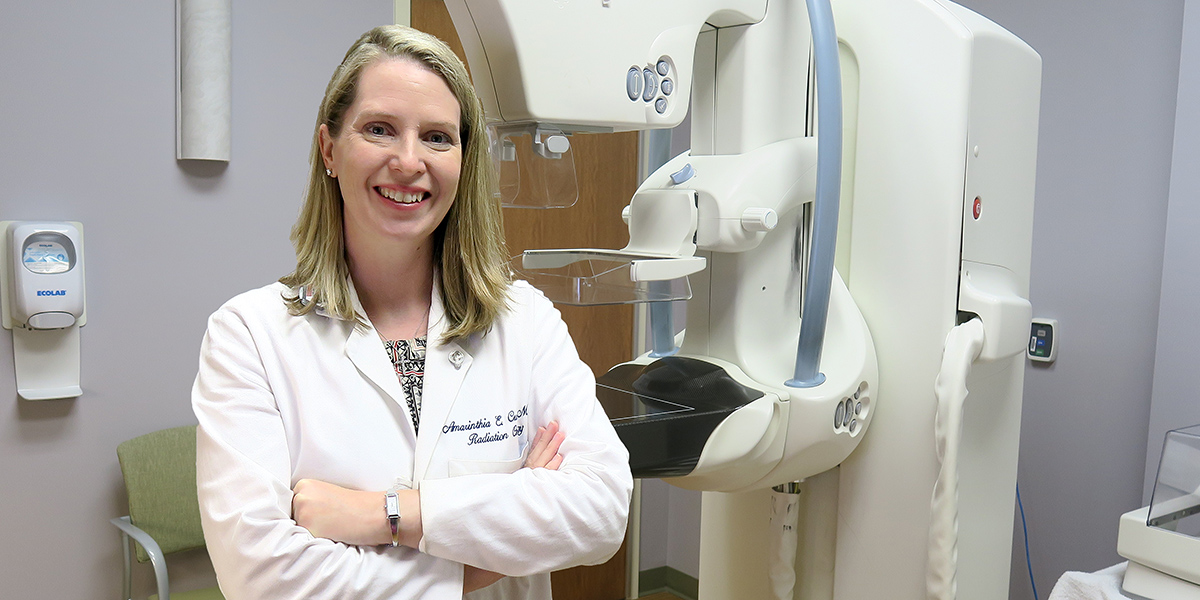 Amy Curtis, MD
Gibbs physician highlighted on work with clinical trial
Is the future of mammography three-dimensional?
One researcher is leading the way in answering that question, and she works at Gibbs Cancer Center & Research Institute.
Radiation oncologist Amy Curtis, MD, opened a clinical trial to conduct research on 3D mammography technology. Called TMIST, the Tomosynthesis Mammographic Imaging Screening Trial allows women getting a screening mammogram to help advocate for generations of women to come.
In early 2018, Dr. Curtis opened TMIST to conduct research on the latest 3D mammography technology.
Known as tomosynthesis, the advancements with 3D mammograms could help with early detection of breast cancer. The 3D screening technology gives a different, more detailed picture, which may make it easier for doctors to identify breast masses.
Researchers are conducting this trial to find out if 3D is better than 2D mammography at detecting breast cancer.
"Many of these women are telling our coordinators how proud they are that our hospital is participating in this study and that they can enroll," Dr. Curtis recently told The Cancer Letter, an online publication for cancer researchers. "Many women seek additional ways to express their breast cancer advocacy, and participating in TMIST has been a great fit for these women."
The Bearden-Josey Center for Breast Health, part of Gibbs Cancer Center & Research Institute, offers 3D mammography. This study is taking place here in the Upstate of South Carolina.
TMIST is a randomized breast screening trial that will help researchers learn about the best ways to find breast cancer in women who have no symptoms. The trial will compare two Food and Drug Administration-approved types of digital mammography: standard 2D digital mammography with the newer 3D tomosynthesis mammography.
ECOG-ACRIN Cancer Research Group and National Cancer Institute sponsor TMIST.
Long considered to be the gold standard, 2D digital mammography uses traditional X-ray techniques to obtain images of the breast from two different directions.
3D mammography uses X-rays to obtain images from the same two directions, across multiple angles, generating an extremely detailed stack of images.
By taking part in TMIST, participants will provide critical information that will help researchers learn how to most effectively screen women for breast cancer, and help women make informed decisions about breast cancer screening tests in the future.
Read the full interview with Dr. Curtis here at The Cancer Letter.  
Learn more about the TMIST study, and how to schedule a mammogram.