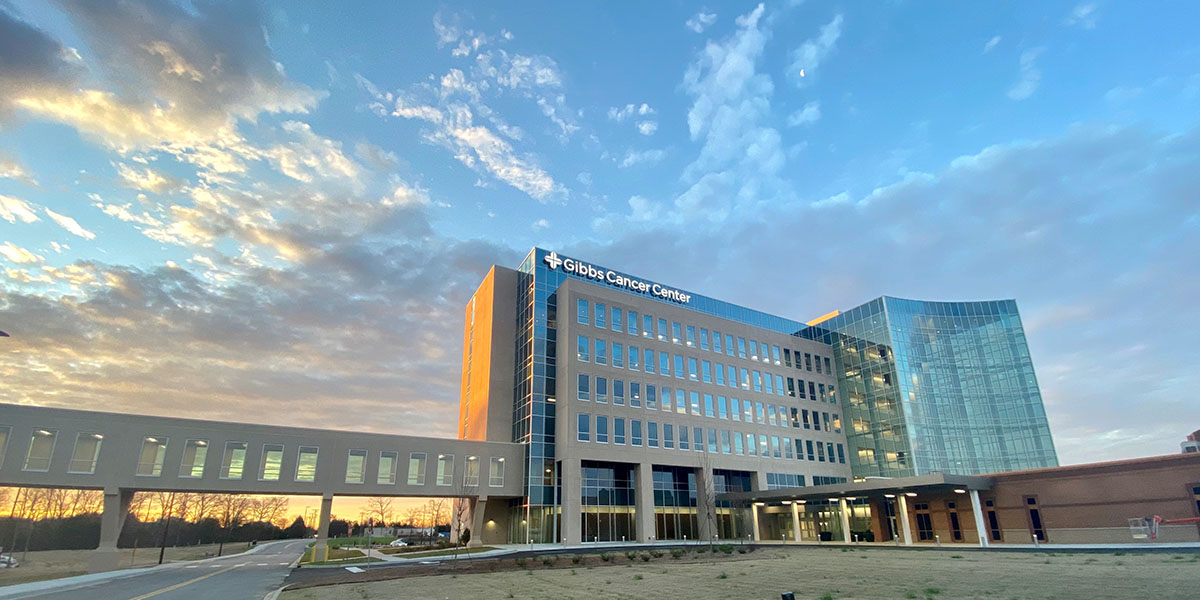 Gibbs Cancer Center at Pelham opens new 191,000-square-foot expansion
GREER, S.C. (March 5, 2020) -- The expansion of Gibbs Cancer Center & Research Institute at Pelham will begin treating patients later this month.
Community members and Spartanburg Regional Healthcare System physicians, nurses and associates toured the new building for the first time today, immediately following a ribbon-cutting ceremony.
Construction on the seven-story, 191,000-square-foot facility in Greer began in early 2018 as part of Spartanburg Regional's mission to provide excellence in health to the region and was supported by generous donors who participated in a $16 million fundraising campaign by the Spartanburg Regional Foundation.
Since 1999, Gibbs Cancer Center has provided comprehensive, personalized cancer treatment to thousands of individuals in the Upstate and beyond. What began as one facility has now expanded to two Spartanburg locations, as well as facilities in Cherokee and Union counties.
The expansion of Gibbs Cancer Center at Pelham balances increasing demands for treatment across the Upstate by investing in the future, while also remaining committed to serving patients in their home communities.
The community surrounding Pelham Medical Center is one of the fastest-growing areas in the state. With easy access to the I-85 corridor and Greenville-Spartanburg International Airport, this expansion puts Gibbs Cancer Center in an ideal location to meet the increased demands for cancer care locally and regionally.
"The expansion of Gibbs Cancer Center ensures that our unique focus on multidisciplinary care, the latest treatments, the newest equipment and the expertise of our professional caregivers will be available to more families in the Upstate," Spartanburg Regional Healthcare System CEO Bruce Holstien said. "All of us know somebody who has suffered from cancer, and in those times, families are looking for something more than just treatments. You are looking for light. You are looking for hope, and an open space like this will do wonders for patients when they are receiving treatments."
Gibbs Cancer Center provides care to more than 3,000 patients every year, each with a unique cancer diagnosis. To ensure that each patient's treatment is specifically targeted to their individual needs, oncology specialists, along with cancer support teams and additional medical experts, participate in disease-specific multidisciplinary planning conferences. These conferences are integrated into the design of the new building to enhance treatment and patient satisfaction.
The new cancer center also helps patient stay local and not travel to another city or state for cancer care.
Radiation oncologist Amy Curtis, MD, envisions patients entering the expansion, and she's excited about the future.
"One of the reasons that I'm a cancer doctor is that I love hearing patients' stories about their families and how their diagnoses were discovered," Dr. Curtis said. "Then I love to see that story continue as they go through treatment, and how their families, their communities and this group of healthcare professionals help get them back on their journeys."
To learn more about Gibbs Cancer Center, visit GibbsCancerCenter.com. To schedule an appointment, call 1-855-DNA-GIBBS.