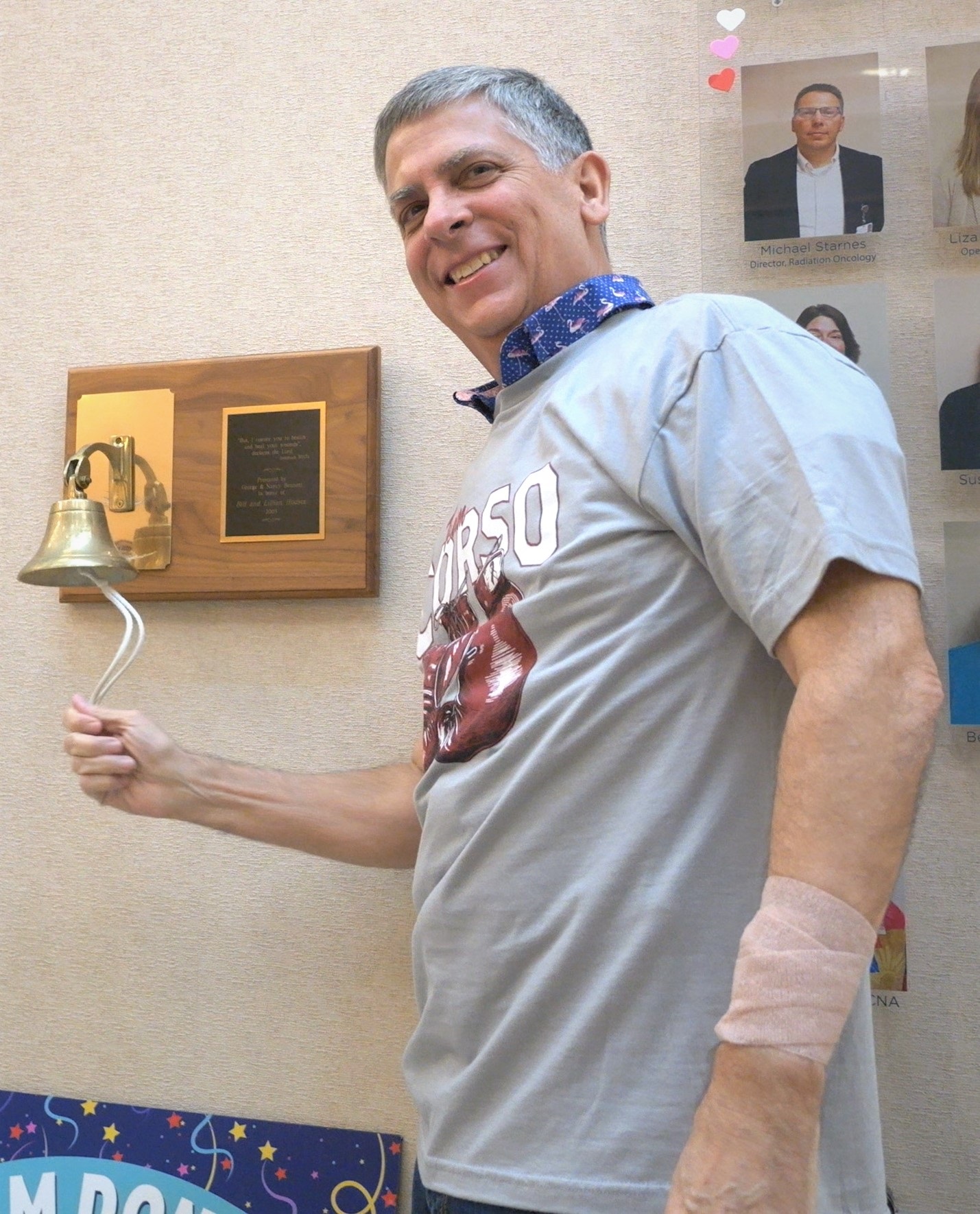 Gibbs Cancer Center doctor remains forever changed by diagnosis 
In March 2022, Dr. Steve Corso received a diagnosis that he has delivered thousands of times to patients at Gibbs Cancer Center.
Treatment for an abscessed tooth and subsequent biopsy confirmed he was suffering from head and neck cancer. The ensuing five months would bring chemotherapy, radiation, hospital stays and restless nights for Dr. Corso and his family. 
"This is a war you're waging against this cancer, and it's not pretty. No one walks away from it without some scars and some change. The question is how do you handle that?" the medical oncologist said. "As a physician for over 25 years for cancer patients, now I was really going to experience firsthand what it's like to be told you have cancer and go through treatment." 
When choosing a path forward, Dr. Corso trusted his colleagues at Gibbs Cancer Center, knowing firsthand the approach to patient-centered care. Every patient's case is reviewed by teams of healthcare professionals that specialize in each patient's specific type of cancer. 
"You are going to get care that mirrors the national guidelines used at major academic cancer centers. The biggest component that I don't think patients realize is if they decide to seek treatment in another state, they've uprooted themselves from their family, from their support systems and from their faith communities," Dr. Corso said. "The outpouring of support I had from family and the medical community at Gibbs Cancer Center was huge." 
On May 25, Dr. Corso walked into the atrium at Gibbs Cancer Center after his last radiation treatment, his throat raw and his voice weak. A chorus of applause greeted him. Dozens of his colleagues lined the balconies on three floors. Friends and family surrounded him as he rang the bell, signifying the end of his treatment. 
A PET scan in August showed no signs of cancer, but Dr. Corso remains forever changed – more equipped to help patients walking their own cancer journeys. 
"When I was able to get back to work and meet with patients, I share with them early on that I understand what they're going through. I mean, I really do," Dr. Corso said. "I was diagnosed earlier this year with cancer and went through radiation and chemo. And you just see their face changes from one of maybe a little bit of cynicism or hesitancy, and it just melts away. I think that's what this cancer experience has provided me – an opportunity to push barriers aside and really go out there and meet patients in that scary place that they're at and help them through it." 
Want to learn more about Dr. Corso's cancer journey and how it has helped him treat breast cancer patients at Gibbs Cancer Center? Visit GibbsCancerCenter.org.