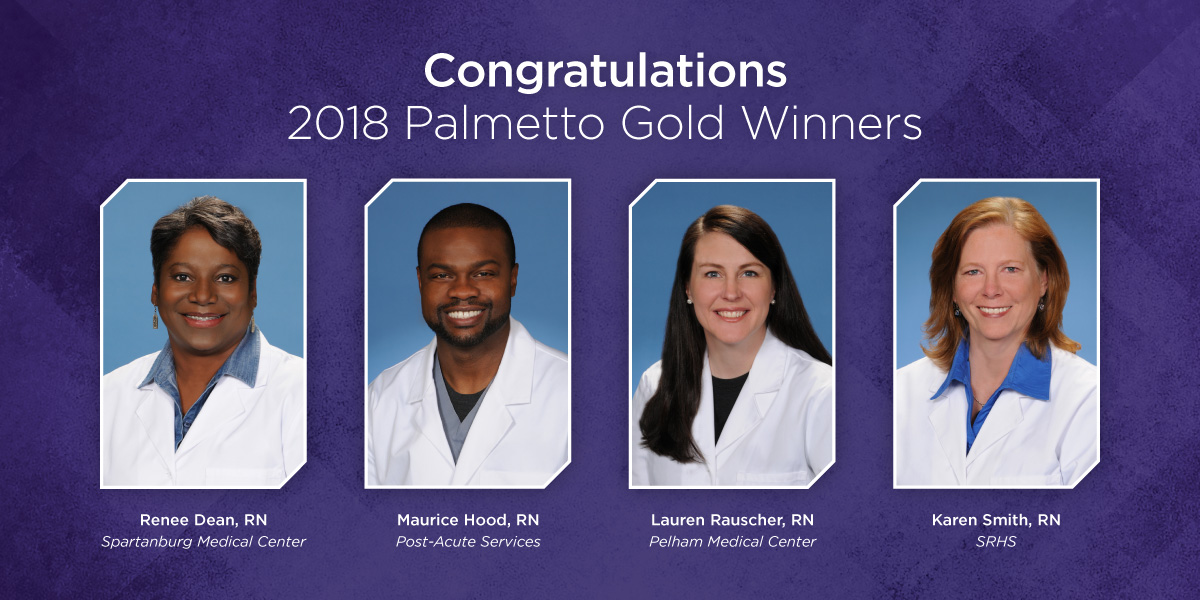 Four SRHS nurses honored with Palmetto Gold Award
Spartanburg Regional Healthcare System is proud to have four nurses recognized with the state's Palmetto Gold Award, an honor recognizing nurses for commitment to excellence in the nursing field.
Renee Dean, Joseph Maurice Hood, Lauren Rauscher and Karen Smith were selected as four of the top 100 nurses in the state by the South Carolina Nurses Foundation.
With some 50,000 registered nurses throughout South Carolina, SRHS would like to commend the following recipients, who are committed not only to their profession but to providing safe, quality healthcare for our patients.  
Renee Dean, MSN, RN
Renee Dean, director of nursing for Spartanburg Regional's surgical intensive care division, has spent three decades in her field with 14 years of experience in critical care. Dean's passion for nursing is evident.
"I love taking care of others," she said. "Nursing is what I was born to do."
Dean is a former Nurse of the Year award winner for the Surgical Intensive Care Unit and has served on several hospital and system-wide committees.
 A graduate of the University of South Carolina Upstate and Gardner-Webb University, Dean is also very involved in her community. She participates in the American Cancer Society's Relay for Life and Community Health Awareness Day and is also involved in her church.
In addition, Dean is a member of the American Nurses Association and Sigma Theta Tau, the international honor society of nursing.
Joseph Maurice Hood, BSN, RN
Outpatient hospice nurse Joseph Maurice Hood is passionate about his career, even though it wasn't his first choice.
 "Honestly, I did not want to be a nurse," Hood said, looking back at his road to joining the profession.
Hood changed career paths following the birth of his first child and ended up with a degree in nursing – "where I was supposed to be" – from the University of South Carolina Upstate, where he received the school's clinical excellence award in 2002.
Considered his "calling," Hood has spent 15 years in the profession, including eight years in the hospital's cardiovascular stepdown unit before joining Spartanburg Regional Hospice, an area for which is passion is evident.
"I am so thankful to be a part of the most recognized respected and caring profession in the world and even more so as a hospice nurse," he said.
Hood not only gives back through nursing, but also through community involvement. He delivers holiday meals to hospice patients and volunteers at Christopher's Camp, a hospice bereavement camp for children.
Hood and his wife, nurse practitioner Mary Beth, have two children, China and Noah, and are expecting their third child in the fall.
Lauren M. Rauscher, RN, BSN, RNFA, CNOR
Perioperative nurse Lauren Rauscher considers her career "a privilege to be able to help someone in their time of need."
Rauscher, who received her nursing degree in 1998 from Saint Louis University, came back to the field full time in 2006 after running a small business she started in college.
The cum laude graduate has worked in many areas of perioperative services at Spartanburg Regional, including perioperative education, sterile processing, pre-admission testing, operating room, post-anesthesia care unit and endoscopy. She is also a member of the Association of Perioperative Nurses.
Rauscher has dedicated her time to the country's military and veterans by serving in the United States Navy Corps since 2013, where she assisted with the Quilts of Valor organization, which distributes handmade quilts to veterans.
When she is not working or volunteering for veterans' programs, Rauscher and her husband operate Stylor Embroidery Works, a small business that specializes in monogrammed apparel.
Karen B. Smith, BSN, RN, CIC, COHN-S
Even after 35 years in nursing, Karen Smith still finds inspiration in her field.
As clinical analytics manager in Quality Services and Clinical Outcomes, Smith is tasked with improving compliance, patient outcomes and evidence-based practice for patient care.
Smith credits the team of "highly-engaged healthcare professionals" she works with for the healthcare system's numerous recognitions, such as primary stroke center, Level I Trauma Center and chest pain center designations.
"This team is dedicated to improving the quality of life for our patients," Smith said. "I continue to learn and find inspiration from the true patient advocates whom I work with."  
Smith was inspired to become a nurse after her father battled cancer during his early 30s. Her father survived, and Smith credits his positive outcome with being "a very compliant patient."
"My desire to become a nurse was born out of the need to understand the clinical effects on someone, and then, more important, how I could become a part of providing comfort and care to another person," she said.
Smith is heavily involved in the Alzheimer's Association, where she gives of her time to honor her brother.
"Volunteering with friends and families touched by Alzheimer's has provided a sense of hope for me and my family," she said.
Smith, who received her degree from Clemson University, is a member of the American Trauma Society, National Association for Healthcare Quality and the American Nurses Association.