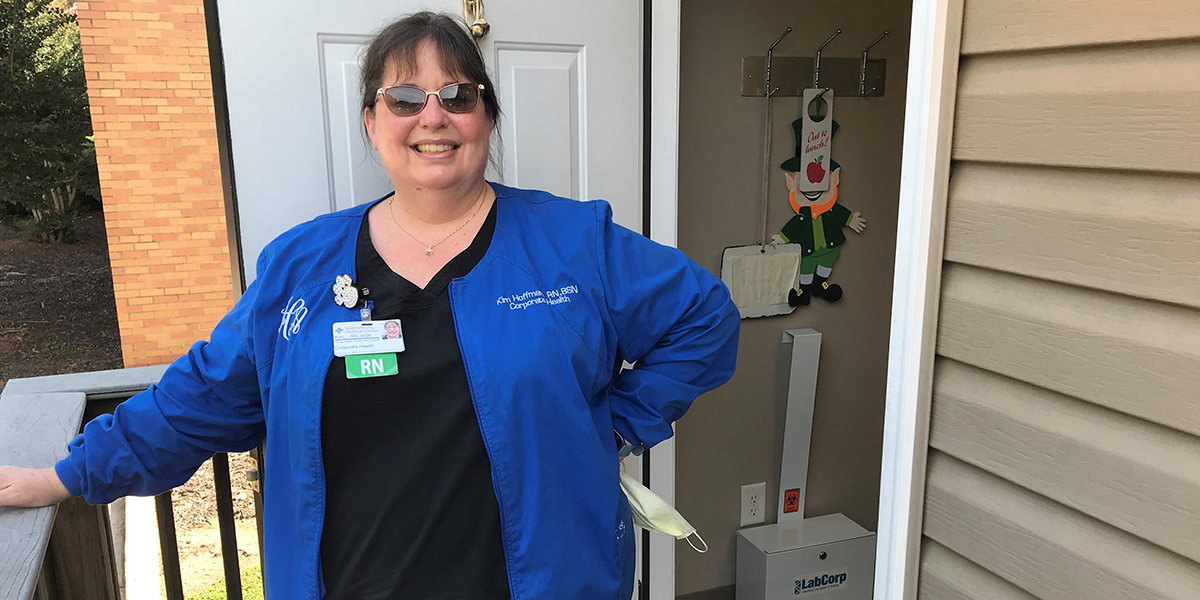 Kim Hoffman
Foundation support helps associate through difficult spring and summer
It wasn't easy for Kim Hoffman, RN, to accept help. As a nurse in Spartanburg Regional Healthcare System's Corporate Health program, she's used to caring for others.
"Since I was child, I've always loved helping people," said Hoffman, who manages clinics for Inman Mills at the company's plants in Inman and Enoree.
But things became difficult last spring when her daughter, who has chronic health issues, needed extensive medical attention. Bills were piling up, and Hoffman had used up her paid time off so that she could be with her daughter.
Thanks to donors to the Spartanburg Regional Foundation, she received assistance with utility bills and the cost of groceries.
A new fund
Donors to the Foundation support the work of Spartanburg Regional providers in a multitude of ways, from funding nursing scholarships and specialized clinical training to providing new, cutting-edge equipment and technology upgrades.
The Foundation is also here for staff members whose families are confronted with unforeseen financial hardships. The Employee Emergency Fund provides direct assistance when crises arise – an illness in the family, a natural disaster or some other unexpected circumstance.
And as the far-reaching implications of the COVID-19 outbreak came into view this past spring, the Foundation set aside $2 million for a new COVID-19 Employee Emergency Fund to support employees affected by the pandemic.
"It meant a lot to us to have this support during such a challenging time," said Hoffman, who became emotional reflecting on the experience.
A struggle with COVID-19

More struggles lay ahead. In late July, Hoffman was diagnosed with COVID-19. It was a serious case from the start – "worse than any flu I'd ever had," she said – that became more severe within days. She spent a week-and-a-half in the ICU at Spartanburg Medical Center — Church Street Campus.
Hoffman is grateful for the care she received.
"I'd never been so proud to work for the hospital system," she said. "I truly had the best care."
Her bout with the virus meant more time out of work. Once again, the Foundation provided assistance for Hoffman and her family.
Now feeling better and back at work doing what she loves, Hoffman plans to donate to the Foundation's employee campaign this fall.
"My conviction is that with the help I have received, I want to give back so that others can receive support when they find themselves in need," she said.
Learn about Regional Foundation's COVID-19 Fund at https://www.regionalfoundation.com/ways-give/covid-19.