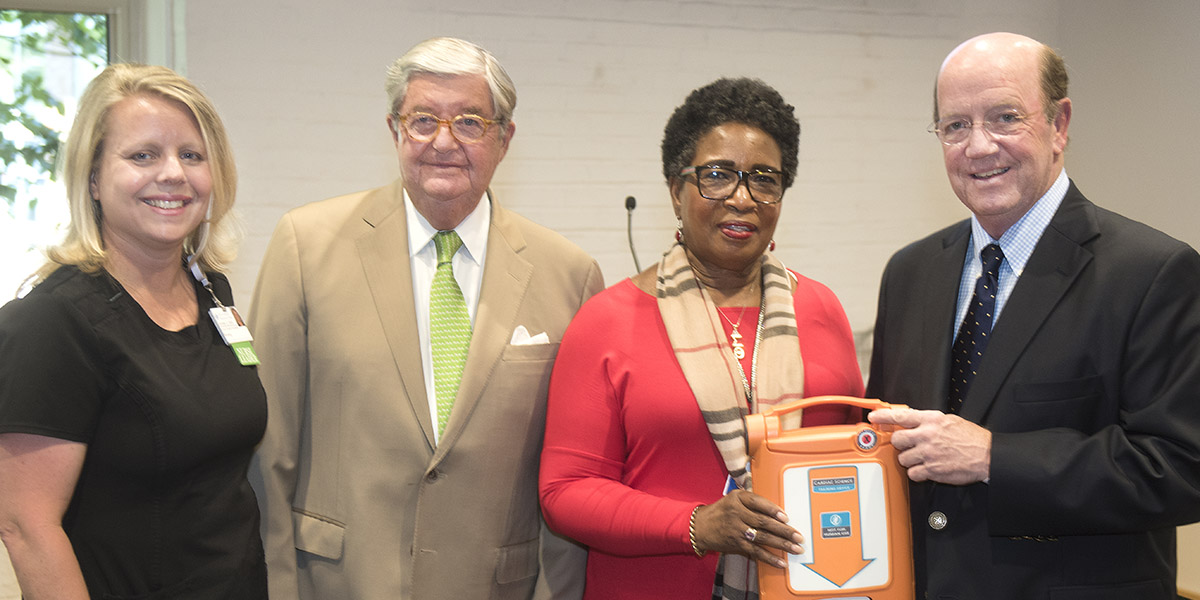 Foundation provides AEDs to community organizations
Every 43 seconds, someone in the United States has a heart attack.
Put another way, 735,000 Americans have a heart attack every year.
A simple-to-use device called an automated external defibrillator, or AED, can save the life of a person suffering a heart attack. And Spartanburg Regional Foundation's heart division has been working to make these machines available at locations throughout our community.
The Foundation's AED Assistance Program invested nearly $40,000 for the purpose of providing AEDs for 25 local organizations. These include schools, churches and nonprofit organizations.
Applications were reviewed by the heart division's executive committee, and recipients were announced on May 3.   
AEDs represent one way the Foundation supports healthcare innovations and technological advances, according to Nicole Papst, director of philanthropy and liaison to the heart division.
"AEDs can be truly life-saving," Papst said. "And they are an important part of the effort to improve heart health in our community."
As AEDs become more common, the potential for saving lives grows. Improved training and access to AEDs could save 50,000 lives each year, according to the American Red Cross.
An AED works by scanning a person who may be experiencing a sudden cardiac arrest and, if needed, delivering a shock to the person's cardiovascular system. The machines come with straightforward instructions on how to apply the equipment to the chest of the individual.
Do you know how to use an AED?
Spartanburg Regional Foundation's AED Assistance Program was launched in February 2017 as part of National Heart Month and Spartanburg Regional Healthcare System's "Celebrate the Hearts You Love" campaign.
The Foundation's heart division partnered with the Heart Center and the Corporate Education Division of SRHS to provide training for AED recipients and to work with them on overall emergency response plans.
Here is a list of the recipients:
Pacolet Mills Baptist Church
Mt. Moriah Baptist Church of Spartanburg
Westminster Presbyterian Church
Foster Chapel Baptist Church
Charles Lea Center
The Haven Shelter
Cherokee Historical and Preservation Society
Eden Wesleyan Church
Golden Street Baptist Church
Inman Community Volunteer Fire Dept.
Spartanburg School District Three
Spartanburg School District Two
Immanuel United Methodist Church
Pelham First Baptist
Wellford Baptist Church
Immanuel Lutheran School
Springfield Baptist Church
Reidville Road United Methodist Church
Sugar Ridge Commons Homeowners Association
Free Chapel - Spartanburg
AccessHealth
Unitarian Universalist Church
St. Paul the Apostle Catholic Church
High Point Academy
Macedonia Missionary Baptist Church