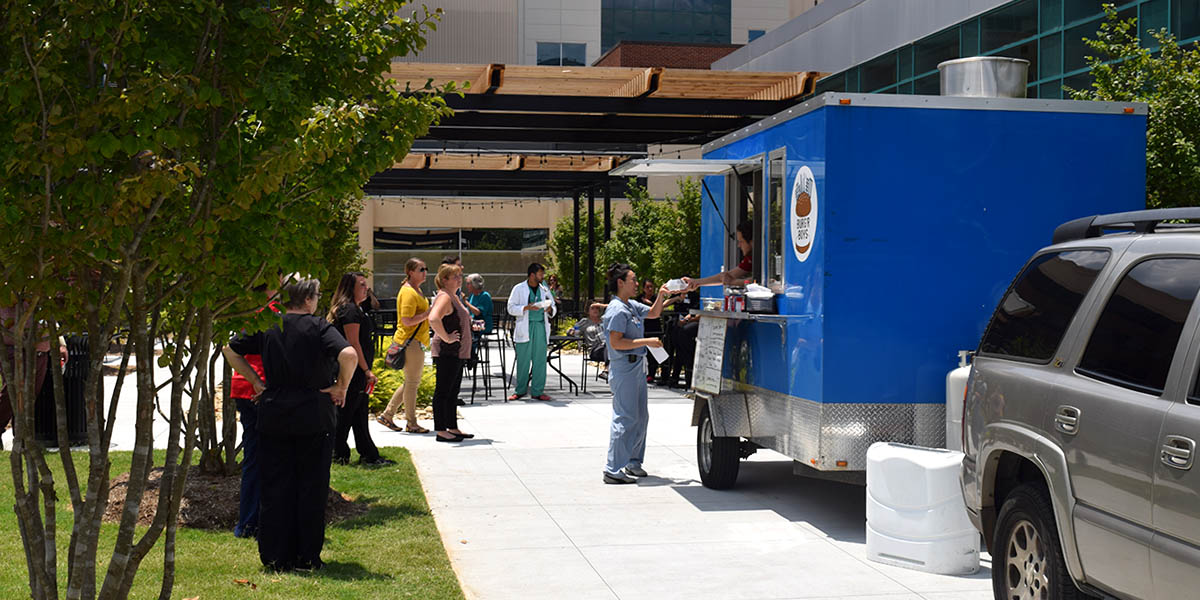 Foundation grant provides for new hospital courtyard
Associates and visitors at Spartanburg Medical Center have been enjoying a new outdoor space for eating lunch, taking a break, holding meetings, and getting fresh air. Made possible by a $150,000 grant from Spartanburg Regional Foundation, the courtyard is located in a high-traffic area just outside the surgical waiting room.
"The space is intended to provide a safe and relaxing outdoor environment for staff and visitors alike," said Amy Baruch, MD, who helped conceive the project and authored the grant proposal.  "There are tables where small groups or families can eat, gather, or just hang out, as well as benches where individuals can stretch out, read, or just relax and enjoy the South Carolina sunshine."
The sunshine was hot on a Tuesday afternoon in mid-June, but that didn't keep people from lining up at a food truck that was on site selling hamburgers and sitting together to socialize and eat.
"I enjoy it," said Bobby Davis, who works in linen services. "It's nice having the food truck and to be able to get outside when you have a break and relax with your friends."
Only months ago, this space was a staging area for construction equipment during the building of the hospital's new Critical Care Pavilion. SMC president Phil Feisal said the development of an attractive and accessible outdoor gathering area adds an important dimension for the hospital.
"We are an urban campus, but we have a nice bit of property here," Feisal said. "We are making efforts to utilize our outdoor space better and to make the campus more pedestrian friendly." He pointed to other projects intended to make the SMC grounds easier to navigate, including the opening of Charles C. Boone Drive in 2018 and planned landscaping of hospital property along Church Street.
The new courtyard was immediately popular, Feisal said.
"People are using it like crazy," he said. "There are groups having meetings now. It's being used by a lot of visitors. There's lighting at night so people can be comfortable out there then, too."
As a physician, Baruch is excited about the health advantages the space will support. She believes it will be a good place for employees during times of stress, for families dealing with anxiety, and for patients who have the mobility to get outside.
"The health benefits of spending time outside are numerous, including relieving stress, lowering heart rate and blood pressure, boosting mood, improving memory and concentration, and increasing Vitamin D production," she said.
Baruch added:  "For many people – both patients and visitors – the physical space becomes entwined with their whole experience of the hospital. Seeing a beautiful and clean space, whether it be a lobby or a courtyard, can significantly lessen the anxiety a patient or visitor feels about being in a hospital. From a well-being standpoint, there is literature suggesting that viewing and visiting landscaped spaces speeds patients' recoveries and helps decrease mental fatigue in hospital staff members."  
Baruch and Feisal both expressed gratitude to Spartanburg Regional Foundation's grants committee and board of trustees for their support of the project.
The courtyard was one of 32 proposals totaling $594,000 that received funding in the Foundation's 2018 grants cycle. These included other projects to support innovation within Spartanburg Regional Healthcare System projects well as non-profit organizations that promote community health.
For a full list of Spartanburg Regional Foundation's 2018 grant awardees, please visit https://regionalfoundation.com/grants/grant-recipients/.