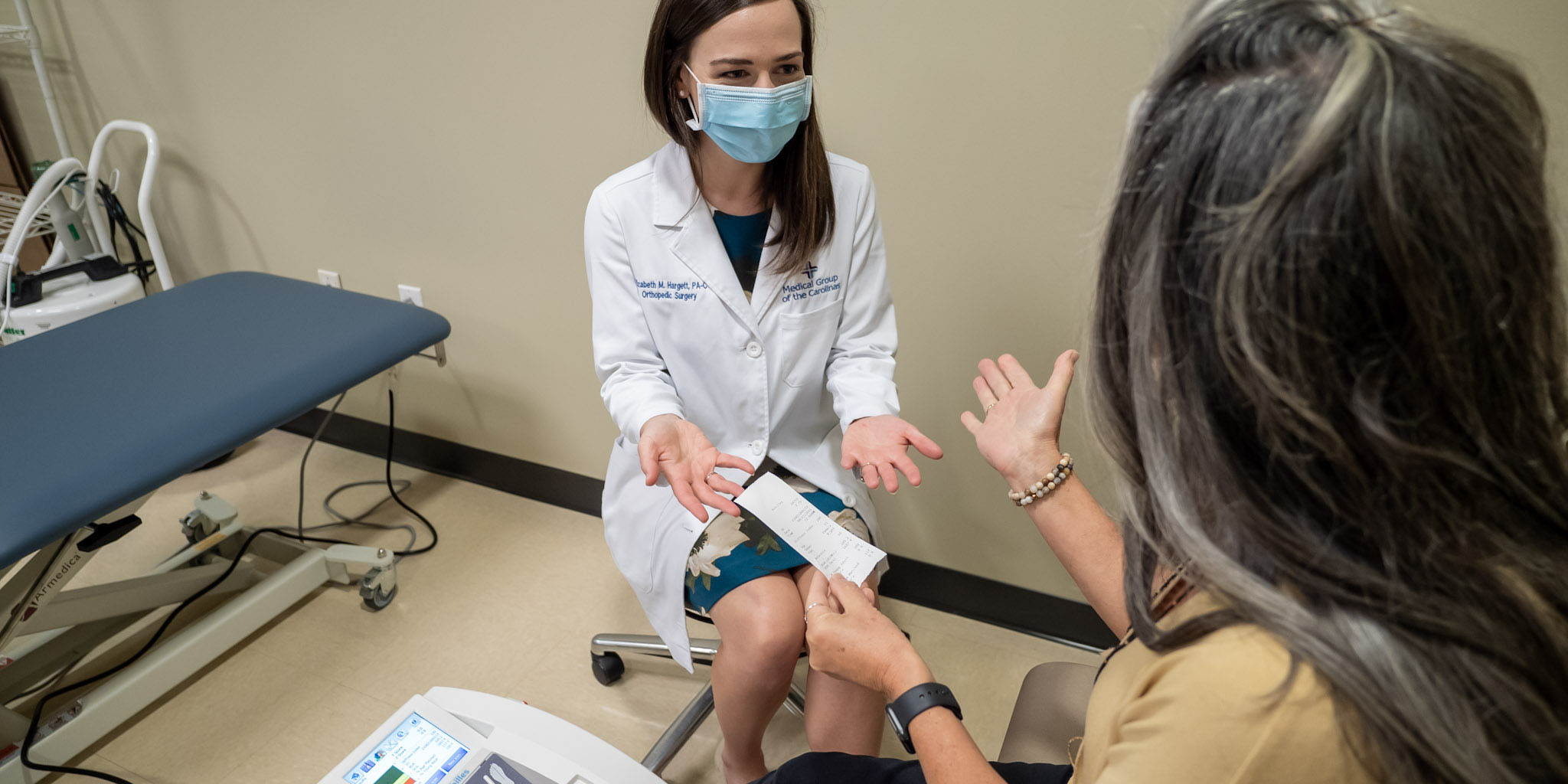 Beth Hargett, NP, with patient.
Foundation grant promotes access to bone screening
As we get older, we lose bone density. In fact, about 25 percent of women and nearly one in eight men over the age of 65 suffers from osteoporosis, a disease that weakens the bones and causes a greater likelihood of fractures.  
Greg Colbath, MD, an orthopaedic surgeon, stresses that screening is an important way for patients to assess their risk. Screenings also allow patients to take measures to reduce the chance of an injury, such as a broken hip. 
"These injuries can have a huge impact on their quality of life," Dr. Colbath said.  
Dr. Colbath is excited about the addition of portable technology that will make screening convenient, painless and affordable.  
A $15,000 grant from the Spartanburg Regional Foundation funded the purchase of an ultrasonometer. This was one of 15 grants totaling $488,000 awarded to Spartanburg Regional Healthcare System departments in 2021. 
"Each year, our grants program recognizes and supports opportunities for clinical innovations, technology upgrades, and enhanced training," said Kristy Caradori, executive director of Spartanburg Regional Foundation.  
The machine produces a read-out of a patient's bone density based on an ultrasound scan of the heel. 
"We feel incredibly fortunate to have this technology. It's a wonderful gift from the Foundation," Dr. Colbath said. 
Outreach in the future  
Traditionally, radiation is used to test bone density. These tests are considered to be the gold standard, Dr. Colbath said.  
But they require a special appointment – testing is offered at Gibbs Cancer Center – and can take up to 30 minutes.  
Dr. Colbath said Lunar Achilles results are comparable to radiation scans, and the exam only takes a few minutes. He's able to offer it to patients in his office – no additional appointments are necessary.  
And because the machine is compact and mobile, Dr. Colbath hopes to use it for outreach in the future.  
"We believe this tool will give us the chance to reach many more community members. It will make a real difference," he said.  
Helping provide access to health care is one of the goals of the Spartanburg Regional Foundation.  
"And as we work to make our community a healthier place, it is important to promote access to care as well as prevention and early detection of disease," Caradori said. "That's why we are so proud to help make bone density screening easier and more widely available. And we are truly grateful for the donors who make these advances possible." 
In addition to the increased likelihood of fractures, weakened bones make it harder for people to get around and enjoy day-to-day activities. If detected early, patients can work with their care providers to make dietary changes, establish an exercise regimen or take medicines that may help them build strength, prevent injuries and avoid the need for surgery.  
Information about a patient's bone density can be valuable for doctors performing a wide range of surgeries, Dr. Colbath said. Bone health can be a factor in the success of a procedure and in the time it takes for the patient to recover.  
"We all need to know where we stand in terms of bone health," Emily Pack, NP, said. 
Learn more about the Spartanburg Regional Foundation's grants program. Also, learn more about Dr. Colbath and orthopaedic services with Spartanburg Regional.