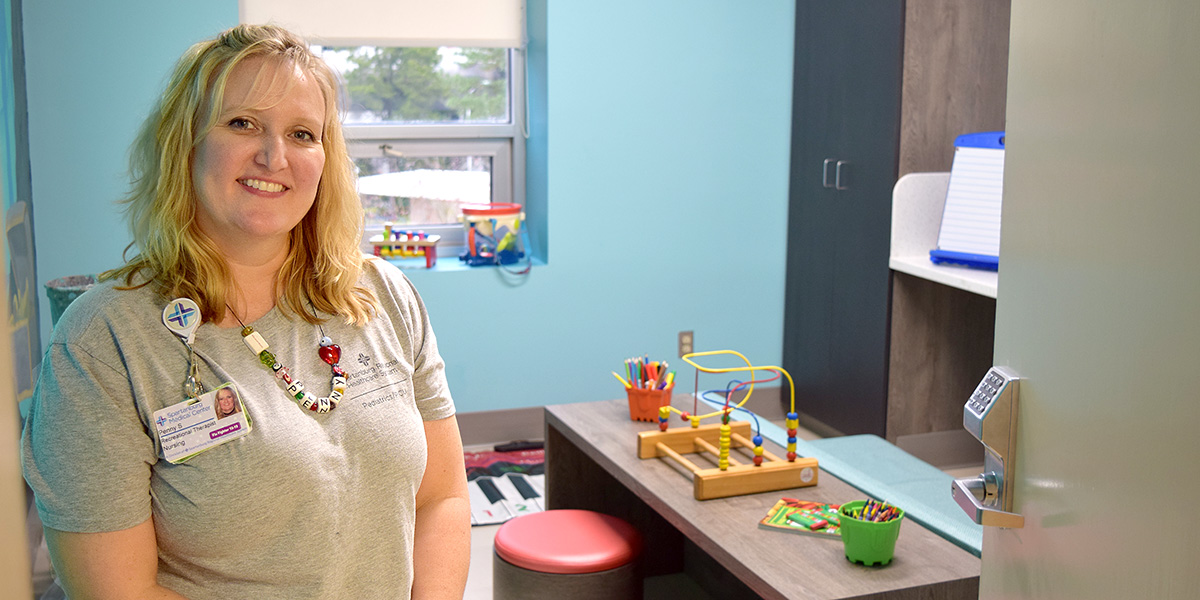 Foundation grant makes room for therapeutic play
For a child, the experience of being in a hospital can be frightening.
But thanks to a 2018 grant from the Spartanburg Regional Foundation, a newly renovated room in Spartanburg Medical Center provides an escape.                 
"It's a safe haven – a place to just have fun," said recreational therapist Penny Shaw, who submitted the application for the $20,000 grant.
But fun is only part of the equation: Shaw uses the space to provide activities that support children's physical recovery and development.
There's room for younger children to crawl, run and play. Older children enjoy video games and interactive toys. Shaw employs strategies using play activities to, for example, help a child who has undergone a tonsillectomy to drink fluids.
Recreational therapy also addresses emotional needs.
Play helps to reduce stress, and children may express their feelings through art. All this is important for children coping with a difficult medical experience.
And in addition to supporting children who are recovering from a procedure, Shaw also works with those who have a gravely ill family member or who are dealing with the loss of a loved one.
"I want them to open up and get to know me first before I give them tough information," she said. And she encourages these children to create works of art – to work through emotions or as a gift for a family member.
The recreational therapy room is located on Spartanburg Medical Center's third floor near the Pediatric Intensive Care Unit (PICU). It was constructed with safety and comfort in mind for special needs children and for those who have suffered injury. But Shaw stressed that the room feels like no place else in the hospital.
"It's dedicated to therapy and letting kids enjoy just being kids," she said.
Learn more about Children's Health at Spartanburg Medical Center, or the Spartanburg Regional Foundation grants program by visiting us at https://regionalfoundation.com/grants/.