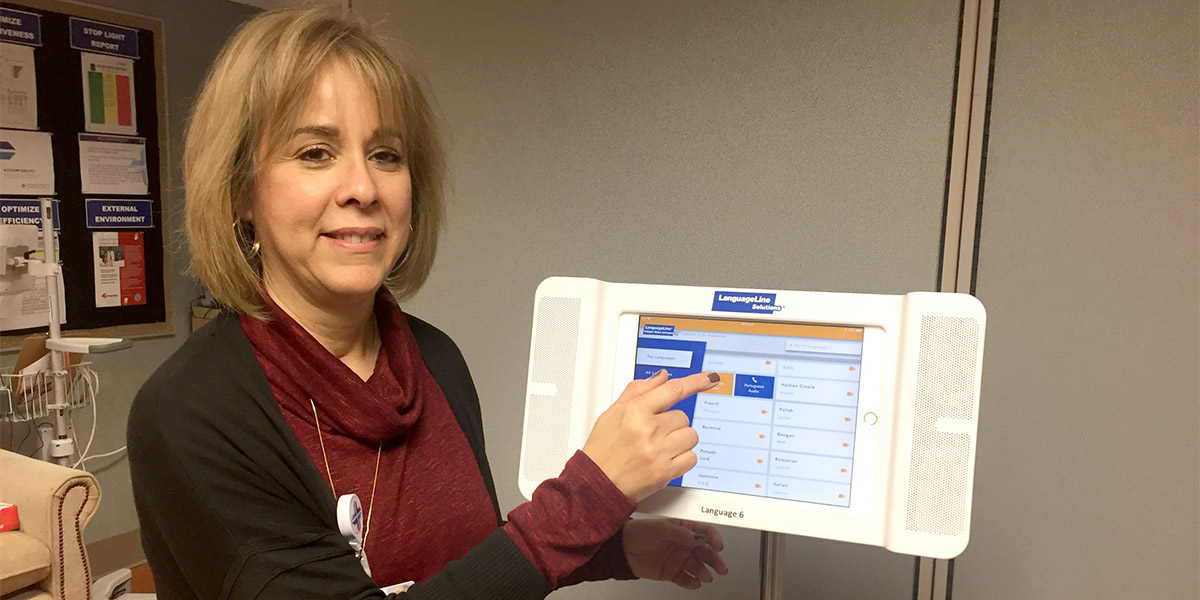 Spanish interpreter Jeanette Kawas with the software
Foundation grant expands "Interpreter on Wheels" program
A Spartanburg Regional Healthcare System staff member selects from a list of nearly 200 languages displayed on an iPad screen. A code is entered. And a man who identifies himself as Ly appears on the screen.
Ly is sitting in his home in Vancouver, Washington. But he's ready to help speakers of Khmer, the official language of Cambodia, communicate with their English-speaking doctors – whether at Spartanburg Medical Center or in hospitals located all around the country.
Ly is part of the Interpreters on Wheels network. He's among a team of translators who work remotely to support patients and caregivers who don't speak the same language.
The need is great. Spartanburg Regional Healthcare System employs 21 interpreters – six full-time, one part-time, and 14 on an as-needed basis – who support patients who speak Spanish, Russian, and American Sign Language. But the translators are not available for every situation, and they don't speak every language. 
"We have a high population of Spanish-speaking residents of the Upstate, and the number of those who speak Russian and Ukranian is growing. But we're seeing other languages become more common – such as Swahili," said Marchele Garrett, director of Spartanburg Regional's diversity and language services office.  And since the 1980s, the Upstate has been home to a significant population of immigrants from Southeast Asia who speak Khmer, Laotian or Vietnamese.
The Interpreters on Wheels program is essential.
"Think about going into the ER, and you're already nervous," she said. "Then imagine not knowing what anyone's talking about and not being able to fully communicate what's going on. And for the caregiver, if you don't have the means to understand your patient, it is more difficult to provide treatment. So this is a necessity."
Garrett's office provides iPads, mounted onto rolling carts, for high-traffic areas in the health system and for specific situations that require Interpreters on Wheels support. A $12,500 grant from Spartanburg Regional Foundation in 2018 enabled Garrett to add 10 more of the iPads and carts. Her office had eight previously.
"This grant from Spartanburg Regional Foundation helps us to expand the program in a significant way, and we are able to reach more people in need," she said. 
For interpreters like Ly, the work is exciting. Even though he works from the comfort of his home, he's thrust into all kinds of fast-paced, and frequently dramatic, situations. "I've seen pretty much everything," he said.
In his work with hospitals around the country, Ly has been a translator during the birth of a baby. And he's had to help a doctor convey a cancer diagnosis. Being involved in delivering bad news to a patient "hits me really hard sometimes, but I'm here to support and help."
Ly appreciates the importance of his work because he remembers his own family's struggles after they moved to the United States from Cambodia when he was a boy.
"I remember my parents having a hard time understanding the language when they went to the doctor, so I really enjoy being able to help others," he said.
Garrett stressed that for expectant mothers, children, and cancer patients, Spartanburg Regional strives to provide an in-person interpreter. And when the patient's primary language is Spanish, Russian, or American Sign Language, she can make sure that happens.
But there are plenty of situations when the Interpreter on Wheels program is the vital link for the communication that needs to take place between SRHS staff and the patients they serve.  For Garrett, whether it's an in-person interpreter or one working remotely, "it's a feeling of satisfaction when you can help a patient be taken care of properly." 
Learn more about Spartanburg Regional Foundation's grants program by visiting https://regionalfoundation.com/grants/.