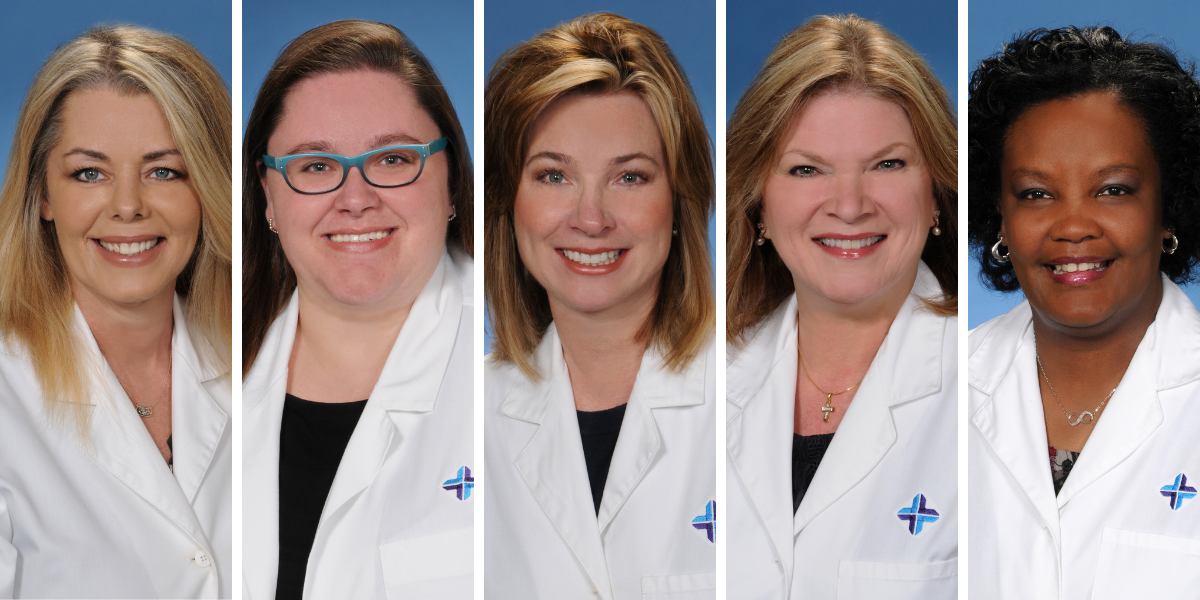 Five nurses honored with top state award
Spartanburg Regional Healthcare System is proud to have five of its nurses recognized with the state's Palmetto Gold Award, an honor recognizing clinicians for commitment to excellence in the field.
Heather Alford, Jennifer Combs, Lori Updegraff, Barbara Wiles and Rhonda Wright have been selected as five of the top nurses in the state by the South Carolina Nurses Foundation.
With tens of thousands of registered nurses throughout the state, Spartanburg Regional would like to commend the following recipients, who are committed not only to the nursing profession, but to providing safe, quality care for our valued patients.  
Heather Alford, BSN, RN
Heather Alford has always had "a heart for people and an interest in healthcare." She serves as a charge nurse in Pelham Medical Center's intensive care unit.                
Alford, a multi-certified nurse, manages the care of critically ill patients, who often have the odds stacked against them. But sometimes these are the sort of success stories she loves to tell.
"There are no words to describe the feeling of resuscitating a patient who has coded and later being able to discharge that same patient home to their family," she said.
Someone who feels "honored and grateful" to care for others, Alford is always looking for ways to contribute more to her patients' care. She is in the process of having her golden retriever, Lily, certified as a pet therapy dog to contribute to the healing team at Pelham Medical Center.
A nurse for a decade, Alford received her bachelor's degree from Chamberlain College of Nursing, where she earned numerous clinical excellence awards.
She is a member of many professional organizations, including the American Association of Critical Care Nurses and the South Carolina Nurses Association. Alford also serves her community through Meals on Wheels, which she describes as a passion.
Jennifer Combs, MSN, RN
Sexual Assault Nurse Examiners (SANE) are truly special people, with a calling unlike no other.
Jennifer Combs serves as a SANE-certified nurse for both adult and pediatric patients at Spartanburg Medical Center's emergency center.
A SANE nurse is on the front lines of caring for patients who have been through the trauma of a sexual assault – a time when these patients are at the most vulnerable. It is Combs's job to not only care for the patient in this time of need, but also to collect valuable evidence related to the assault that can help in a criminal case against the patient's offender.
Combs cares for patients, including victims of sexual assault, domestic violence, child abuse and human trafficking. Outside of her work, she partners with community members to improve outcomes for these patients.
She most enjoys the "diverse opportunities" available in her profession, allowing for nurses to increase knowledge and specialized skills.
In addition to her certifications, Combs holds bachelor's and master's degrees in nursing and is a member of various organizations related to her specialty, including the International Association of Forensic Nurses and the Emergency Nurses Association.
Lori Updegraff, BSN, RN
The ability to demonstrate "compassion and dignity to others" is why Lori Updegraff became a nurse.
Some seven years later, Updegraff has served in several nursing capacities – from a bedside nurse in the emergency room to a clinical coordinator and educator. She was part of the telemetry unit as a clinical coordinator/educator at Pelham Medical Center. Since receiving Palmetto Gold, Updegraff has been promoted to Director of Nursing at Cherokee Medical Center Emergency Department.
Updegraff believes her position gives her the opportunity to be part of a person's most critical moments in life, where she can play a role though guiding and educating fellow healthcare professionals tasked with caring for patients at Pelham Medical Center.
A member of the Emergency Nurses Association, Updegraff uses her background in emergency nursing to volunteer with the Upstate Human Trafficking Task Force, whose mission is to protect against and prevent human trafficking in and around the Spartanburg area.
Barbara Wiles, BSN, RN
Many of us struggle with the question, "What do you want to be when you grow up?" As a child, Barbara Wiles loved tagging along with her mother as she worked at a doctor's office. But it's her experience as a patient there that led Wiles to the nursing career path.
"I'll never forget my nurse that day," Wiles said. "She seemed like an angel to me. She cared for me as if I was her own child. Sensing her caring and compassion, I knew from that day, this is who I wanted to be."
Wiles began her career with an associate degree in nursing and went back to school at age 43 to further her career with a bachelor's degree from Chamberlain College of Nursing, where she graduated magna cum laude.
After time spent in labor and delivery, Wiles currently works at Pelham Medical Center on the vascular access team, where she provides skilled, and often difficult, vascular services to affiliated hospitals and facilities. She also trains other nurses with an interest in vascular care.
In her limited free time, Wiles is a member of the Association of Vascular Access. Among other professional memberships she gives back to her community through Meals on Wheels and community cardiac screenings.
She has never wavered in her chosen career path since that day many years ago.
"I wanted to care for others with healing and compassion too."
Rhonda D. Wright, MSN, RN
Pelham Medical Center's clinical unit educator Rhonda Wright not only enjoys caring for patients but welcomes the challenging and stimulating environment nursing provides.
In the medical-surgical intensive care unit, Wright plays an important role on the multidisciplinary care team. She plans training and evaluates practices and policies for clinicians, building upon current standards of care and evidence-based practices.
"It's heartwarming when a staff member remembers a drill I prepared him or her for and then the real situation occurs," she said.
A nurse for 16 years, Wright says her job is "emotionally rewarding," because of her ability to comfort patients who are critically ill and to serve as an advocate for both patients and staff.
Wright holds a master's of science degree in nursing leadership and management and is a member of the American Association of Critical Care Nurses.
As a volunteer, she participates in the American Cancer Society's Relay for Life, helps out with Meals on Wheels and teaches hands-only CPR in the community.