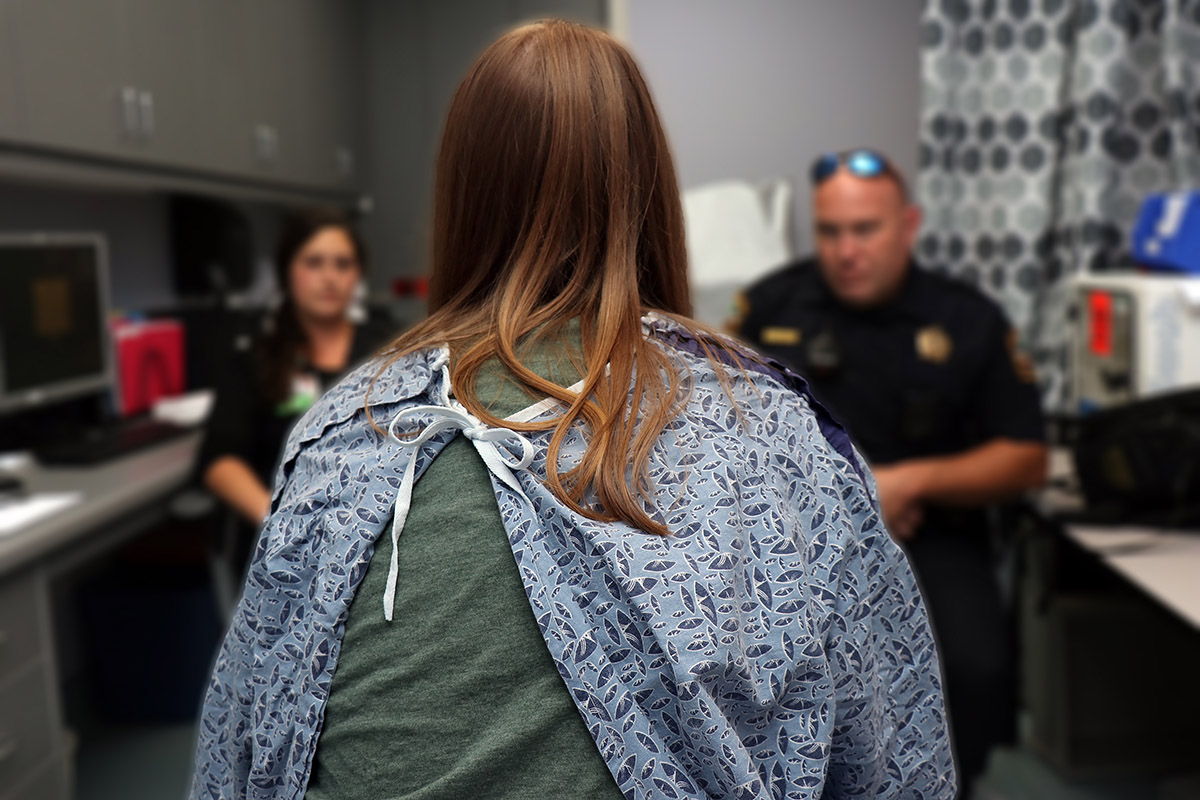 The faces of sex trafficking
Editor's note: Sexual crimes leave victims feeling isolated and alone. A network of medical professionals, law enforcement and service agencies in Spartanburg work together to give these victims the support they need.
This three-part series looks at what happens in the aftermath of sexual assault and sex trafficking. In it, we talk with a sexual assault victim; her name has been changed to protect her identity.  
Sex trafficking is a form of modern-day slavery.
Individuals are forced, through fraud or coercion, to perform commercial sex acts, according to the National Human Trafficking Hotline's website.
It's a problem in the Upstate, largely due to the intersections of Interstates 26 and 85. But that's not the only reason people become victims of sex trafficking here.
"Now, we're seeing more cases that are just local," said Jennifer Combs, forensic nurse coordinator for Spartanburg Regional Healthcare System. "We've seen cases where victims are being trafficked by family members."
Who are the victims?
Overall, 64 charges of human trafficking were closed in state courts in 2018, according to data from the state's Office of the Attorney General South Carolina Human Trafficking Task Force's 2018 annual report.
Most victims are young adults and adolescents – both female and male.
A common trend in sex trafficking cases is drug addiction, according to City of Spartanburg Police Lt. Doug Harwell.
Spartanburg police investigated a case nearly two years ago where investigators arranged to meet with a 15-year-old soliciting for sex. They discovered she was a runaway, missing for at least six months. She met clients for sex through a phone app to pay for drugs.
"Last we know, she's with a foster family and doing well," he said. "It's young girls and guys that have problems at home and want to get out of the environment. They're faced with limited resources and end up being taken advantage of."
Drug addiction isn't the only lure. Some victims lack a support system after aging out of foster care or are vulnerable for other reasons – a trait traffickers easily sense.
"The traffickers can offer stable housing, or the trafficker can say, 'I'll protect you,'" Combs said. "Sometimes, [victims] don't see themselves as being forced or as trafficking victims. There can be a psychological aspect to trafficking. Traffickers convince the victims they're doing this of their own free will. They're brainwashed into thinking it is their choice."
Identifying a sex trafficking victim sometimes begins with an examination of a sexual assault patient, Combs said.
Sometimes, medical experts examine sexual assault patients and realize that person is also a sex trafficking victim.
Certain signs can alert a Sexual Assault Nurse Examiner, or SANE, to the patient being a sex trafficking victim. These signs include hesitation to turn off or be without a cell phone, unexplained bruises or scars, or burns on the bottom of their feet where a victim was abused in a manner to avoid visible scarring.
Combs said SANEs are trained to ask tough questions from a trauma-informed perspective, recognizing the victim's trauma and its impact.
"Sometimes, they'll tell us when they're alone, and sometimes they don't," Combs said. "It's their choice, but we give them the choice to tell us what's happening."
Working together
It takes training to ensure quality service for victims. Combs currently serves as the co-chair of the healthcare provision subcommittee for the South Carolina Human Trafficking Task Force, a collaboration of federal, state and local agencies to implement a plan and address the crime statewide.
Combs's work at the task force's September meeting focused on developing an identification response to trafficking victims to be used by healthcare facilities and locations.
SANEs are a critical part of an investigation, Harwell said.
SANEs are trained to ask questions and speak to victims, document interactions, chart results from exams, and testify in court proceedings. SANEs also ask victims if they want to report the crime to law enforcement, an important step in opening a criminal case against the perpetrator.
Law enforcement officers, including supervisors at the Spartanburg Police Department, can contact a SANE at the healthcare system anytime.
"Even if it's 2 a.m., Jennifer is wonderful," Harwell said. "She takes the medical aspect and explains it to us in layman's terms. If she takes that time with us, I know she does with the victims."
The partnerships between the healthcare system, law enforcement agencies and advocacy groups serve one purpose: to support victims at all stages.
Sometimes success stories aren't always made public, Harwell said, but victims remember who helped them.
Combs knows one pediatric, sexual assault victim that a SANE treated two years ago. That victim always asks to see the SANE that treated him whenever he visits the hospital.
"It says a lot about the care we provide," she said. "To see this change in patients from the time they walk in to when they walk out. If we can make a difference for one patient, it has made our job worthwhile."
In the aftermath
Report sexual assault by calling 911. If you are a victim and you need help, you can also contact the SAFE Homes-Rape Crisis Coalition at 864-583-9803 or 800-273-5066.
Exams for victims of sexual assault and sex trafficking are offered 24/7 at Spartanburg Regional's hospitals.