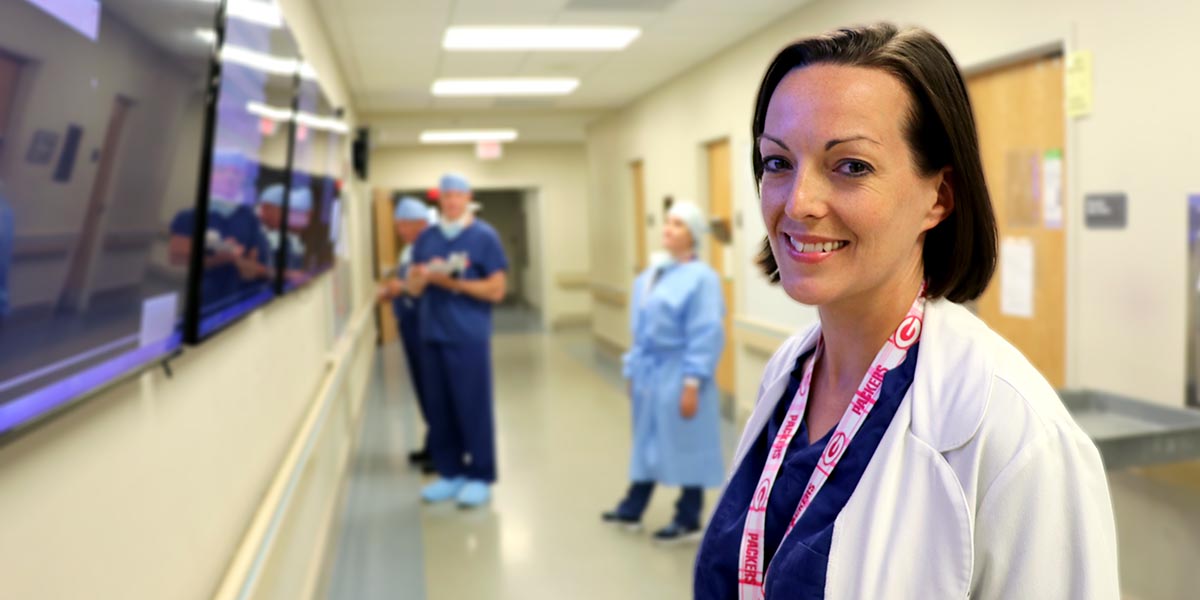 Excellence, regardless of gender
In a world where men are RNs and women are doctors, orthopaedic surgeon Melissa Peters, MD, still gets mistaken for a nurse by patients.
Gender roles can lead to stereotypes, but Dr. Peters is one of more than 330,000 professionally active doctors in the U.S. who are also women – a third of the overall physician population.  
This September, Spartanburg Regional joins medical professionals across the United States to celebrate Women in Medicine Month.
Dr. Peters shared her thoughts about the challenges for women in medicine.
What inspired you to get into the field of medicine?
Through grade school and into high school, I was always very interested in science and biology.  However, I had many different ideas for my career path, ranging from marketing to archeology.  As I narrowed down what I was really interested in, human biology and anatomy really drew my interest.
I gravitated toward the medical field after finishing my college intro to biology class and never looked back. It always just felt like the right path.   
What challenges have you faced throughout your career?
Moving to new cities on my own for medical school and residency were great challenges. Those were very exciting times. 
Learning how to balance my career and personal life is a constant challenge. I have been able to see how many physicians, male and female, make it work. 
It is so inspiring to see women who are excelling in their careers also be strong contributors to other community projects, continuing their education with adding other degrees and showing that working mothers are able to continue to be amazing physicians.
I don't have children and, as my husband and I make the decision on whether to have children, I am incredibly lucky to have amazing colleagues to reach out to for advice.
What should women know before pursuing a career in medicine?
Medicine is incredibly rewarding in so many ways. It is hard as well and takes great commitment.
Sometimes your patients come before your family, which can be hard to deal with. Guilt about missing your family for your patients or not being there for your patients because you are taking well-deserved time off is something that you may have to deal with.  Knowing that medicine is truly your passion helps you get through those instances.
Don't let anyone tell you that you shouldn't pursue medicine or a certain subspecialty of medicine because you are female. There are so many women out there that are proving female physicians are able to excel in any area of medicine.
Don't be afraid to push boundaries and pursue what you are passionate about. If you choose an area of medicine you are passionate about, you will find a way to make it work, no matter the struggles and challenges.
What challenges remain in medicine that are unique to women?
Going into orthopaedic surgery, a very male-dominated field, has its challenges. Fortunately, my male colleagues have been very welcoming to me and I have no 'horror stories' about my experiences. 
Oftentimes it is getting it through to patients that I am the doctor and not the nurse that can be very difficult and frustrating. I have the utmost respect for the nurses I work with, and could not do what they do every day with kindness and empathy. But it is hard to constantly have to explain that your role is not a function of your gender.
Women in medicine are still paid at a lower rate than their male colleagues and women are still underrepresented in many subspecialties. I think recognizing and working to change stereotypes is a great step in remedying these issues.
Who mentored you during your career journey? Who do you look up to?
There is an orthopaedic oncologist named Valerae Lewis at MD Anderson who is at the top of her field, respected by her peers and has found a way to balance her career with being mother and wife as well.  She is incredibly inspiring and someone who I admire greatly.
Why do you love being a part of the medical field?
Hearing from patients how appreciative they are that you have helped them in their time of need is extremely rewarding.
How are you working to support and engage future women physicians?
I have been able to work with students at VCOM (Edward Via College of Osteopathic Medicine, in Spartanburg, S.C.) and talk with them about issues that face women in medicine.  It has been a fun and rewarding experience to sit with them talk about my career. 
I hope I have inspired them while they are early in their career and hopefully they will see that surgical subspecialties are not closed off to them because of their gender. I have worked with them through one-on-one mentoring as well as being part of panel discussion groups. 
Melissa Peters, MD, serves as a surgeon at Medical Group of the Carolinas Orthopaedic Trauma Services – Spartanburg and Medical Group of the Carolinas Orthopaedic Surgery – Pelham.