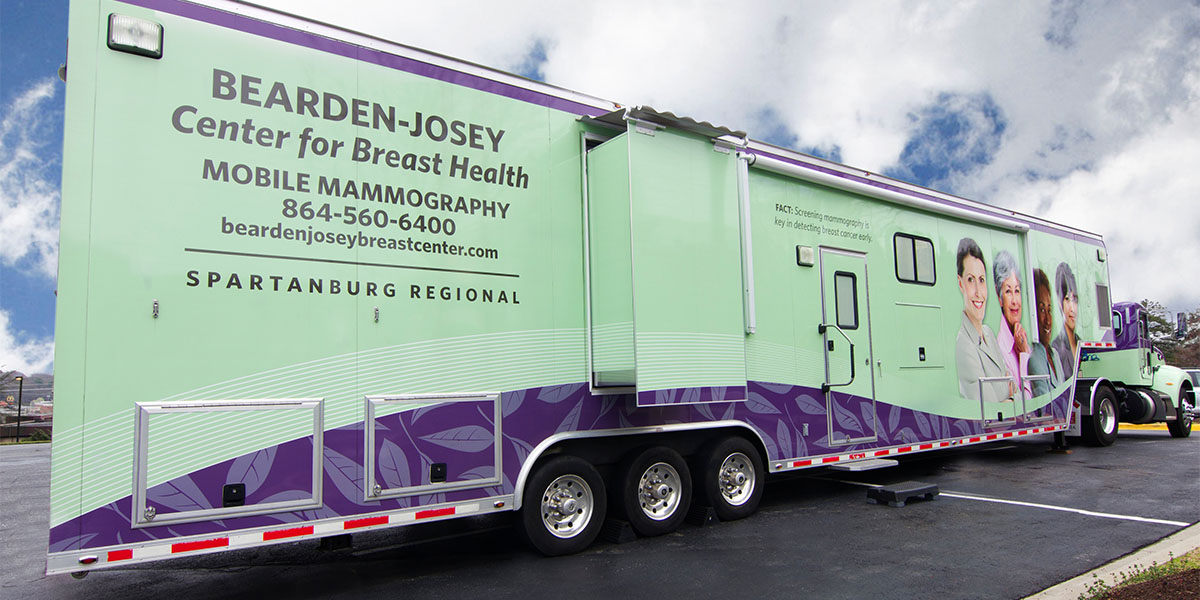 Event to help buy a second mobile mammography unit
Teressa Moss knows as well as anyone the value of the Bearden-Josey Center for Breast Health Mobile Mammography program. It enabled her to undergo screening where she works – the Nestle Frozen Foods plant in Gaffney – at a time in her life when she would not have likely set aside time for travel to an appointment.
It was 2011, and her 24-year-old son, Bradley, had recently been killed in a car wreck. For months, "all I wanted to do when I was off work was to be home and take care of my husband and my daughter," she said.
The mammography she received at her workplace detected a tumor. It was caught early enough that treatment was successful. Moss said she has been in remission for six years.
Looking back, she said, "Having the mobile unit on the premises at work was a blessing – it was right there."
Indeed, mobile mammography is an important tool in the effort to provide screening opportunities for women, to promote early detection of breast cancer and, ultimately, to save lives. Donors to Spartanburg Regional Foundation are helping to bring this service to more women in the Upstate.
On October 22, members of our community will come together at the Spartanburg Marriott for An Uplifting Event. Proceeds from the annual luncheon promote breast cancer awareness as well as access to screening.
This year's event, featuring Moss as a guest speaker, will support the purchase of a second mobile mammography unit. The need is great, said Bearden-Josey Center for Breast Health director Mary Mabry. "Our existing mobile unit is at capacity," she said, even as demand continues to grow.
Funding a new mobile mammography unit – the estimated cost is roughly $800,000 – is an exciting goal, one that is receiving special support in the form of a substantial matching gift. A local family will match all donations to An Uplifting Event and the mobile mammography project up to $250,000.
"This is a truly generous gift, and we are so grateful," said Kristy Caradori, executive director of Spartanburg Regional Foundation. "This family's commitment to helping women in need is an inspiration, and we know that members of our community will benefit for years to come."
Mobile mammography is essential to reaching women in need for a variety of practical reasons. While there are five standing Bearden-Josey Center for Breast Health sites in Spartanburg County and one in Union County, travel to and from appointments can be a challenge for women in remote communities. Lack of adequate transportation, even for those who live relatively close to a site, can be a barrier for some.
Mobile mammography enables the Bearden-Josey Center for Breast Health to expand access to women through partnerships with churches, physicians' offices, school districts, and companies. "We take the unit to where they are," said Mabry. Partnerships with employers and community organizations also raise awareness and provide encouragement for women to take advantage of screening opportunities.
Mabry added that the mobile unit is "a very intimate and comfortable setting. For some women, it may be less intimidating than coming into a building. It's in your community – parked at your church, your doctor's office, or place of employment – where it feels comfortable."
Plans call for the new unit to be outfitted with the latest technology, including 3-D tomosynthesis. This digital mammography reduces the frequency of false positive reports that require follow-up visits and enables caregivers to detect more invasive cancers.
Currently, the Bearden-Josey Center for Breast Health serves 3,500-4,000 patients annually through mobile mammography. There's potential to reach many more, Mabry said. And the stakes are high:
"Early detection will reduce the number of treatments needed for patients and increase survival rates. Ultimately, it will save lives."
To learn more about An Uplifting Event or to make a donation to support the Bearden-Josey for Breast Health Mobile Mammography program, please visit https://www.regionalfoundation.com/events/uplifting-event.