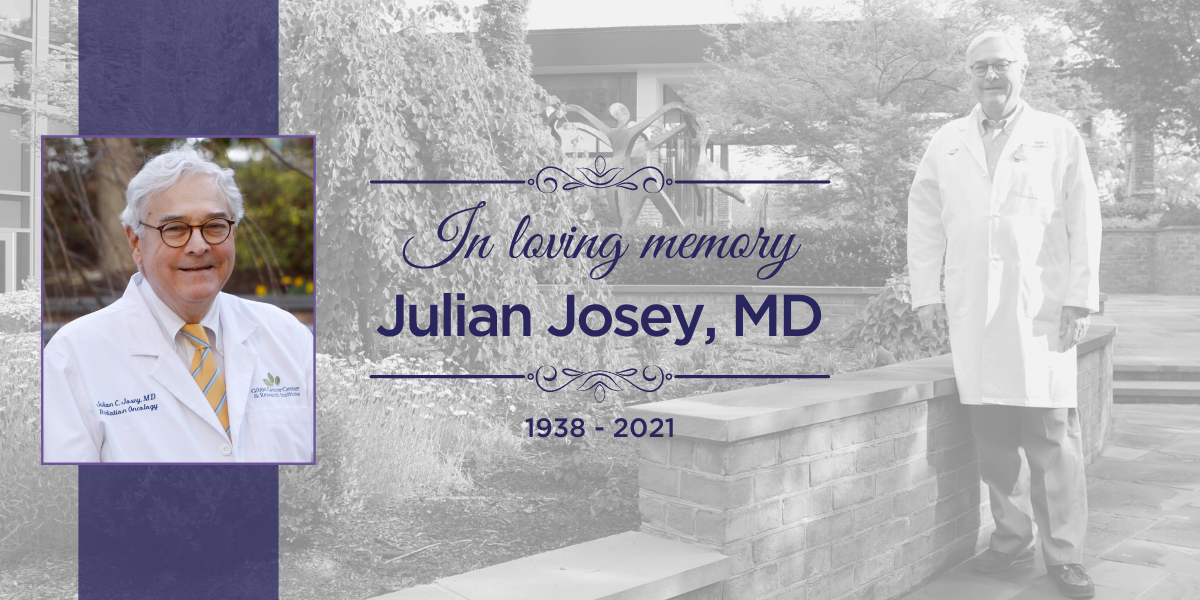 Eternally grateful: Julian Josey, oncologist who shaped cancer care in Upstate, dies at 83
Friendships transform people, but one friendship is credited with improving tens of thousands of lives across Spartanburg, Upstate South Carolina and beyond.
Four decades ago, Drs. Julian Josey and James Bearden decided together to focus solely on cancer care.
For them, it was more than a career decision. They partnered to work toward the fulfillment of a common dream – the creation of a world-class cancer center.
"I trust him," Bearden said of Josey in a documentary several years ago. "I would trust him with anything, and I think the trust, on a personal and a professional basis, and a family basis, has just been invaluable."
Today, one of those friends is gone.
Julian Josey, MD – radiation oncologist and a driving force behind the Gibbs Cancer Center & Research Institute – died Monday at the age of 83.
Josey will be remembered for many things – his skill as a radiation oncologist and his friendly way of talking to patients and their families, his talent with politics and fundraising, and his focus on the healing aspects of architecture.
It was Josey who met with Marsha and Jimmy Gibbs, sharing a vision that prompted them to donate the funds that sparked the construction of the Gibbs Cancer Center.
"Working together, these two doctors started a cancer center in a place where a lot of people wouldn't think to start one," David Church, vice president of oncology and support services for Gibbs Cancer Center, said.
Spartanburg Regional Healthcare System CEO Bruce Holstien said Dr. Josey's vision will impact cancer care and the entire health system for generations.
"As a physician leader and board member, Julian's uncompromising commitment to patients and his community can be seen in the lives he touched, but also in the facilities and programs he advanced," Holstien said. "His life's work was saving and enriching the lives of others, and that is an incredible legacy. I will miss him as a friend and colleague. He was a true champion of our community."
Drs. Josey and Bearden earned many accolades. The Bearden-Josey Center for Breast Health is named after them. The two have both received the Order of the Palmetto, South Carolina's highest civilian honor.
"We say we're blessed," Josey said in an interview a couple of years ago. "It's kind of a tired term, but it's really a blessing from above. I'm not saying that we couldn't have achieved, but not at the level that we've been able to, with the national recognition and validation by outside agencies." 
******************
Julian Josey grew up in Spartanburg in the 1940s and 1950s, the son of a doctor and a bookkeeper. He graduated from Spartanburg High School in 1956 and attended Washington and Lee University for two years. Then, he transferred to Wofford College.
"I made a very smart move," Josey said. "One of the brighter things I ever did."
He earned his Bachelor of Science degree there in 1960, then attended the Bowman Gray School of Medicine at Wake Forest University, where he graduated in 1964.
After completing an internship in obstetrics and gynecology at Emory University, Josey enlisted in the Army. He served with the Ninth Infantry Division in Vietnam.
"I came back to Spartanburg, my hometown, to practice in 1970 following an all-expense-paid tour of sunny Southeast Asia, courtesy of the United States Army, and I have never regretted coming back home."
After his service in Vietnam, Josey wasn't sure if he wanted to work in obstetrics and gynecology. He had an opportunity to pursue radiology and then advanced to radiation oncology.
******************
The late Bill Price, MD, introduced Josey to Bearden, forever changing the face of cancer care in the Upstate.
"He came to me in the hall one day and said, 'I've hired a new guy, he's a medical oncologist, and I want you two to get together,'" Josey said. "You talk about chemistry right out of the gate. We actually really had that."
As doctors at Spartanburg General Hospital, both treated cancer but were responsible for other areas as well. The two wanted to focus solely on cancer.
The two became a team that day. They went on to form Palmetto Hematology Oncology in 1976.
"We got along really well from the very start," Bearden said. "We couldn't have done it without each other."
******************
That wasn't all they wanted to do, however. Josey and Bearden dreamed of opening a world-class cancer center.
Cancer patients have specific needs. Josey and Bearden knew from the beginning the importance of combining oncological services in one place – radiation, surgery, medical oncology and more.
They convinced the hospital's administration and board of trustees that separating them from the other services would result in more effective treatment.
Soon they were treating cancer patients solely on the sixth floor of the hospital. Then, they took over a medical-surgical floor.
******************
Josey called it "my most fun story."
As a member of the hospital's board of trustees, Josey had been lobbying to build a cancer center that resembled the work that cardiac surgeon Joe Utley, MD, had created.
Josey was instrumental in recruiting the late Dr. Joe R. Utley and his wife, Dr. Joella F. Jordan Utley, to Spartanburg from California, hiring her as a radiation oncologist.
"Dr. Joe Utley brought a level of expertise with his approach to quality medicine … it improved us all," said Dr. John Harrill, who worked with Josey and was his close friend for more than four decades. "It was such a great thing for Spartanburg. They were exceptional doctors and people."
Josey was important in moving the healthcare system forward in so many ways.
As part of advancing cancer care, the leaders of the then-newly formed Spartanburg Regional Foundation came to Josey, asking him to pitch the cancer center to a "potential major donor."
And that's when Josey met Marsha and Jimmy Gibbs.
Josey had gone into the board room at the hospital with plans to ask the couple for $2 million. Foundation leaders had recommended he only ask for $1 million.
"They said, 'Oh, my gosh, you're going to mess this up,' and I said, 'Well, that's what I'm going to do.'"
Josey recalled walking into that meeting and how quickly the couple wanted to get to business.
"We'd just gotten in the door when Jimmy and Marsha walked in and said, 'Now, what are we talking about?'" Josey remembered. "I said, 'Wait a minute, let's get some lunch.'"
They finished their lunch, and Josey made his presentation. Then Josey asked them to go home, "pray about it," and write a check for $2 million.
"Jimmy said, 'That's a lot of money,' and I said, 'It's going to be a lot of cancer center,'" Josey remembered.
Within 10 days, Marsha and Jimmy Gibbs had written a check for $1.2 million. Within a year, they gave another $700,000.
"Nothing like that had ever occurred in this institution," Josey said.
******************
Other donors also made a huge impact on Dr. Josey – such as the Webster family.
"Lindsay had just delivered her last child, and she'd had an abnormality that nobody paid much attention about," Josey said.
A surgeon had identified it as cancer and said the breast had to come off. That's when she came to Dr. Bearden and Dr. Josey for a second opinion.
Based on their input, Webster got chemotherapy at MD Anderson in Houston and "had a marvelous outcome," Josey said.
Some months later, the Websters took Dr. Bearden and Dr. Josey out to dinner, where they announced their intention to donate $2.5 million as a "challenge gift."
The Websters wanted to open a breast health center in Spartanburg, designed to serve all women regardless of financial status or background.
"After being to another cancer center, which was all treatment in one facility, I was determined, I would say I was hell-bent, to bring the same thing to Spartanburg," Lindsay Lavine Webster said. "I went to Dr. Bearden, Dr. Josey, and they were completely on board, so I knew I was in the right."
They had one stipulation – it had to be named for Drs. Josey and Bearden. 
"What they have done here is amazing and should be remembered for not just folks who pass through during their lifetimes, but thereafter," Billy Webster said.
"I'm rarely at a loss for words, but I was just speechless. That was an unsolicited gift out of the blue," Josey said. "It was not only phenomenal, it was something for which we have been eternally grateful."
******************
Josey wasn't just interested in the technical ways that physicians fight cancer. He wanted Gibbs Cancer Center to provide a healing atmosphere from the moment a patient or family member walked in the door.
"You don't come into a sterile place," Josey said. "You come into a place filled with lots of natural light; a beautiful garden."
When the cancer center was being designed, a Steinway piano became part of the lobby, as did a beautiful garden and fountain.
The community fell in love with the cancer center. Proms, weddings and more have all been held in the space.
"All those things cost lots of money to maintain, but they mean so much to our patients and our families," Josey said.
In the heart of the lobby is a cancer learning center staffed with in-person resources, something that grew out of Josey and Bearden's research of other centers across the country.
"We looked in a lot of facilities and in almost every single one there was always a little room with brochures and pamphlets, and nobody was there," Josey said. "So cancer patients and their families are already anxious and frightened. They go in and they're pulling out these brochures, and they go on."
All of it is designed to go beyond the medical, and to address "the human side of it," Josey said.
He partnered with architecture firm McMillan Pazdan Smith to design the Gibbs Cancer Center, and together they also designed the Bearden-Josey Center for Breast Health.
******************
Even at the end of Josey's life, he worked closely on construction of the Gibbs Cancer Center at Pelham expansion, which opened in March 2020.
Construction on the seven-story, 191,000-square-foot facility in Greer began in early 2018 as part of Spartanburg Regional's mission to provide excellence in health to the region and was supported by generous donors who participated in a $16 million fundraising campaign by the Spartanburg Regional Foundation.
"To get to this stage of my life and career and have that go on … you wake up every morning, and you're not tired," Josey said. "You just get out there and get with the program because this is going to be a fabulous addition to what we've been able to accomplish in our professional lifetime."
******************
If you talked to Julian Josey about the many accomplishments of his life, he was quick to name other people.
He praised the Gibbs, Webster, Milliken and Montgomery families.
"They didn't just give us money and go away and feel good," Josey said. "They got involved. They asked very searching questions. Their active, continued involvement is really to us as important as the money itself."
There's John Fleming, MD, the obstetrician gynecologist who lobbied state government for funds to expand cancer care. And Charlie Boone, the hospital administrator who supported clinical trials. And D.C. Hull, MD, who Josey credited with starting the multidisciplinary approach to cancer care in Spartanburg.
Then there's his lifelong partner, Dr. Bearden.
"Jay gets 90 percent of the credit because he had a vision from the outset," Josey said.
Bearden, of course, credits Josey with that vision.
"I didn't have any idea of the scope of what he was imagining," Bearden said. "I thought maybe I'd be in an office, and we would do the clinical research in the office, and supply things. Julian had the vision to see that we could put this together; we could help a lot more people."
Above it all, Josey thanked God.
"You have to have a strong belief and spiritual sense that there's a higher authority here that helps all of us to do what we do," Josey said. "And without that, you can't really succeed at the level we've been able to succeed.
"We humans can get to a certain point, but at the end of the day, we're mortal."
This report is compiled from interviews with Drs. Josey and Bearden, as well as previous media reports such as the SCETV documentary entitled "Gentlemen Physicians" (watch here) 
Milestones in Dr. Josey's life
1938 – Julian C. Josey, Jr., is born to a Spartanburg doctor and his wife, a bookkeeper for the Mary Black Hospital.
1956 – Graduates from Spartanburg High School. Enters Washington and Lee University in Virginia.
1958 – After two years at Washington and Lee, returns to Spartanburg and attends Wofford College. "I made a very smart move," Josey said. "One of the brighter things I ever did."
1960 – Earns his Bachelor of Science degree at Wofford.
1964 – Graduates from the Bowman Gray School of Medicine at Wake Forest University.
1966 – Completes internship in obstetrics and gynecology at Emory University.
1967 – Enlists in the Army. He serves in hospitals at Fort Benjamin Harrison in Indianapolis, and with the 3rd Brigade, 9th Infantry Division in Vietnam. 
April 6, 1967 – While serving as a medic in Vietnam, Capt. Josey jumps from a low-flying helicopter under hostile weapons fire into a swamp, where he treats and evacuates a wounded soldier. For his life-saving actions, he earns a Bronze Star with Valor. 
1970 – Joins the radiation oncology practice at Spartanburg General Hospital.
1976 – Meets James Bearden, MD, beginning a friendship that changes the face of cancer care across the region.
1980 – Dr. Josey leads a group that secures a three-year grant to start Spartanburg County Hospice.
1982 – The Emory B. Brock Radiation Oncology Treatment Center opens, as does Spartanburg General's first inpatient oncology unit.
1983 – Spartanburg County Hospice becomes a department of Spartanburg General Hospital.
1991 – The Spartanburg Regional Medical Center Foundation is incorporated. Dr. Josey is one of the 16 who serve on the Foundation's Blue Ribbon Committee and its inaugural Board of Trustees.
1993 – Spartanburg Regional's Board of Trustees approves plan to build a cancer center.
1998 – Ground is broken for the Marsha and Jimmy Gibbs Cancer Center.
1999 – The Marsha and Jimmy Gibbs Cancer Center opens. From fundraising to the building's soothing interior design, Dr. Josey plays an active role in every aspect of the cancer center's development.  
2006 – Spartanburg Regional Hospice Home opens.
2008 – The 16,000-square-foot, $13 million Bearden-Josey Center for Breast Health opens.
2012 – Treated for multiple myeloma at Gibbs Cancer Center. This same year, Gibbs Cancer Center becomes a research institute.
Oct. 15, 2013 – Gov. Nikki Haley awards Dr. Josey the Order of the Palmetto, South Carolina's highest civilian honor.
2020 – Gibbs Cancer Center at Pelham expands into a 191,000-square-foot building.