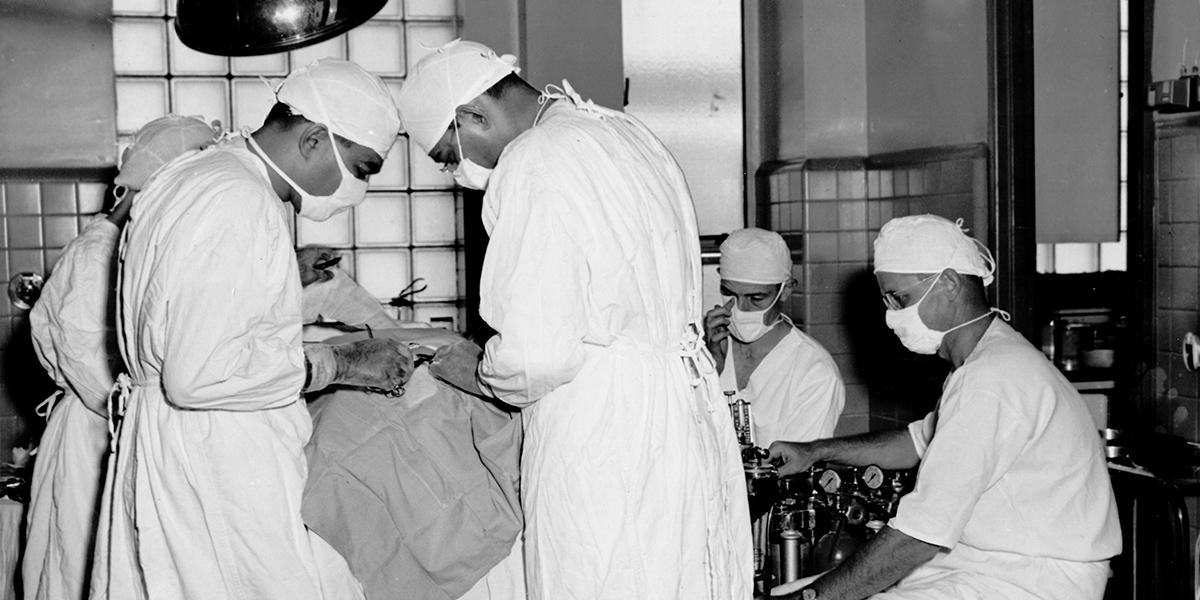 A surgery is shown in this circa-1950s photo. A surgery residency program was established July 1, 1957.
Establishing a residency program
Editor's note: This weekly series celebrating the 100th anniversary of Spartanburg Regional Healthcare System is excerpted from "Commitment To Our Community: 100 Years of Spartanburg Regional Healthcare System."  
Dr. Euta M. Colvin knew he was made a better surgeon because of his residency programs. When he began practicing in Spartanburg in 1953, he eagerly joined discussions to bring additional surgical training and certification to Spartanburg General Hospital.
Prior to 1950, there were only two surgeons certified by the American Board of Surgery at Spartanburg General Hospital; by the end of the decade, a strong nucleus of well-trained, board-certified surgeons was practicing in the area.
"We felt that a certified general surgery residency would be of educational value to each of us and would improve surgical care in our town," said Colvin.
He and Dr. Richard Wilson began pursuing the establishment of a residency at Spartanburg General Hospital. The general surgery residency program began on July 1, 1957, with Dr. D.C. Hull as the first resident. After completing two years at Spartanburg General, Hull completed an additional residency in New York with the Sloan Kettering Institute before returning to Spartanburg to practice surgical oncology.
The program grew slowly during the 1960s and 1970s, but a series of strong leaders in the 1980s and partnerships with the Medical University of South Carolina and the University of South Carolina School of Medicine boosted the program.
By 2003, there were more than 500 applicants for two five-year positions and three one-year preliminary positions.
The surgery residency program's success also led to family medicine and transitional year programs, as well as fellowships in obstetrics, hospice and palliative care.