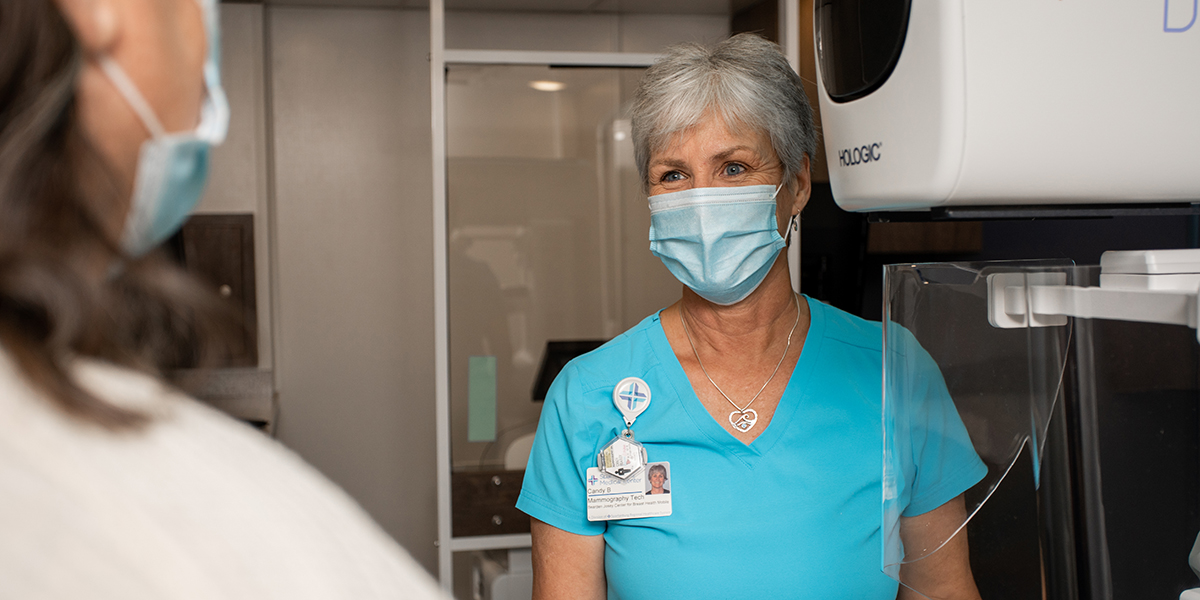 Early detection in rural areas
Minister Della Hill sees firsthand the barriers Union County residents face each day, from emergency food needs to lack of access to health care. Hill feeds up to 800 people each month at an emergency food assistance program called Potters Storehouse Food Ministry.
"Many people don't go to their doctors' appointments, because they have to ask someone to take them places. Often times, they are charged financially for the ride," Hill said. "A patient may need to go to Union or Spartanburg and their ride will cost them $20. Many of them are on fixed incomes or retired."
Partnering with Spartanburg Regional Foundation, Gibbs Cancer Center was awarded $584,000 from The Duke Endowment, a philanthropic foundation aimed at strengthening communities in North and South Carolina by nurturing children, promoting health, educating minds, and enriching spirits. This grant seeks to help remove barriers to health care in Cherokee and Union counties with life-saving screenings and early detection education. 
Gibbs Cancer Center community outreach coordinator Kiara Long and community lay navigators are spearheading the efforts with the grant.
"We want to make sure everyone has the same opportunity, no matter where they live," Long said.  
Care close to home
Along with early detection and awareness of cancer care services within Cherokee and Union counties, the grant focuses on colorectal, breast, cervical, lung and prostate cancers.
Also, through the grant, community lay navigators assist residents with transportation for screenings, treatment, and oncology visits, as well as other local resources throughout the community.
One of the greatest barriers that patients face is transportation, Long said.
"We are making sure patients know what resources are available to them locally in their own community," Long said.
If a patient doesn't live near a facility that provides colonoscopies, there is an opportunity to screen for colorectal cancer from home. Through The Duke Endowment Grant, Gibbs is encouraging residents to get screened for colon cancer with fecal immunochemical testing, or FIT.
FIT is a less invasive way to screen for colorectal cancer, which is the second leading cause of cancer deaths in South Carolina. Colonoscopies involve an invasive test, which also includes a full day of preparation prior to the screening.
With FIT, patients take a fecal sample from the comfort of their own homes and send their samples within 72 hours to have them screened.
Gibbs and the Bearden-Josey Center for Breast Health also are bringing lifesaving breast cancer screenings to communities with two mobile mammography units. The mobile mammography units allow women in Union and Cherokee counties to receive breast cancer screenings in their neighborhoods and workplaces.
These units travel to convenient places, such as workplaces or shopping centers, to patients in need of mammograms. Traveling to women helps bridge the transportation gap, as well as assist patients who may not have a primary care physician.
Creating partnerships
Throughout the first year of the three-year grant, Gibbs has created community partnerships across Union and Cherokee counties, including the Potters Storehouse Food Ministry. Others include Belk Distribution in Union, United Way, Limestone College in Cherokee County, and Peach Center Ministries of Gaffney.
Through these partnerships, Gibbs is working to connect community members with further education.
"We want the residents and communities to understand that we care about them," Long said. "We want everyone to have access to the lifesaving screenings and education."
Learn more
If patients have any questions about the grant and how it may benefit you or a loved one, please contact the lay navigator for:
Cherokee County: 864-316-2806

Union County: 864-978-6109
Learn more about cancer services through Gibbs Cancer Center, a division of Spartanburg Regional Healthcare System: https://www.spartanburgregional.com/services/cancer