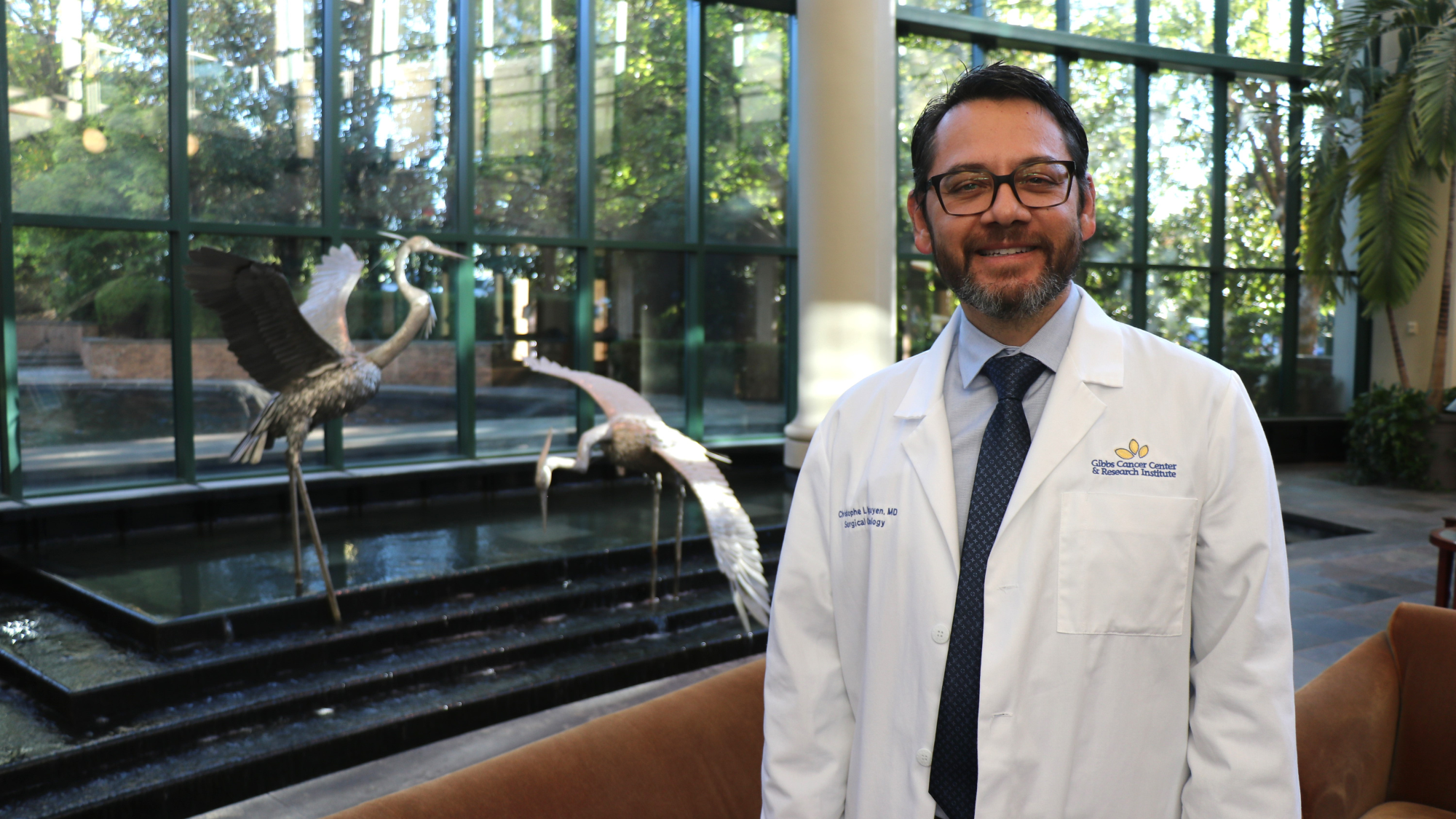 Early detection, advancements in treatment plans are keys to fighting lung cancer
Lung cancer is the No. 1 most common solid organ cancer among men and women in the U.S. and the Upstate. 
"It's also the most lethal and has claimed more lives than any of the other cancers we see," said Dr. Christophe Nguyen, a surgical oncologist with Gibbs Cancer Center. "Despite that sad news, we are making progress with earlier detection and efficient workups to get to treatment, and treatment itself is becoming more efficient and successful."  
Thanks to advancements in early detection and more effective forms of treatments, lung cancer patients have had greater success with survival and recovery, said Dr. Nguyen, who is in his 18th year with Spartanburg Regional Healthcare System. 
November is lung cancer awareness month, and Dr. Nguyen and Gibbs Cancer Center are encouraging the public to be more informed about early detection and treatment of lung cancer.  
National guidelines have expanded the ages for lung screening so that more patients can be screened for lung cancer.
A low-dose CT screening uses a low dose of radiation to conduct a scan of someone's lungs to detect cancer and takes less than 10 minutes to complete. Candidates for a low-dose CT are eligible for screening if they:
Have a 20 pack-year or more smoking history, and
Smoke now or have quit within the past 15 years, and
Are between 50 and 80 years old.
Historically, detection would only take place through a screening after patients have already exhibited symptoms such as weight loss and coughing.  
"We're always trying to get as much information about the tumor as possible to help with clinical staging. That gives us a whole picture to determine the right treatment," Dr. Nguyen said.  
A multi-disciplinary team approach to each cancer helps determine the most effective treatment path for patients, whether that involves chemotherapy, immunotherapy, surgery or a combination of those treatment options. Dr. Nguyen also utilizes video-assisted surgery techniques on many patients, so the surgical procedure is minimally invasive and improves each patient's quality of life.  
Thanks to advancements in early detection, patients can inquire about a low-dose CT screening with their primary care provider. 
Spartanburg Regional is showcasing giant, inflatable lungs during Lung Cancer Awareness Month to better explain what pulmonologists see when examining someone's lungs. 
To learn more about low-dose CT or how to qualify for a lung screening, click here.