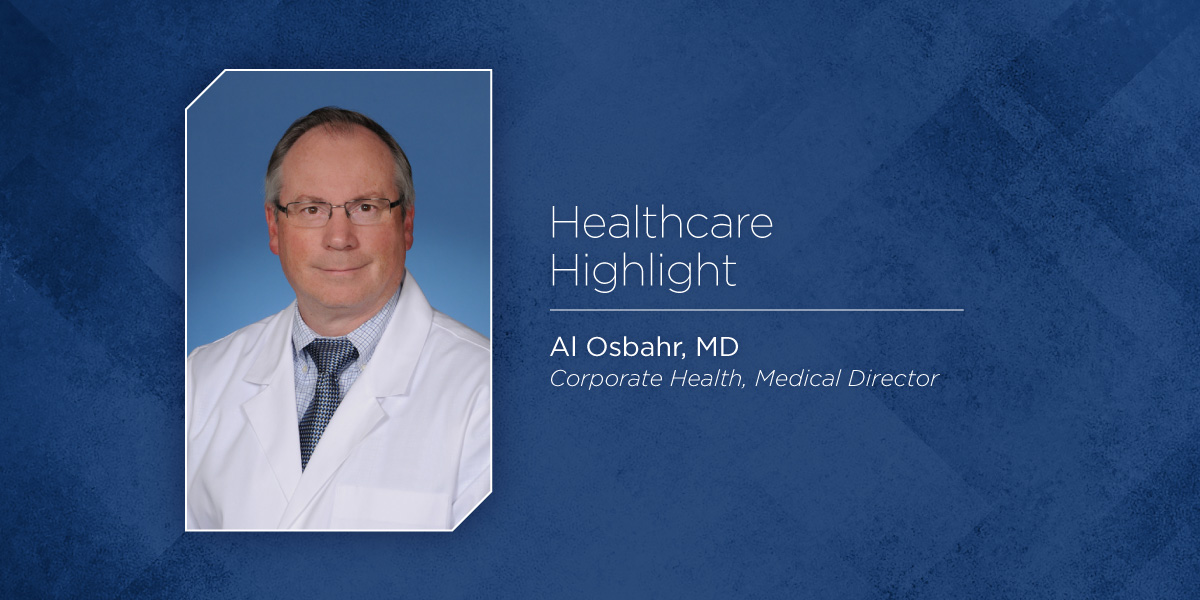 Dr. Osbahr joins Corporate Health
More than 2.9 million private sector workers in the United States experienced a workplace injury or illness in 2015. This resulted in at least 1,153,490 days away from work in 2015, according to the Bureau of Labor Statistics.
How many of those were from your workplace? How much did this cost your company?
Also in 2015, there were 4,836 fatal workplace injuries, including roadway incidents, falls and homicides.
Providing medical care to the workforce takes a special kind of expertise that looks at the problem from all angles. It can involve looking for the cause of an ailment, addressing potential issues within the work environment that might be causing harm and working to get employees healthy and back to work.
Corporate health looks at this whole equation. Al Osbahr, MD, medical director of Spartanburg Regional Healthcare System's Corporate Health, has 28 years of experience with occupational medicine. This form of medicine intrigued him during his residency.
"I spent a year in a small West Virginia town," Dr. Osbahr said. "Employers were sending their injured workers to us. These injuries were caused by workers exposed to different chemicals. That whetted my interest."
In another instance during his career, Dr. Osbahr identified patients with neurological issues due to a substance used in their work environment. The business stopped using the product after the diagnosis.
Dr. Osbahr and the team at Spartanburg Regional's corporate health division responds to the needs of both employers and employees.
"It's different from primary care because it really delves into the work environment; looking at the whole picture of an employees' health and safety," he said.
Corporate health runs the gamut of helping employees with work-related duties that are necessary for their jobs. This includes:
Health screenings in corporate health offices or onsite at an industry location
Health interventions
On-the-job injury treatment
Industrial rehabilitation and follow-up
Drug screenings
Primary care and occupational on-site clinics
Preventive care
Spartanburg Regional's Corporate Health is more than occupational health. It uses a team approach to provide all of these components. Corporate health uses mobile units to provide services onsite, which is an added convenience for both the employer and employee.
"Employers are looking for physicians who understand the workplace in terms of injury prevention and return to work. Your responsibility is to the patient but also to address their return to work," Dr. Osbahr said. "They value physicians who can walk that tightrope between taking care of employees and meeting the needs of the employer."
Dr. Osbahr has a family medicine background and focused on public health during his residency.
"I felt that was a niche that no one was providing," he said. "I went into medicine because I wanted to take care of people and felt the need of service. This was the best way for me to do it: with the scientific approach of medicine."
In July, Spartanburg Regional's division of Corporate Health is expanding and moving into a new location to accommodate the Upstate's increasing workforce. The new location will be at Oak Grove Plaza, 2660 Reidville Road, Unit 1, Spartanburg, S.C., 29301. The new building is directly off of I-26 at exit 22, providing convenience and ease of parking for employees who drive larger vehicles and 18-wheelers.
For more information, visit SpartanburgRegional.com/CorporateHealth.