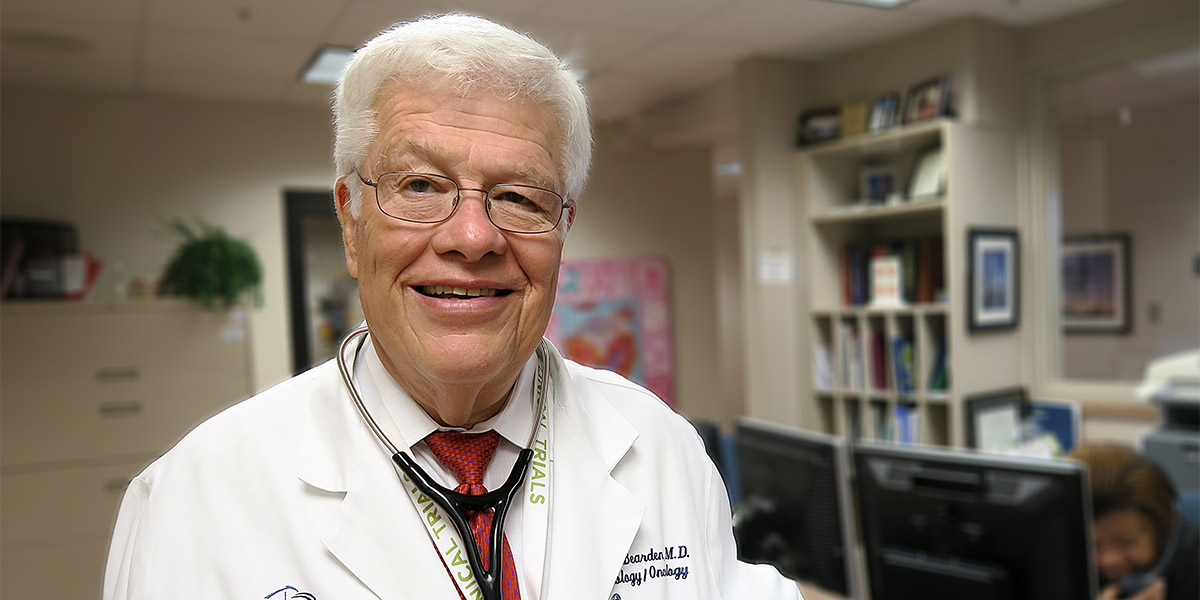 Dr. James Bearden earns prestigious national award
James Bearden, MD, hematology-oncologist with Gibbs Cancer Center & Research Institute, was recognized by the National Institutes of Health with the Harry Hynes Award in Washington, DC, on Oct. 18, 2016. Dr. Bearden is the sixth person to receive this prestigious award since its inception in 2001.
The National Cancer Institute's (NCI) Community Clinical Oncology Program established the Harry Hynes Award to recognize and acknowledge individuals displaying outstanding commitment to clinical research by community investigators. The award was named for Dr. Harry Hynes, the principal investigator of the Wichita Community Clinical Oncology Program, for his tremendous dedication and commitment to bringing clinical trials to the community setting.
"Dr. Bearden helped change the face of cancer care in South Carolina," said David Church, DHA, vice president of oncology and support services for Gibbs Cancer Center & Research Institute. "He is very humble about all he has done for the Spartanburg Community and it is wonderful to see him recognized in this way. This award is well deserved."
Dr. Bearden has been involved in community-based research for many years. He served as a co- principal investigator and then as the principal investigator beginning in 1983 for a Community Clinical Oncology Program and is now a co-principal investigator of a large community NCORP. He was also the primary investigator for Gibbs Cancer Center & Research Institute's NCI Community Cancer Center Program (NCCCP). Dr. Bearden's efforts resulted in more than $30 million in grant dollars being allocated to Spartanburg Regional Healthcare System through the aforementioned programs.
The honor recognizes Dr. Bearden's extensive efforts in research with the Community Clinical Oncology Program (CCOP) and the NCI Community Oncology Research Program (NCORP), national networks for testing and validating medical interventions against cancer and for delivering the benefits of scientific discovery to public and community physicians.
Dr. Bearden has served as president of South Carolina's Oncology Society and led initiatives to support statewide NCI trials in concert with a local university, two medical schools and four of the state's largest hospitals. He has also championed clinical trials within Gibbs Cancer Center & Research Institute through involvement in multiple committees and administrative roles. He has worked extensively within the community to build additional care networks for the indigent and underserved populations. 
About Harry Hynes
Harry Hynes emigrated from Ireland in 1960 to complete his residency at what was then St. Francis Hospital in Wichita, KS. He continued his residency and fellowship at the Mayo Clinic, obtaining a PhD in hematology in 1969, which at the time was considered an unusual accomplishment for medical graduates. Later, he established the Wichita Hematology Oncology Group in 1972, subsequently renamed the Cancer Center of Kansas, to which he served as president until his diagnosis of acute myeloid leukemia in May 2000. He was the founding principal investigator of the Wichita CCOP, writing the first grant and receiving one of the first CCOP awards in 1983. He also founded the first Hospice in Wichita (now called the Harry Hynes Hospice), served on the American Society of Clinical Oncology Board of Directors and many other national and state societies. Dr. Hynes was a firm believer in clinical trials; he never saw a patient without considering what clinical trial they might be eligible for. He exemplified the importance of clinical trials and community-based research.