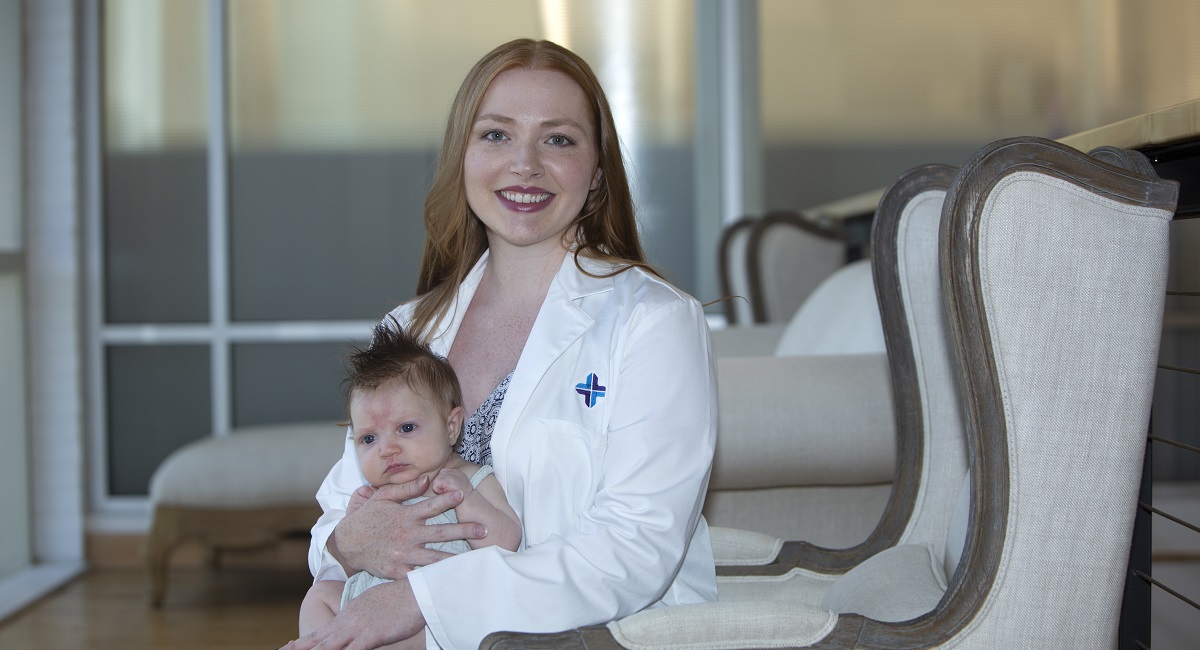 Dr. Brittany Woodard brings joy of motherhood with her to family medicine practice
Dr. Brittany Woodard, MBS, DO, is surrounded by the joys of motherhood after the birth of her first daughter earlier this year, but that hasn't slowed her down from accepting new patients. In fact, it's been quite the opposite.  
Having a baby has made her even more eager to see a spectrum of patients, from infants to older adults, as a new family medicine physician with Spartanburg Regional Healthcare System.  
"Of course, I love the smiles. Right in the morning, when she wakes up, she's the happiest. That first hour in the morning before she goes back down for her morning nap is probably the best part of my day," Dr. Woodard said of her daughter, Addie.  
Dr. Woodard, a Louisiana native, is now accepting new patients at Cherokee Medical Center – Center for Family Medicine - Peachview. She graduated from William Carey University – College of Osteopathic Medicine before going through Spartanburg Regional's Family Medicine residency program.  
In Dr. Woodard's third year of medical school in Mississippi, she distinctly remembers working in pediatrics, where she saw three young children under 5 who all came in for their check-ups with their mother. While conducting routine check-ups for the children, she noticed clear signs of heart failure in the mom.  
After that experience, she realized family medicine was the right area for her, providing medical care for the entire family.  
"It's a whole family experience," she said. "Family medicine gives me the privilege of not staying in my lane. You can be a jack-of-all-trades, and I can do as much as I want to and share my patients with other specialties out there." 
During residency, Dr. Woodard took care of a pregnant mother, delivered her baby, took care of the newborn baby, and then again took care of the woman during her post-partum period and beyond.  
"There's no other specialty that can give you that lifetime experience," she said.  
Growing up on a farm in a rural area has given Dr. Woodard an even deeper passion for building relationships and having a primary care physician be someone that others can count on and know well.  
'Be a quarterback'  
Dr. Woodard's focus with patients is educating them on the importance of having a primary care physician and being a guide who can learn about their conditions and help make critical decisions for treatment and care.  
"I want to be able to stick with them for the long haul," she said.  
Her job is to be a quarterback for them, she said of her patients. When patients receive diagnoses and treatment options from other specialists, it's then up to Dr. Woodard to help her patients make the best overall healthcare decisions. 
"I have all these providers giving me the playbook," Dr. Woodard said. "So, I then take all of that, and I bring it into one big picture for the patient." 
Outside of medicine, Dr. Woodard enjoys hiking, reading, playing board games, completing puzzles with her husband, Dr. Calem Al-Shaikhly, and spending time outdoors with her newborn.  
In September, Dr. Woodard participated in an American Cancer Society 50-mile stroller walk challenge to raise money for childhood cancer. 
Though not native to the Upstate, she and Dr. Al-Shaikhly have no regrets about moving to Spartanburg as new physicians with Spartanburg Regional. 
"It was the best thing that could have possibly happened for Calem and me," Dr. Woodard said. 
New patients can schedule an appointment with Dr. Woodard online at Cherokee Medical Center – Center for Family Medicine - Peachview.