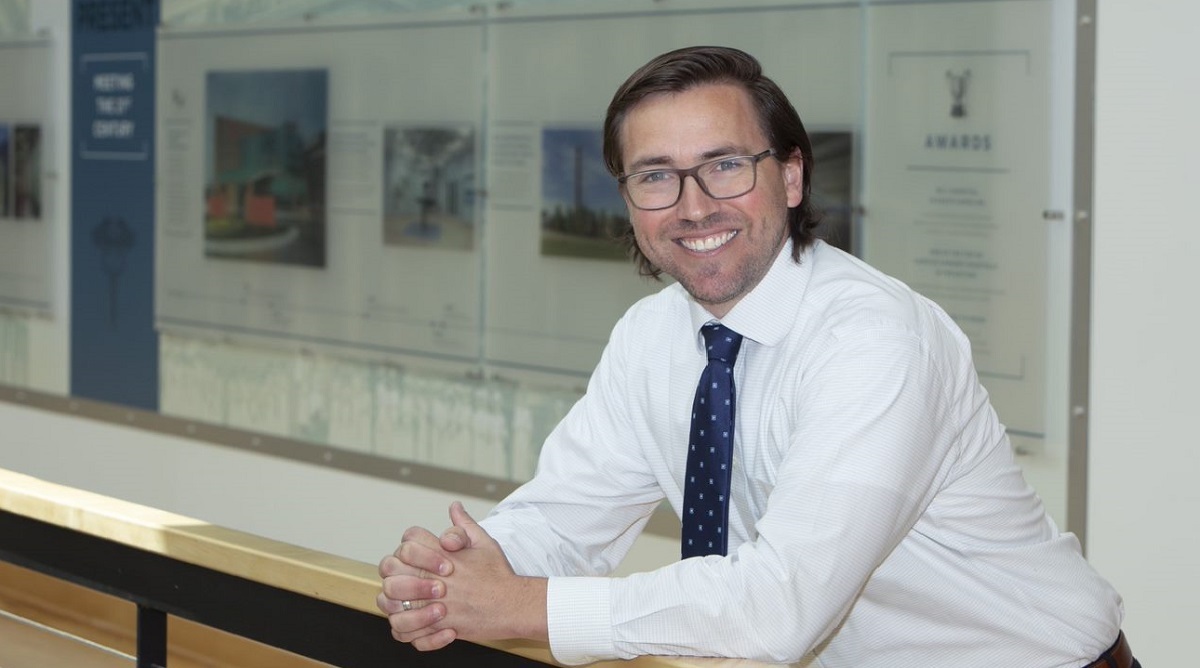 Dr. Andrew Bachinskas says establishing relationships with patients, setting expectations are key
Debilitating back or neck pain can often leave patients feeling hopeless and with a sense of defeat. Unfortunately, without considering all treatment options, some people may decide that learning to live with the pain is the only way.  
Spine surgeon Dr. Andrew Bachinskas is dedicated to helping patients decide if surgery is the best option for them and then seeing the reward that follows.  
Dr. Bachinskas recently joined Medical Group of the Carolinas - Orthopaedic Surgery - Pelham and is now accepting new patients.  
"You see many people who have a debilitating problem, and if you're doing the right surgery for the right patient in the right circumstances, then I think you can make people a lot better, and the people are grateful," he said.  
Dr. Bachinskas did not grow up always knowing he wanted to be a spine surgeon. What he did know is that whatever he ended up doing, he wanted to do it well.   
During his time in medical school at the University of Texas Southwestern Medical Center, he realized he loved the rhythm of interacting with patients of all ages and helping them improve their quality of life.  
He then went through the University of Kansas School of Medicine-Wichita Orthopaedic Residency Program, and later completed a fellowship for spine surgery at the University of Washington School of Medicine. 
With orthopaedics specifically, Dr. Bachinskas saw a more direct correlation between treatment and outcomes, which drew him in. 
"There's a certain degree of problem, and then hopefully a resolution to that problem through surgery, which I think is appealing," Dr. Bachinskas said.   
He added that setting expectations and walking through goals with patients is crucial.  
"More important than spine surgery or anything else, you have to establish a relationship with the patient," Dr. Bachinskas said.  
Consider your options  
Dr. Bachinskas encourages patients to seek alternative options first. 
After people have explored other efforts and realize surgery is the next step for them, they are more inclined to move forward with the procedure and enjoy the benefits afterward.  
"You have to reach that point before you want surgery," Dr. Bachinskas said. "I think in general, especially with spine surgery, people should maximize every other option aside from surgery. And when you've tried everything and done everything, you want to make the commitment with your surgeon."  
Patients first have to convince themselves that they're ready, he said.  
"It's a shared decision to move forward with surgery or any treatment," he said.  
Exploring the Upstate with family  
Outside of practicing medicine, Dr. Bachinskas and his family of five love the outdoors, specifically hiking and exploring new places.  
"We just like being outside," he said. "We have three kids, so I carry the 2-year-old on my back while my wife carries the baby, and our 4-year-old has gotten really good at hiking."  
If you think you might need back surgery, talk to your primary care provider about scheduling an appointment with Dr. Bachinskas or call 864-849-9150.