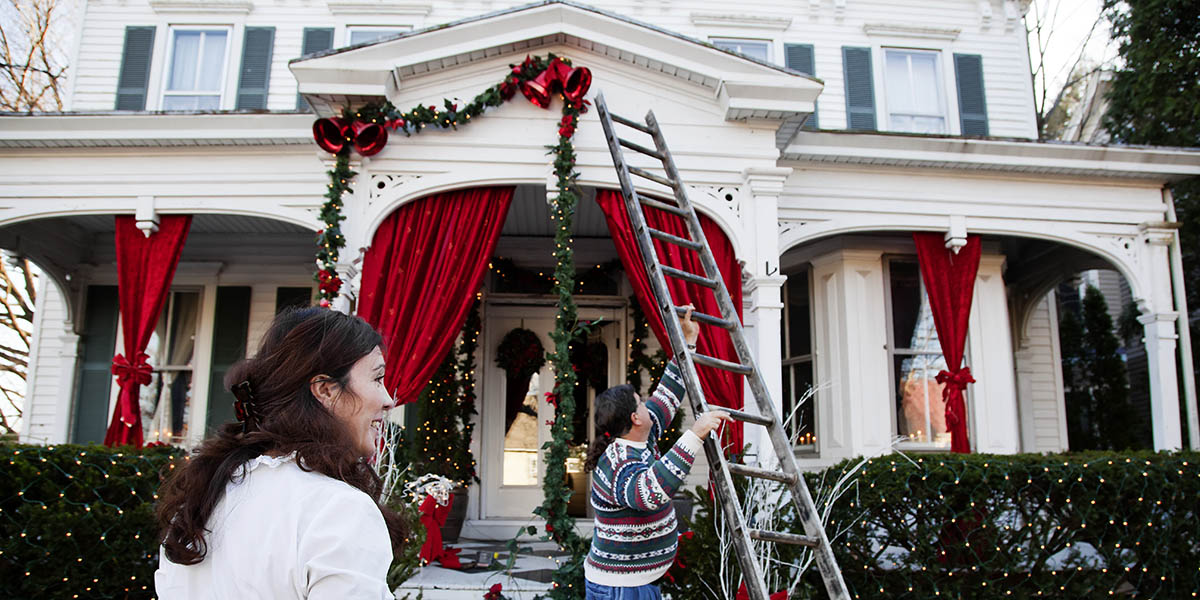 Don't let holiday decorating sideline you
It's time to break out the holiday decorations. Soon you may find yourself straining to put a star on top of the tree, or climbing up a ladder to put a string of lights outside your house.
Falls are the number one contributor to injuries that Spartanburg Regional Healthcare System physicians see year-round, and efforts to make your house the most festive on the block increase the likelihood of falls and the resulting sprains, strains and bruises.
"Falls are common sources for injury any time of year, but combining heights and people doing extra decorating is a recipe for injury," said John Lucas, MD, Spartanburg Regional sports medicine physician.
It's important to have a plan when pulling those holiday decorations out, Dr. Lucas said.
Use the right tools
If you're using a ladder to climb up in the attic or to string lights around the house, make sure it can accommodate your weight. Make sure the ladder's feet are secure. Never use furniture or stools as climbing tools.
"Be honest with yourself about your level of conditioning," Dr. Lucas said.
If you're not in the best shape, don't climb up and down ladder stairs that could be too taxing. Also, make sure you feel steady and balanced when climbing stairs or a ladder. Use handrails whenever possible.
Keep loads manageable; ask for help
Make sure boxes and bins aren't too heavy or large, especially if stairs are involved.
Carrying a cumbersome box can lead to a loss of balance and a fall.
"It's also a good idea to ask family and friends to help," Dr. Lucas said. "Always remember to lift with your legs and not your back. Avoid curving your back or slouching as you lift."
Some items could be safely passed between people instead of having someone climbing and carrying an oversized box. Try to avoid carrying items so large that you can't see your feet and where you're stepping.
Keep pathways clear
Dr. Lucas said keeping pathways around your home clear is a good way to reduce falls. This is especially important while bringing items out of storage. It's easy to pull a box from the attic, sort through it and then leave its contents on the ground while lugging more boxes around.
Be mindful that others or you could walk through the area and not anticipate an ornament or another item on the ground.
Dress for the job
If you're home, it could be tempting to start pulling the decorations out while wearing slippers or flip flops, but wear proper footwear, including closed-toe shoes that provide support. Also, wear comfortable clothing and dress in layers instead of wearing a heavy coat that could limit movement.
Pay attention to the weather forecast and wear a hat and gloves to stay warm on cold days, Dr. Lucas said.
Don't forget sunscreen, stay hydrated
Dr. Lucas said we often only think about sunscreen and hydration during the summer months, but these are year-round responsibilities, especially as you spend time outdoors and keep active.
"You're outside, active and sweating," he said. "It's just a different environment."
Know what to do in the event of a fall
Lucas said falls often fall into three categories:
1.The first category is an obvious injury. A person will probably feel discomfort, swelling, bruising, and they might hear a crack. Those experiences mean it's best to head to the hospital's emergency department.
2. The second category of injury are falls that hurt but have minimal discomfort while moving. A person can monitor how they're feeling for a couple of days, but if it doesn't improve, it's a good idea to visit a family medicine physician, one of Spartanburg Regional's five Immediate Care Centers or its two Sports Medicine Institute locations.
3. Lucas said the third category includes falls that involve pain and swelling developing a few days later. When pain worsens, you should also visit a family medicine physician, a Spartanburg Regional Immediate Care Center or a Spartanburg Regional Sports Medicine Institute location.