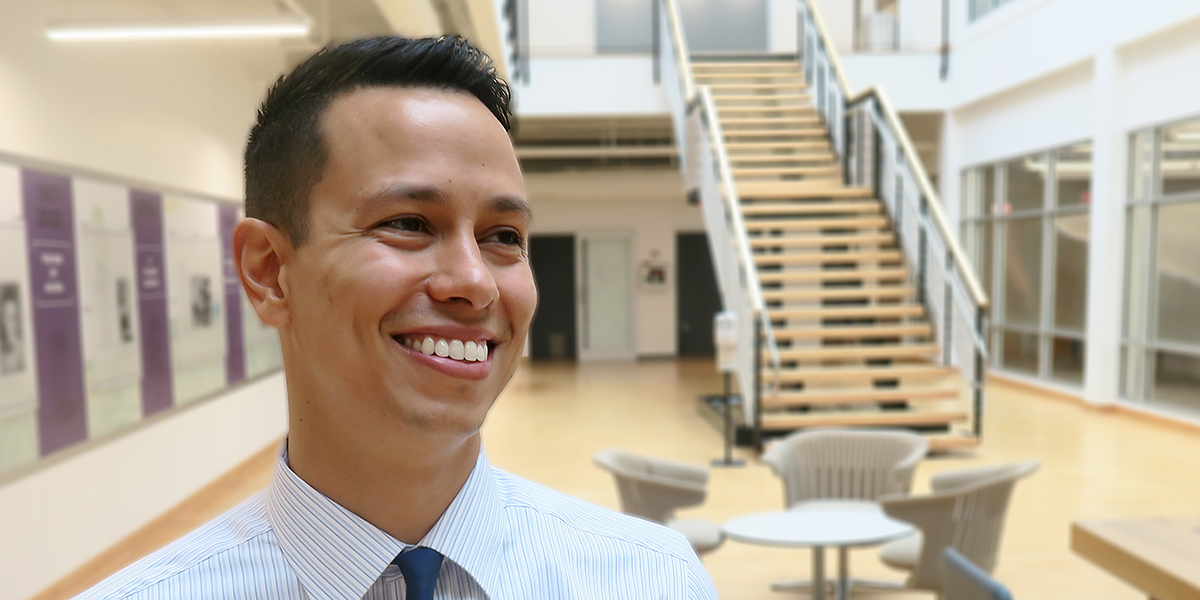 Doctor pursues life of service at Greenville-area immediate care center
It's not a question you often hear young people ask. But as early as 12, Richard Barfell was asking, "How can I help humanity?"
Propelled by an influential middle school teacher to learn about life sciences and driven by a feeling that God called him to serve others, Barfell has since become a doctor, a husband and a father. Today, he serves patients at Immediate Care Center – Pelham.
"Medicine is a calling," Dr. Barfell said. "It's very similar to being a pastor. You're dedicated to minimizing the suffering of others."  
Dr. Barfell grew up in Fort Wayne, Indiana, where he learned to speak Spanish from his Puerto Rican mother and watched outdoors shows on Saturday mornings with his father.
When describing what influenced his decision to go into medicine, Dr. Barfell tells of Mr. Stetzman, a middle school teacher who taught him to enjoy both science and the outdoors.
"He was also my soccer coach and a member of my church," Dr. Barfell said. "He grew up as an Iowa farm boy. I give him a lot of credit."
'A love for family medicine'
Once in college, Dr. Barfell began studying biology and pre-medicine. He attended the Indiana University School of Medicine and spent a year as an emergency medicine resident at the Brooklyn Hospital Center.
He learned quickly that emergency medicine wasn't for him – but he was drawn to both family medicine and urgent care. That's when he was called to perform his residency in Florence, S.C., at McLeod Regional Medical Center.
"I really developed a love for family medicine there," Dr. Barfell said. "It was pretty inpatient heavy. I was getting my feet wet with patients who needed help."
As a hospitalist at McLeod, he also developed a respect for the urgent care setting. In that setting, he saw people who were "really sick," and who needed guidance on ways to live as happy and healthy as possible.
When he learned of Immediate Care Center – Pelham in Greenville, S.C., he was attracted to its hybrid model of caring for patients. Spartanburg Regional Healthcare System's immediate care centers provide both scheduled family medicine care and walk-in immediate care.
Dr. Barfell focuses on providing care from a holistic – or whole body – perspective. Part of that involves identifying and removing the obstacles a patient may face as they seek to improve their health.
"As a family physician, we are trained to take care of a broad range of concerns," Dr. Barfell said.
A love of the outdoors
Dr. Barfell has been married to Emily, a Southern California native, for nine years. The couple has two girls, 5 and 2, and are working on adopting a third.
Dr. Barfell is also an outdoors enthusiast.
"I just love being outside and being calm and quiet," he said.
Medical missions in developing countries are also important to Dr. Barfell, who is working to establish a permanent mission in Honduras.
When caring for patients, Dr. Barfell stresses the importance of building trust.
"A trusting relationship between a patient and a doctor can make the difference," Dr. Barfell said.
How does he build that trust? By striving for excellence every day.
"I'm going to show up every day with a smile on my face, and I'm going to take great care of everybody who allows me to do so," Dr. Barfell said.
Schedule your appointment with Dr. Barfell today. Call 864-530-3500 or visit Immediate Care Center-Pelham online.