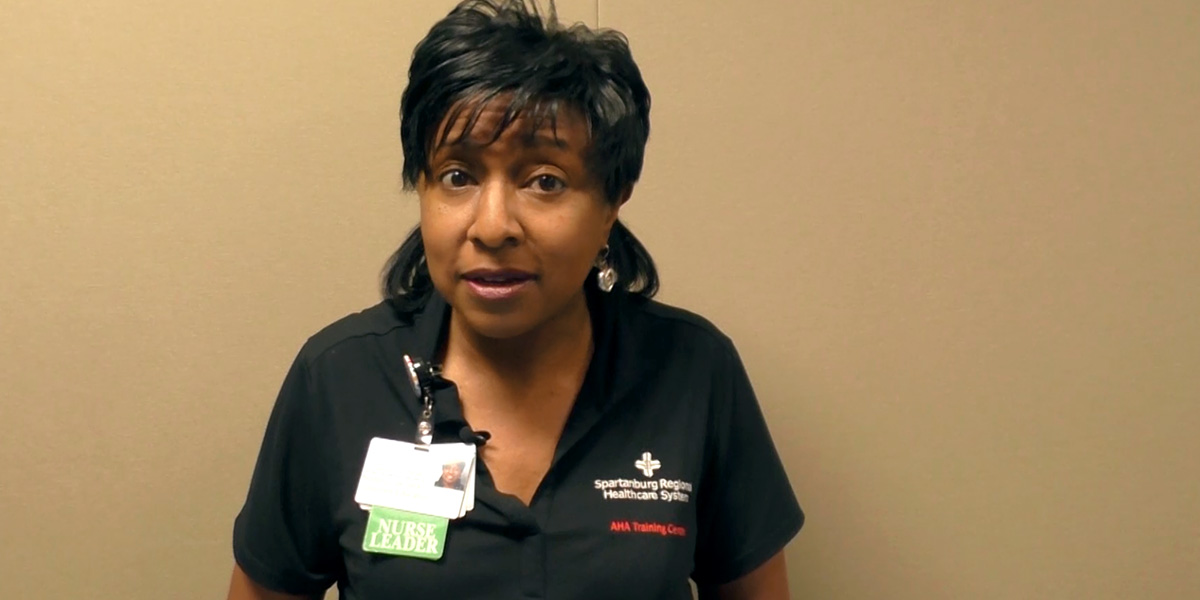 Do you know hands-only CPR?
The situation can happen anytime. A stranger or a loved one suddenly collapses and goes into cardiac arrest right in front of you.
Do you know CPR?
Spartanburg Regional Healthcare System is leading efforts to teach hands-only CPR classes in the Upstate in an effort to save lives.
CPR Training Coordinator Lorraine Calwile, who has spent her entire career as a nurse, teaches the proper procedures of hands-only CPR to schoolchildren and adults all year long.
During her demonstrations, she places a mannequin on a table as if it were a person who has just collapsed and gone into cardiac arrest. Then she performs the steps that have saved countless lives. Those steps are:
Call 911, or tell someone close by to call 911.
Check to see if the person is breathing.
Place your hands in the center of the person's chest.
Push hard and fast: Begin compressions at a rate of 100-120 per minute. To help you keep rhythm, think of the classic disco song "Stayin' Alive."
"Hands-only CPR is life-saving CPR," Calwile said. "Most people do not realize they need it until it's too late."
In 2015, Calwile, with the help of Spartanburg Regional staff and volunteers and assistance from the American Heart Association, trained 5,200 people on how to perform hands-only CPR.
 "It only takes five or six minutes to learn," Calwile said.
CPR Simplified
CPR techniques have become more simplified in recent years. For a long time, people used the mouth-to-mouth resuscitation method. But as cardiac arrest deaths have risen, hands-only CPR has become more valuable.
"People are more likely to perform hands-only CPR rather than mouth-to-mouth, because it is easier to learn," Calwile said. "It can help save valuable time and that could mean the difference between the patient living and dying."   
Spartanburg Medical Center will offer its annual CPR Saturday on Feb. 11, 2017, at Westgate Mall in Spartanburg. The annual event is free and allows people of all ages to learn CPR, choking prevention and the use of AEDs.
The emphasis on CPR will soon be coming to schools in South Carolina. Beginning in the 2017-18 school year, students in grades 9-12 will be required to train in hands-only CPR and the use of an AED, also known as an Automated External Defibrillator.