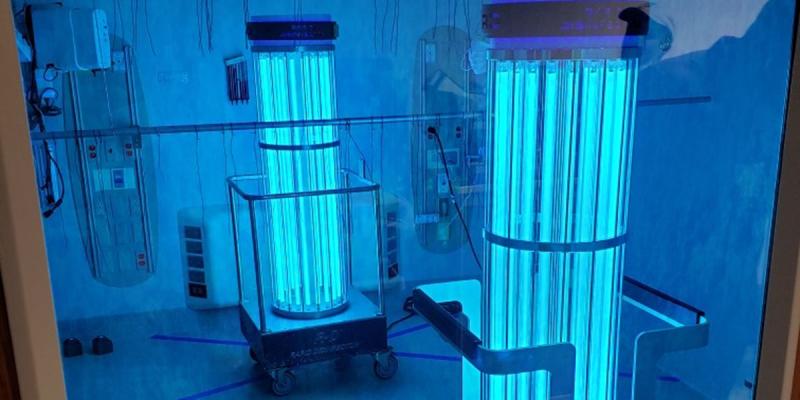 Disinfecting masks with UV light
In the early days of COVID-19, having enough personal protective equipment (PPE) on hand was a concern.
Across the country, clinicians worried that they would not have enough masks to care for patients.
At Spartanburg Medical Center, instead of discarding N95 masks after each use, clinical staff has been able to use masks up to six times, thanks to use of ultraviolet, or UV, lights.
The two Steriliz UV Light Disinfection System devices were purchased by Spartanburg Regional Foundation grants in 2015 for $78,497.
Each year, the Foundation grants program promotes health system initiatives that address specific needs and challenges. The two UV lights were purchased to thoroughly clean patient rooms and surgery suites. Pelham Medical Center also uses the Steriliz UV Light Disinfection System.
And in the first few weeks of COVID-19, the machines helped disinfect masks.
"The UV light decontamination of N95 respirators is an evidence-based best practice that helped keep front-line associates safe at a time when PPE equipment was often scarce," said Shelly McMillan, DNP, MSN, RN, Spartanburg Medical Center director of nursing. "We are extremely fortunate to work for a healthcare system that not only values patient care but values the protection of its associates as well."
By early June, the health system had acquired a plentiful supply of protective masks, McMillan said. Throughout this time, the UV machines were also used in tandem to clean patient rooms, where their effectiveness and ease-of-use have been praised by health system staff.
"Everyone likes that the machines are environmentally friendly and don't leave behind harsh, harmful odors or allergens that some traditional cleaners do," said Spartanburg Regional Healthcare System Infection Prevention Manager Kathy Bryant.
Foundation Executive Director Kristy Caradori said use of the lights during the early stages of the pandemic reflects the value of the Foundation's grants program.
"Our annual grants application, review and awards process encourages and enables clinical departments to address a wide range of needs while pursuing innovative ideas that benefit patients and make it easier for our health system to respond to unforeseen crises," she said. "The grant supporting the purchase of the UV light machines is a perfect example."
Learn about Spartanburg Regional Foundation's annual grants program by visiting https://regionalfoundation.com/grants/.