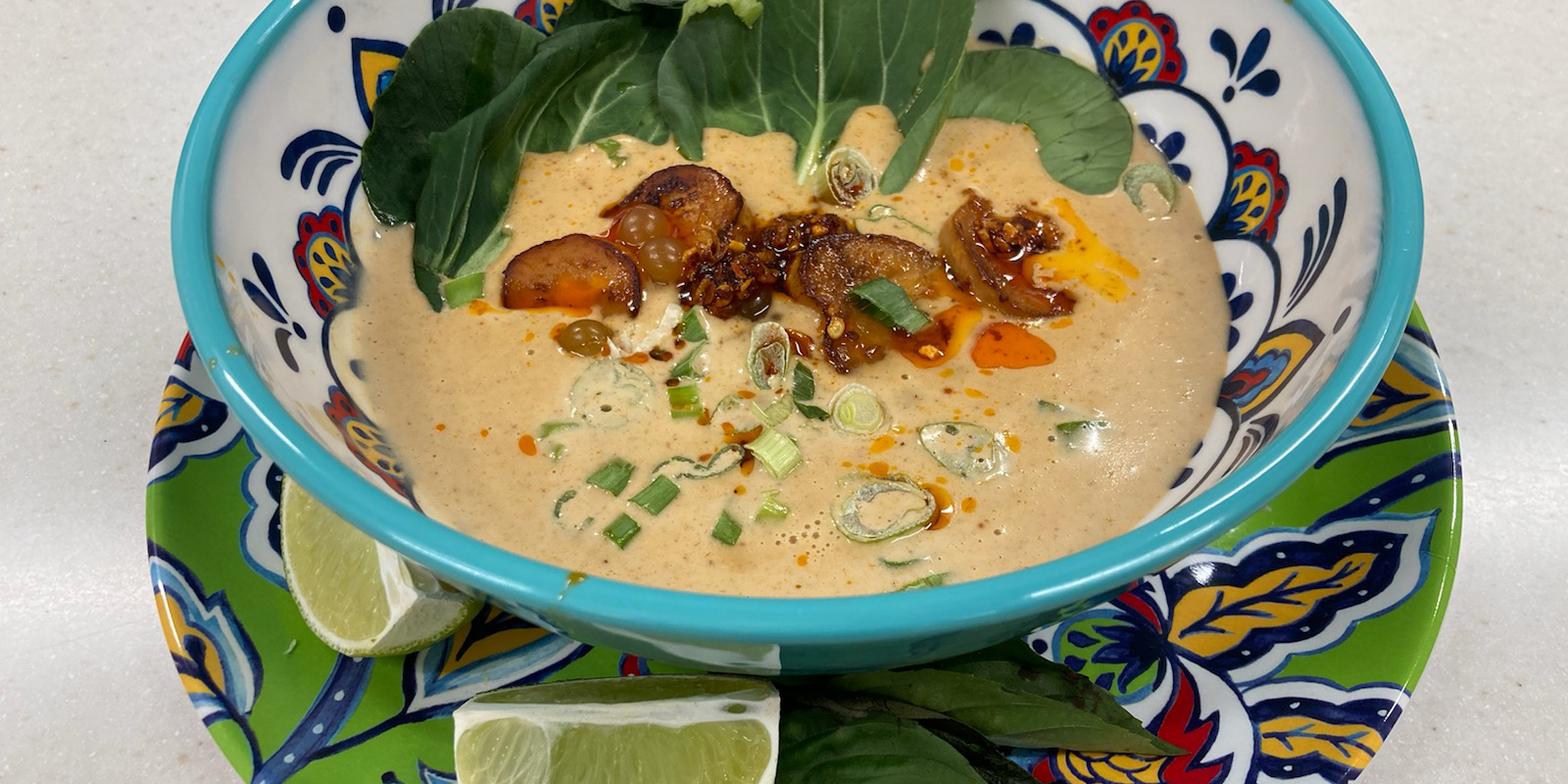 A dish so good, it won an award
Executive Chef Artina Lindsey, with Morrison Healthcare and Spartanburg Regional Healthcare System, recently received recognition for her lemongrass marinated vegan scallops with Thai red curry coconut broth. Chef Artina's dish was one of Food Management's Best Healthcare Recipes of 2022.
See for yourself and try the recipe below.
Lemongrass Marinated Vegan Scallops (King Trumpet Mushroom), Thai Red Curry Coconut Broth, Thai Basil & Yuzu Pearls
Created by Executive Chef Artina Lindsey, Morrison Healthcare
Serves 4
1.5 lb. fresh king trumpet mushrooms

2 stalks lemongrass [use only the bottom]

4 each fresh scallions [chopped]

2 tbsps. fresh ginger [peeled and chopped]

6 cloves fresh garlic [chopped]

2 each baby bok choy [green leaves only]

2 1/2 cups coconut cream or coconut milk

1/2 cup Thai red curry paste

1 1/2 cups fresh lime juice

2 tbsps. coconut aminos [Tamari can be substituted]                       

2 tbsps. blue agave nectar

6 leaves Thai basil [basil can be substituted]

4 oz. yuzu pearls

Kosher salt to taste
Garnish with red Thai chili *used in picture not in the recipe
Directions
Vegan Scallops
Use a dry paper towel to rub off any excess dirt. Cut the top and bottom of the mushroom (save tops and bottoms for vegetable stock). Cut the stem into ½-inch rounds, so that the shape resembles scallops. Place cut mushrooms in a sealed plastic bag.
Vegan Scallops Marinade
Place the following in a high-speed blender: ¾ cup fresh lime juice, 3 leaves Thai basil, 1 stalk fresh lemongrass, 1 tablespoon coconut aminos, 3 cloves of garlic, 2 tablespoons scallions and salt to taste [1/4 teaspoon used in this recipe]. Blend on high for about 1 minute or until all ingredients are blended. Pour marinade in the plastic bag with the cut mushrooms. Marinate for 2 hours.
Red Curry Coconut Broth
Using a medium-size stock pot, turn the heat on medium high, add garlic and ginger. Sauté for 1 minute then add coconut aminos and Thai red curry paste. Sauté for about 30 seconds. Add coconut cream, agave nectar, Thai basil, kosher salt [1/2 teaspoon] and lime juice.  Bring to a boil then turn heat to low, cover and reduce for 30 minutes.
Searing the Vegan Scallops
Using dry and clean paper towels, place mushrooms on paper towels to release the excessive moisture for 5 minutes. In a hot sauté pan [nonstick or use oil spray], place mushrooms in sauté pan [do not overcrowd] and sear on both sides for 3 minutes.
Serving
Place a ladle of Thai red coconut curry broth in a bowl, along with baby bok choy leaves, mushrooms, scallions and Yuzu pearls. 
Optional: garnish with hot chili oil and Thai basil.