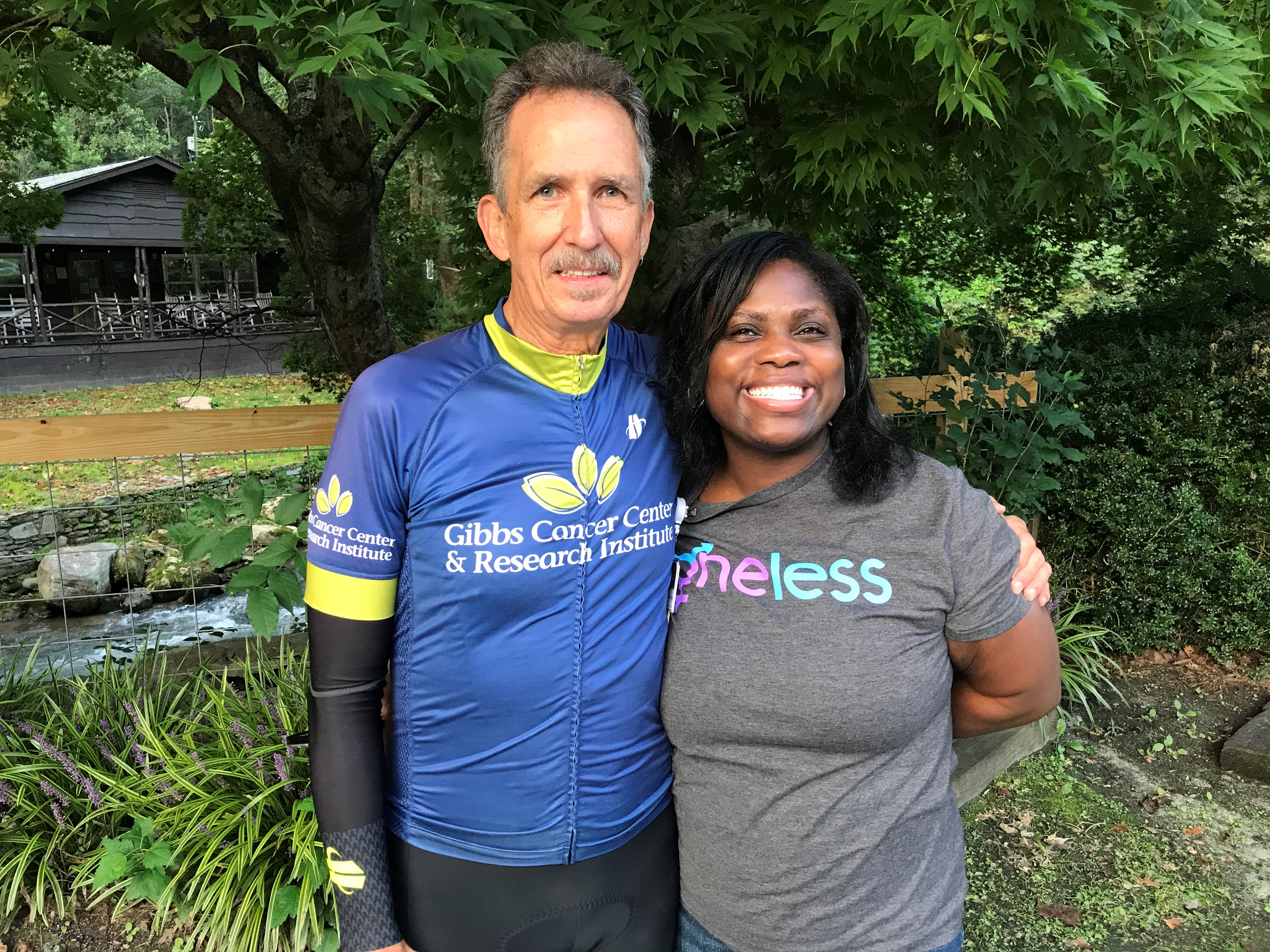 Cyclists support programs for cancer survivors
On a beautiful Saturday in mid-September, a group of cyclists set out from Tryon, North Carolina on an ambitious ride – traveling up and back down Highway 176 along a steep and tightly winding stretch known as the Saluda Grade.  
Ride organizer John Cash was planning to make the loop 10 times. Other participants were invited to go as many as 10 rounds, too – or as many as their endurance would allow. 
All were riding to raise money for the Gibbs Cancer Center Survivorship Fund, managed by the Spartanburg Regional Foundation.  
Before the cyclists took off at 8 a.m., Cash offered a few comments about the importance of the survivorship program: "I've said, 'There are three phases of battling cancer: being diagnosed, getting treated for it and then what comes afterward.' Supporting survivorship is such a key." 
The Gibbs Cancer Center survivorship program is designed to give patients and former patients support. Participants enjoy nutrition classes, exercise programs and other wellness activities. They also form supportive connections with cancer center staff members and with one another.  
Program manager Stacey Williams was on hand for the ride. She thanked Cash and the other cyclists.  
"This annual event has done so much to benefit community members in need, and we are truly grateful," Williams said. "John is a real friend to our patients and staff. His dedication to others is inspiring." 
Cash, who serves on the Foundation's Cancer Division Board, began hosting the ride more than a decade ago. This year's ride raised nearly $7,000. Over time, Cash has raised more than $100,000. 
This year, he rode in honor of a local child who is a cancer survivor.  
He learned about the boy from a customer at his shop, Nature's Storehouse, located in Tryon.  
People in Tryon have gotten to know about Cash's ride and his passion for helping others, and some leave donations when visiting his shop. "A little girl came in about eight years ago with $13 in her piggy bank," he recalled. "She said that her aunt had died from cancer. I thought, 'Wow, talk about giving from the heart.'"  
Cash added, "Every little bit helps." 
To support the Spartanburg Regional Foundation's Cancer Survivorship Fund, please visit https://www.regionalfoundation.com/ways-give/cancer.