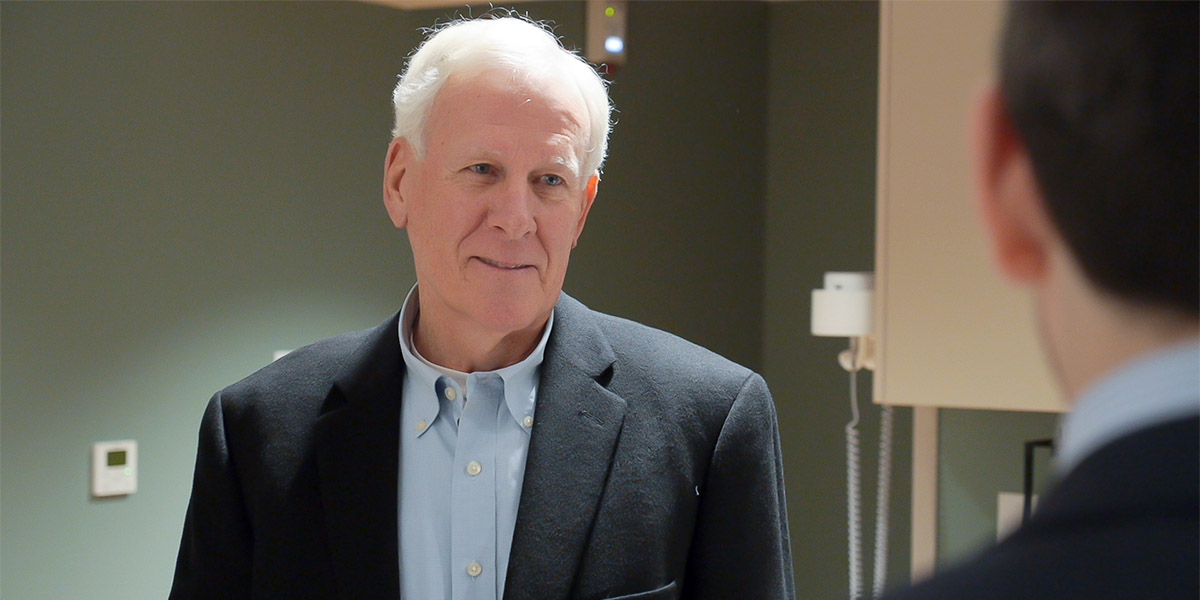 CyberKnife allows patient to spend time with family, volunteer
There is still a hint of amazement in Dick Sargent's voice as he talks about the cancer treatment he received in 2016 at Gibbs Cancer Center & Research Institute at Pelham.
"Normally, I would have had to have gotten 45 radiation treatments," he said. "But I only had to have five."
Sargent's was treated with the CyberKnife M6, a machine that enables a patient's care team to attack certain types of tumors with remarkable precision.
Radiation oncologist Dan Fried, MD, advised Sargent that he could be treated with CyberKnife radiation therapy. Gibbs at Pelham is among the first facilities in the Upstate to put this technology to clinical use.
The power and accuracy of CyberKnife means that patients can complete treatment in a fraction of the time required with traditional radiation technology.
 "One of the difficulties of treating cancer is avoiding hitting the normal tissues," Dr. Fried said. "With this machine, we are able to treat the tumor successfully while doing a better job than other machines at sparing patients' healthy organs."
CyberKnife makes all this possible through the use of a computerized robotic arm and a precise beam of radiation to target tumors. It features a tracking system that enables the beam of radiation to move with the tumor as a patient breathes or moves slightly.
"It's modern, upscale, high-tech stuff that's way over my head – but it works," Sargent said.
Sargent, who lives in Greenville, said the Pelham location – just off of Interstate 85, on the western edge of Spartanburg County – made his visits convenient and easy.
"It's a facility that we're very, very fortunate to have in this area," he said.
The people at Gibbs impressed Sargent as much as the technology did.
"They make you really feel comfortable with the process and what you're going through, and they let you kind of know what to expect up front," Sargent said. "Everything's happened the way Dr. Fried said it would. I've been very, very pleased with the whole process."
Beating cancer means he can focus on helping others.
Sargent is a devoted grandfather, and he is part of a volunteer organization called Emmanuel's Hammer. The group helps low-income people by renovating homes that are in need of critical repairs.
CyberKnife causes Sargent to reflect on how far treatment has come and on possibilities for even greater advances.
He lost both his parents to cancer.
"They certainly didn't have what we have today," he said.
Sargent is pleased that CyberKnife is putting the Upstate on the leading edge of cancer care and is excited about plans for the expansion of Gibbs Cancer Center & Research Institute at Pelham – a project that is receiving fundraising support from Regional Foundation.
"The continued advances in what Gibbs is doing, what this new center's going to do, and the research that's going to be here, I think, is just going to be fantastic," he said. "For it to be right here in little old Spartanburg and Greenville is just amazing."
Visit RegionalFoundation.com to learn how to visit to Gibbs Cancer Center & Research Institute.