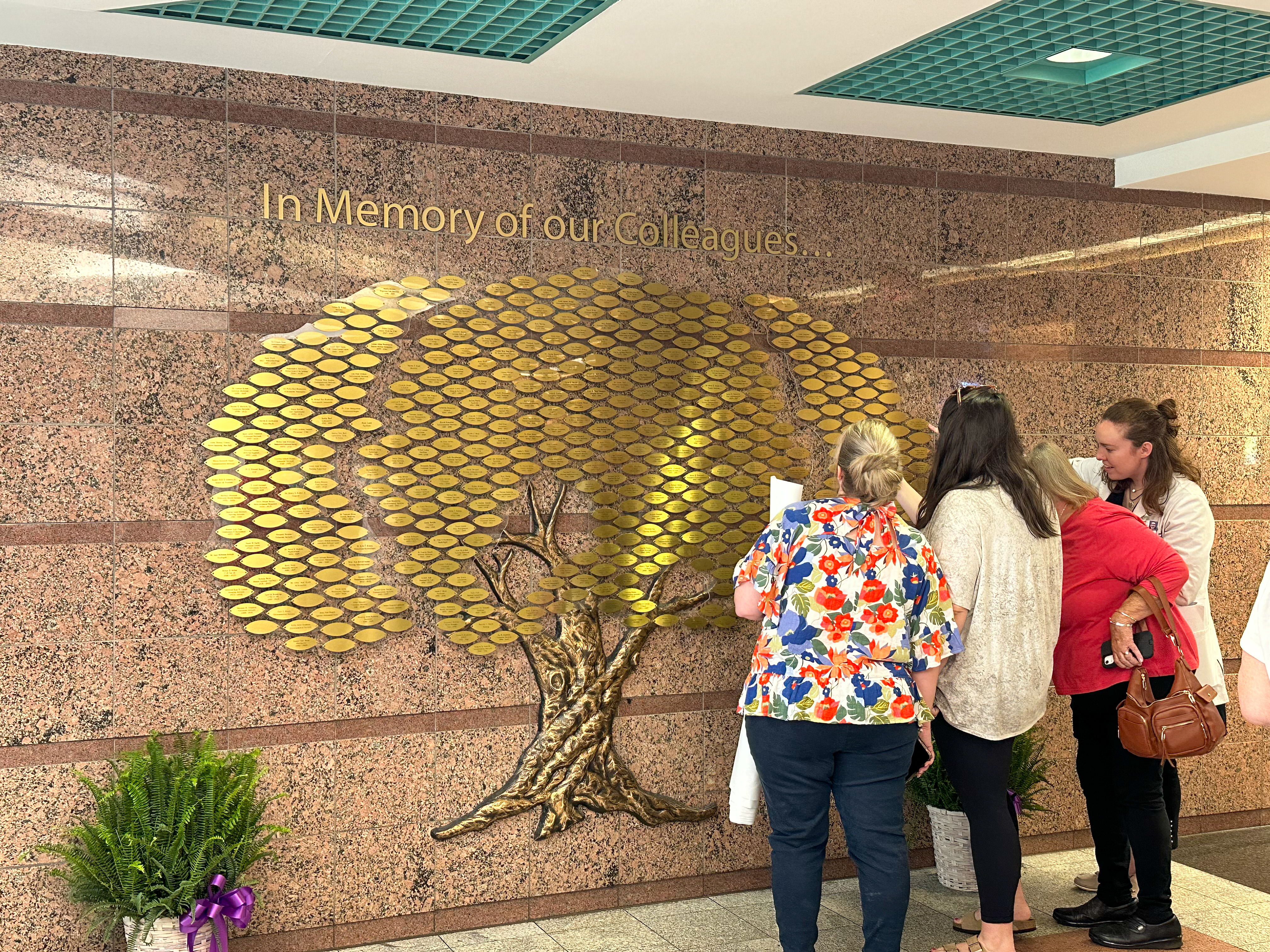 Colleagues remembered as 40 names are added to SRHS memorial tree
Dozens of family members, friends and colleagues gathered inside the Spartanburg Medical Center chapel Wednesday for a memorial service to honor and remember 40 associates who died over the past year.
The Memorial Tree Ceremony of Remembrance included a reading of each former Spartanburg Regional associate's name followed by a family member, friend or colleague standing in recognition of that person. Each representative was presented with a flower. A slideshow presenting pictures of each associate also played in the background.
"We are full of gratitude for how our lives have been forever changed by knowing them, loving them and working alongside them," said Chaplain Gary Jordan during an opening prayer. "We hold their memories close to our hearts."
Jordan then read from Psalm 61:1-4 from the Bible: "Hear my cry, O God; listen to my prayer. From the ends of the earth, I call to you, I call as my heart grows faint; lead me to the rock that is higher than I. For you have been my refuge, a strong tower against the foe. I long to dwell in your tent forever and take refuge in the shelter of your wings."
The remembrance service then moved out to the lobby of the Montgomery Tower where newly engraved leaves had been added to the memorial tree. The leaves displayed the names of past employees who have made a difference and left a lasting impact on the healthcare system.
The memories of those lost will live on in the hearts and minds of loved ones and colleagues, Jordan said during the service. Their gifts and contributions in life should serve as an example for others to carry on with the same spirit of service, he said.
Spartanburg Regional has held the Family Memorial Tree Ceremony of Remembrance annually since its dedication in 2013. The tree now lists more than 200 names.
SRHS CEO Bruce Holstien initiated the Memorial Tree. The memorial serves as a lasting tribute in appreciation to those who dedicated their lives to serving others throughout the healthcare system.
Those added to the Memorial Tree this year were:
Lisa Allman
Karen Beasley
Sharon Bonds
Krystal I. Burkholder
Margaret Burnett
Connie Campbell
Geraldine W. Davis
Kristin Davis
Shelli D. Dowis
Marie M. Earle
Martha Forbis
T. Lyell Garland
Gladys "GiGi" Garrett
Donna L. Green
Robert "Ray" E. Gregory Jr.
Amber C. Harper
Shirley Sisk Hart
Lonnie Hill
Mary Anne Johnson
Michael Johnson
Laura Jean McAbee
Susan McAbee
Joyce McGill
Michelle Means-Lott
Albert Metcalf
Robin D. Miller
Ruth "Levada" Morgan
Charles E. Morrow, Sr.
Patricia Pearson Oseni
Waldon "Ray" Raines
Donald Gene Taylor
Patsy Turner
Jack R. Tyner, Sr.
Boyce Kenneth Ward
Mary Ward
Betty Jo Watts
Debra Ann Williams
Doris Elaine Wisniewski
April B. Woodring
Terri Anita York