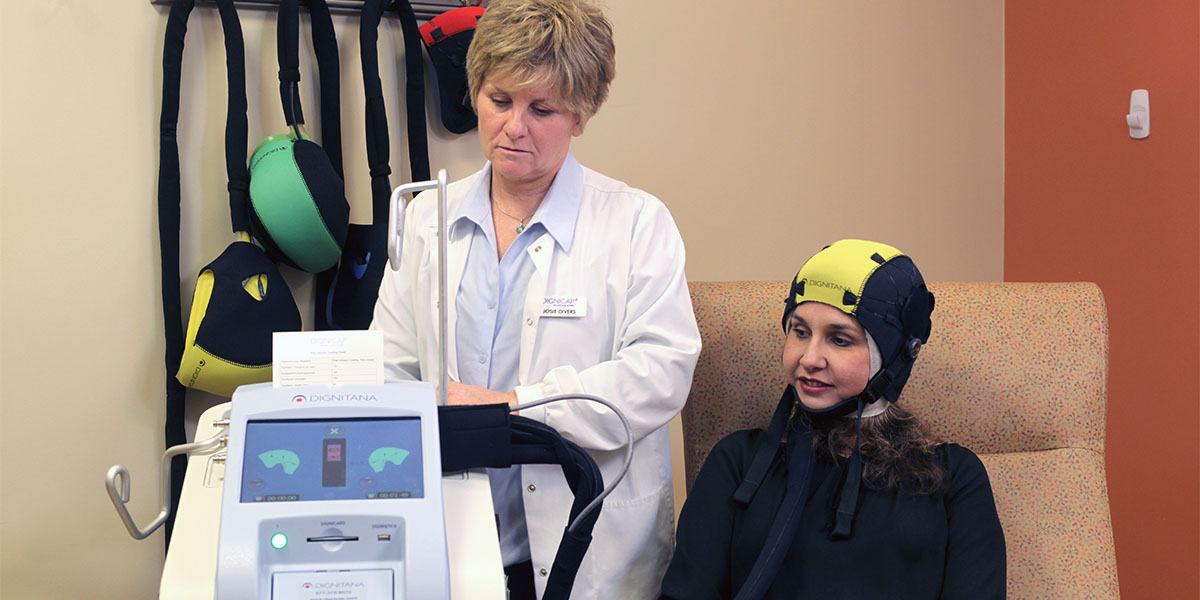 Cold Cap Therapy now offered at Gibbs Cancer Center & Research Institute
The word "cancer" is not something anyone wants to hear their doctor say. A diagnosis can be devastating and sometimes treatments can leave you looking or feeling different.  
Some cancer patients undergoing chemotherapy face the possibility of hair loss—which can change someone's identity, particularly for women. A new FDA-approved therapy can help people going through chemotherapy to keep their hair.
Gibbs Cancer Center & Research Institute started offering cold cap therapy services with the DigniCap Scalp Cooling System machine. Patients wear the DigniCap during each chemo treatment. The DigniCap fits over the patient's head and it has a hose attached to a machine to keep the cap consistently cold.
"The cold temperature reduces blood flow to the scalp area, so chemotherapy doesn't reach hair cells," said Lynn Foster, Gibbs Cancer Center & Research Institute director of medical oncology and infusion services. "We have had several patients ask about this service in the past, so we are happy to be offering this."
Breast cancer patients request the cold cap therapy most frequently, but any cancer patient undergoing chemotherapy can use the cold caps.
"The temperature remains at the freezing point of 32 degrees. It feels like a brain freeze, so the only side effect is a headache," Foster said.
There are hair care recommendations going into cold cap therapy. Some of these include:
Wash hair at home prior to the chemotherapy session, because oily hair affects thermal contact.
Do not use conditioner on the day of scalp treatment.
Avoid applying heat to the roots of hair with hair dryers, curling irons, flat irons
Avoid peroxides to color hair
Comb hair twice a day with a wide-tooth comb instead of a brush
Recent studies of women receiving chemo for early-stage breast cancer have found that at least half of women using newer cold-cap systems have kept at least half of their hair, according to the American Cancer Society.
"Being able to keep your hair helps a patient feel in control when they feel powerless because of a cancer diagnosis," Foster said. "When they may not feel well due to the disease and treatment, it helps maintain their identity."
For more information about cold cap therapy, call 1-855-DNA-GIBBS.