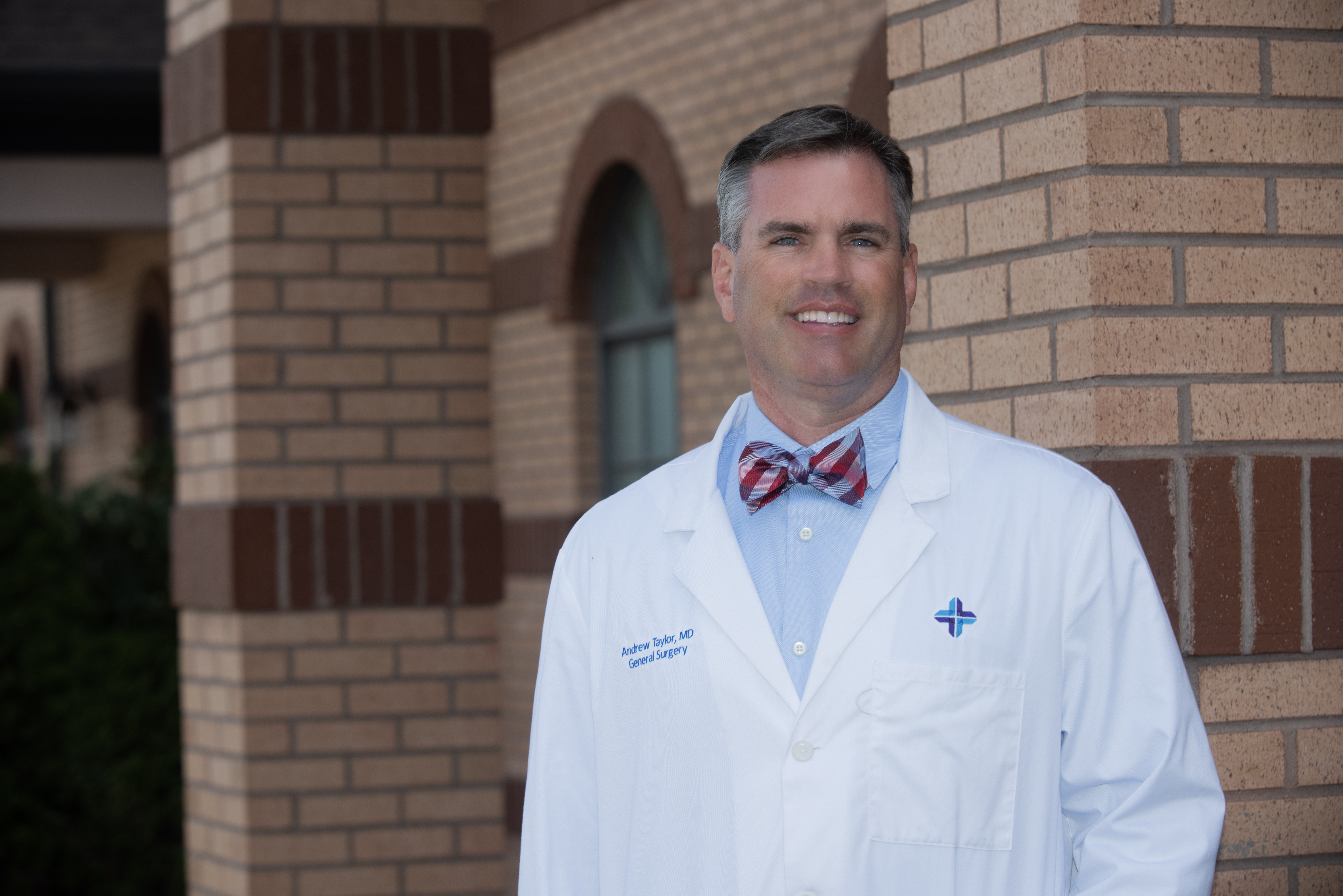 Cherokee surgeon Dr. Andrew Taylor serves patients in family's footsteps
For residents in Cherokee County, peace of mind comes from knowing their local providers and physicians can care for their medical needs, even when it comes to surgeries.
Dr. Andrew Taylor, with Cherokee Surgical Associates, averages five surgeries per day in Cherokee Medical Center's operating room suites.
Dr. Taylor comes from a family of surgeons. His great grandfather was a general surgeon in Banner Elk, North Carolina and once saw patients and performed surgeries from the back of his home and from other people's homes.
"I was probably born with a scalpel in my hand," Dr. Taylor said.
Dr. Taylor performs emergency surgeries, appendectomies, hernias and surgeries for significant infections that need to be drained and treated, as well as various vascular surgeries, all from the convenience of Cherokee Medical Center.
Cherokee Surgical Associates has the resources needed to provide both diagnostic and therapeutic minimally invasive vascular procedures.
Dr. Taylor also has the capability to perform angioplasty, stent and atherectomy procedures for patients with limiting claudication, rest pain and non-healing wounds. The practice can also create and maintain dialysis access sites and handles the treatment of all types of wounds, both acute and chronic in nature.
In addition to these new services, Dr. Taylor continues to provide broad-based general surgery care, such as treatment of gallbladder disease and intestinal problems, including cancer.
In a recent interview with WZZQ radio host Dennis Fowler, Dr. Taylor stressed the importance of colonoscopy screenings, which can be scheduled without needing an initial patient visit.
"It's very important that everyone comes in and gets their colonoscopy," Dr. Taylor said. "The guidelines have actually changed now, and starting at age 45, it's recommended you get screened to check and make sure you don't have colon cancer."
Cherokee Surgical Associates educates people on the importance of routine physicals and screenings for various potential diseases.
"The earlier we can catch any type of disease that someone has, the better off they are and the easier it is to treat folks," Dr. Taylor said. "It's very rewarding and sometimes it's a very simple thing that can change someone's life."
Dr. Taylor said he loves getting to work with the people of Cherokee County and is available to respond to new patients' needs.
Cherokee Surgical Associates is located at 1552 N. Limestone St. Patients can call 864-487-0155 to make an appointment today.